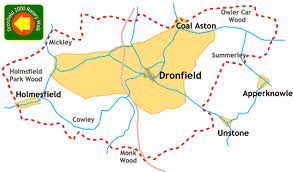 The 2014 Dronfield Relay is fast approaching. This year's run will take place on Sunday 13 July, starting at Holmesfield at 10:30. It finishes back where we started, outside the George and Dragon pub, at about 12:30. There will be a buffet in the pub afterwards.
For those who don't know, the race covers around 15 miles (in 3 legs of approximately 5 mile each), through the countryside around Dronfield and Coal Aston.
Each team is made up of 6 runners, with a pair running together on each leg.
This is a low-key friendly event, with the focus on fun rather than fast times. So as usual, we want to get the teams as evenly matched as possible.
If you would like to run, please send your name and a recent 5k, 5 mile or 10k time to dronfieldrelay@gmail.com (please note, we will not be taking entries via Facebook as it gets too messy, so please email if you want to run).
Alternatively, you can use our Contact Form to subit your information
We will then pair people up with a similar-paced runner and build the teams from there.
Experienced runners from the club will be leading recces of the legs in the weeks before the event, so don't worry if you don't know the route. Keep an eye on Facebook (and emails if there is enough notice) to hear about the recces.
We normally get four or five teams out and we'd love to beat that this year, especially with so many new members joining in the 12 months. This is great social event and opportunity to meet other club members while enjoying a run in the local countryside. What could be better!
Get your names down today.