Race Date: Tuesday 1st September 2015
Autumn seems to be on the way, it was certainly a bit fresh last night!! 126 entrants started the Barrel Inn fell race, from Eyam up (and down) a few big hills. The views from the top were stunning and just about worth the effort of getting up there.
There were a couple of inter Strider races with Dave Perkins and Steve Clarke (guiltily) beating Andy Buck whilst I thought I might have my first victory over Phil Howson only for him to catch me towards the end. Overall, a great race for £5 (that's what I paid Phil) and well worth the effort.
The race was won by Stuart Bond of DPFR in 39.51. First woman was Zoe Proctor of Pennine Fell Runners in 50.49.
Striders Results
| | | | |
| --- | --- | --- | --- |
| Pos | Name | Cat | Time |
| 14 | Paul Stuart | M40 | 48.41 |
| 23 | Dave Perkins | M40 | 50.08 |
| 32 | Steve Clarke | M | 51.48 |
| 33 | Andy Buck | M50 | 51.51 |
| 53 | Phil Howson | M40 | 54.44 |
| 58 | Nick Burns | M40 | 55.33 |
| 73 | Tom McCart | M | 58.56 |
| 83 | Bob Grocutt | M50 | 61.02 |
| 87 | Alex Arblaster | M | 62.01 |
| 107 | Carol Beattie | F60 | 66.39 |
Official Results: Barrel Inn Fell Race results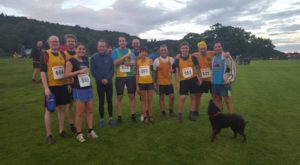 Striders post Barrel Inn