Race Date: Sunday 26th April 2015
A glorious sunny day awaited the travelling Strider trio. Had all the training been worthwhile? Martyn Goldsack was attempting his first full marathon whilst Ashleigh Barron and myself (Nick Burns) were both going PB hunting on the half marathon route. The course was great although the head wind from South to North promenade was noticeable, especially on lap two for the marathon runners. The announcer deemed it not a PB day due to the conditions but the 3 of us had something to say about that.
I had an awful first Sheffield half marathon so was apprehensive about this one. However, it couldn't have gone better and I beat my PB by 8 minutes and finished 60th out of 938 runners, 7th in my age category. Ashleigh was seeking her first sub 1:40 half and came in in 1:39:42, 110th place, and was the 10th lady to finish. Brilliant running Ashleigh. Well done.
Martyn shot off at the beginning of the marathon, despite his nerves. He was determined to get the best possible time he could, irrespective of the pain he would be putting his body through. He finished his first ever marathon in 16th position out of 412 finishers with an unbelievable time of 3:09:00. We almost had to scrape him off the floor at the end, he had given it his all. Utterly awesome run and well deserved. Well done Martyn.
Once Martyn had (sort of) recovered, three proud Striders, wearing our new Blackpool tower medals, had a drink or two to celebrate before catching the last train home.
The Marathon was won by Daniel Chan of Barnsley AC in a time of 2:33:19. The first lady across the line was Laura Allen of Totley in 3:11:21.
The Half Marathon was won by Paul Coon of Derwent AC in 1:14:52. The first lady across the line was Lydia Chapman of Preston Harriers in 1:24:49
Blackpool Marathon
| | | | |
| --- | --- | --- | --- |
| P | Name | Cat | Time |
| 16 | Martyn Goldsack | M | 03:09:00 |
Blackpool Half Marathon
| | | | |
| --- | --- | --- | --- |
| P | Name | Cat | Time |
| 60 | Nick Burns | MV 45 | 01:34:28 |
| 110 | Ashleigh Barron | F | 01:39:42 |
Full Race result: Blackpool Full & Half Marathon Result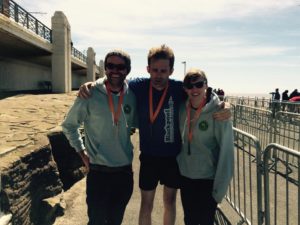 Two halfs holding up a full one – yes it really is over!