Race Date: Sunday 13th December 2015
The day that everyone had been waiting for, the final road race championship meeting of the year. Everything to play for. Well John Maples obviously thought so as he cycled a round trip of 50 miles in order to particiate. Awesome dedication indeed. Conversely Mick Wall must have been confident his second place was in the bag as he sacrificed his 100% road race championship record in order to have a nice lie in!! Huge congrats to both Ashleigh Barron and Catherine McKeown who are the only 2 Striders ( I think) to compete in all 10 road race championship races this year.
The weather was cold and drizzly but that never stopped 806 runners compete in a sell out race. Included in the 806 runners was an impressive 37 Striders – great turnout team – well done to all. The course was reasonable flat, the wind was negligible therefore it was a potential PB day – and so it turned out.
Well done to all the PBers today. Those I know of were myself,  Emma Portus, Nicola Ross,  Ashleigh Barron (first sub 45) and Roger Watson (aiming for 47 mins and smashed a 46.18 time). I 'm sure there were more so well done all. The keenly awaited Perkins/Goldsack face off also took place with Mr Perkins coming out victorious with a 20 second advantage.
The race was won by Richard Weir of Derby AC in 30.35. The first woman home was Emma Neil of Barrow Runners in 36.57.
Strider Results:
>
| | | | |
| --- | --- | --- | --- |
| Pos | Name | Cat | Time |
| 15 | Sam Needham | M Sen | 36.21 |
| 21 | Simon Bennett | MV 45 | 36.47 |
| 39 | Doug Banks | M Sen | 37.58 |
| 45 | Colin Hardy | M Sen | 38.19 |
| 47 | Jonathan Taylor | M Sen | 38.24 |
| 50 | Dave Perkins | MV 40 | 38.49 |
| 51 | Paul Stuart | MV 45 | 38.58 |
| 54 | Kev Sibley | MV 40 | 39.05 |
| 60 | Martyn Goldsack | M Sen | 39.19 |
| 64 | Paul Johnson | M Sen | 39.35 |
| 70 | Gareth Hague | M Sen | 40.00 |
| 105 | Nick Burns | MV 45 | 41.31 |
| 149 | Nicola Ross | FV 35 | 43.43 |
| 176 | Ashleigh Barron | F Sen | 44.23 |
| 185 | Graham Hague | MV 65 | 44.39 |
| 223 | Chris Heggs | MV 40 | 45.49 |
| 225 | Andy Woffindin | MV50 | 45.48 |
| 237 | Gemma Thorpe | F Sen | 46.05 |
| 239 | Mark James | M Sen | 45.52 |
| 241 | David Bailey | M Sen | 46.14 |
| 247 | Roger Watson | MV 40 | 46.18 |
| 282 | Hollie Kitching | F Sen | 47.15 |
| 284 | Jon Rhodes | M Sen | 46.56 |
| 285 | Mir Jansen | FV 50 | 47.19 |
| 292 | Nick Clayton | MV 45 | 47.30 |
| 299 | Stephanie Street | FV 55 | 47.32 |
| 319 | Ian Blackburn | MV 55 | 47.52 |
| 332 | Catherine McKeown | FV 45 | 49.01 |
| 383 | Helen Cain | FV 35 | 50.18 |
| 427 | John Maples | MV50 | 52.30 |
| 444 | Magdalena Boo | FV 40 | 52.50 |
| 461 | Dawn Jackson | FV 50 | 53.29 |
| 486 | Emma Beer | F Sen | 54.20 |
| 532 | Sarah Storey | FV 40 | 56.05 |
| 570 | Nicole Nield | FV 60 | 57.09 |
| 615 | Ruth Jacks | F Sen | 58.28 |
| 619 | Emma Portus | F Sen | 58.30 |
| 767 | Graham Nield | MV 60 | 68.28 |
Official Results: Bolsover 10k results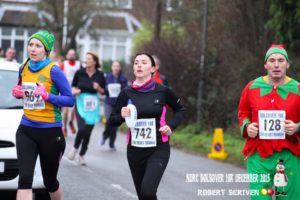 Emma beating the Elf, on the way to a PB