A cracking finish, Not! by Andy Green
Trevor Burton and Phil Howson are with me on the 9.22 train to Edale on an overcast but dry early and eager Sunday morning. A plan is in place and there is method in our madness leaving our cars at home…
…the promise of much beer and cake as we cross the finish line of the Accelerate Edale Fell Race…
…A short circular 4.72 miles with 391m of Ascent with a steep start and some very technical, rocky terrain…
…little did we know quite how much a cracking finish it would be!
Arriving early we miss the village hall registration queues. With time on our hands we find ourselves treated to coffee by Phil in the local café. Caffeine levels topped up we return to registration to find more Striders have arrived. Everyone seems to be in good spirits with the usual club banter and joking around.
A short walk up the lane and a quick kit change at the car park ensures we all have the windproof jacket required by the race rules. Then we are jogging up to the 11am start line. Lots more yellow vests are visible amongst the sea of colour. More banter follows as we discuss this years headband fashion.
Some quick announcements from Accelerate Debbie then we are off, zigzagging up the steep narrow path to The Nab. The climb is quite easy, my breathing is good and I am making ground really well. Finding myself in the middle of the field I steadily overtake other runners as and when I can.
We reach the top of The Nab and I can see two Striders ahead of me and surprisingly I catch them up. The path widens briefly, I see my chance and go for it and overtake them.
"Wow, that's a first" I say to myself, "how long can I keep this up for?" as the two Striders in question are Andy Buck and Phil Howson!
Not too long as it turns out. A misplaced foot and I find myself tumbling down the side of Ringing Roger. Scuffing my knee on the way down I'm grabbing at anything I can to break my fall. I finally stop, compose myself and look up to see Andy and Phil running past. Phil's shouting, "Wish I had my camera". My brief moment of glory passes but I am extremely happy within with my ever so minor achievement.
Back on my feet, blood pouring from my leg and the wind knocked out of my sails I still have a considerable climb to complete the first ascent. Onwards and upwards with legs racing, arms pumping, chest heaving and sheer determination. Then I'm up onto Nether Tor and then turning left onto the long technical "horizontal" route across Upper Tor.
The weather is deteriorating to a grey wet misty drizzle. Marshals, spectators, dogs and photographers alike help us navigate rock and peat bog along the way.
David Perkins overtakes me and I shout encouragement as he passes. Then another mishap, my left leg sinks up to my thigh in black peat and I have to use both hands and all my strength to pull myself out. I get up and start running again, David slows ahead of me and I overtake him and think, "Bloody hell, I'm doing well here". I run as fast as I can watching my feet while trying to keep my balance and not slip or fall again.
Steve Clark comes flying past me and disappears into the distance. I shout my excuses of falling over and a bleeding scuffed knee to justify him overtaking me. I carry on running, enjoying myself, navigating a few stream crossings. Then there's some technical hand and footwork onto the final ascent up to the highest point in the race, Grindslow Knoll.
I compose myself, back straight, head up, arms pumping and then I'm on top. That's it, the hard work is over, the second ascent complete, it's all down hill from here. I reach the marshal at the summit and as always shout a loud "Thank you Marshal".
Then I'm off on the descent, feeling good and amazed that I've come this far with a lot of Striders still behind me. I choose my line and see a huge flat gritstone slab rock ahead of me with a considerable drop off on the far end.
"I'm not going off that, I'll end up breaking something!" I think to myself.
I move my right foot out to a gully between the vertical right side of the rock and a wall of peat; the peat is soft under the impact of my foot. The outside of my foot sinks and my ankle rolls outwards and there is a loud cracking noise! I fall forward onto the ground howling with pain, I manage to roll over onto my back and I'm flat on the floor with an excruciating pain going from my heel up into my leg.
Runners fly past me, some shouting asking if I am alright. Then Striders who were behind me begin to appear and stop and then there is the realisation that I really have hurt myself. Trevor, Dave, Simon and Jeni quiz me about what has happened. I explain and I try to stand up with some help but much more searing hot pain makes me collapse to the ground in agony.
The marshal comes over to find out what is going on, it's at this point that we all realise that I'm not going anywhere. I manage to sit up a little and layers of clothing and emergency bags appear from everywhere and are piled on, under and around me. I rest my head in the marshal's lap as she calls down to race control to explain that we need help. I give my name and emergency contacts details and remember my race number to her. The details are relayed to someone somewhere down below and someone calls my next of kin for me. It wouldn't have been good if news of my mishap had reached my Mum and partner Bea via social media!
I'm getting a little cold now and the pain comes and goes in agonising waves. I'm given painkillers, this helps somewhat but the pain is unbearable at times. Striders, other runners and some spectators are still with me. Sarah the Marshal is comforting me, talking to me trying to keep my mind occupied. I ask her "So, do you come here often" and "What's a nice girl like you doing in a place like this". Someone jokes will this be my first DNF?
More runners appear with more emergency equipment. I'm suddenly inside an emergency shelter protected from the cold, the wind and the rain. My fellow Striders and other runners having used their own emergency clothing are now becoming quite cold and wet. Help is on the way so they agree to leave me in the care of Sarah inside the emergency shelter. They carry on down the mountain to the finish having abandoned their own race efforts.
All the time I can hear voices outside the shelter, people passing asking if all is ok and then the race sweeper/marshals arrive. They help Sarah look after me and I am told Edale Mountain Rescue (EMR) are on their way. A long cold wet wait with the pain coming and going and then we hear more voices outside the shelter. EMR have arrived.
Thinking to myself, I understand the implications of what has happened and how difficult it will be to get me off the mountain. I'd been fortunate enough to witness a rescue in progress in white out blizzard conditions in Glen Coe earlier this year. I'd also been to EMR HQ at Hope Cement Works last year with SCS to learn about mountain first aid, safety and rescue techniques so I knew there were considerable challenges ahead.
A textbook approach by one of EMR announcing his name and then approaching me from my head end and a friendly face appears in the shelter, then another, and then another. EMR take over from Sarah and suddenly the shelter isn't big enough and apparently I'm not warm or comfortable enough. A bigger shelter is put up and it's filled with what seems like the whole of EMR. More and more equipment, insulating blankets and cushioning is squeezed under, over, and around me, replacing the emergency clothing other runners had volunteered for me.
My pulse and heart rate are monitored, gas and air offered and then given and then the pain begins to ebb away and I am somewhere else. I'm examined to the sound of friendly reassuring chatter. EMR quizzing me asking which one of them was the nicest looking, "The one with the long hair" I reply!
EMR tell me they need to cut my Mudclaws off. "No" I cry, "They are brand new". I compromise with letting them cut the laces and my shoes and socks are off to reveal a swollen right ankle. A further gentle but thorough examination and I'm told that my ankle is dislocated. It needs to be straightened out and that it might hurt!
Lots more gas and air, 5 sucks at a time does the trick and then I'm offered an opiate-based lolly to suck on for some serious pain relief. 10 minutes later and I'm ready and happy within.
3, 2, 1 and my foot is pulled and popped back into place, I don't know if it hurt or not as the drugs were well and truly doing their work. The foot is now located and a huge splint is wrapped around my ankle and leg. It's then inflated to stabilise and cushion my injury.
EMR are now ready to move me down the mountain. A stretcher has arrived and the emergency shelter is removed. I'm now out in the open, the weather has deteriorated somewhat and all I can see around me is grey wet sky and a sea of red EMR jackets.
"Wow that's a lot of MR," I think to myself. It turns out it wasn't just EMR but Buxton MR are in attendance as well.
The stretcher is placed next to me and with the help of MR instructing me what to do. I shuffle onto it with them helping me on. I'm wrapped between more layers and layers of insulating and cushioning material. Then I'm strapped down so I can't move with a bottle of gas and air for company as and when I need it. I need lots of company!
Rescue gear is packed away and then we are ready for the long slow descent. The stretcher has handles on it and 6 MR grab them, I'm lifted up and then slowly but surely I'm being taken down the mountain.
MR are amazing, all communicating with each other. Shouting "left up", "left down", "right up", "right down" to keep me as horizontal as possible on the stretcher as we descend. The terrain is tricky and they swap carrying duties frequently to ensure no one is too tired.
The carrying is interspersed with "sledging". I'm sliding down the side of the mountain on one huge sledge, thankfully no-one lets go. At other times wheels are fitted to the stretcher and it becomes a "wheelbarrow" on the gentler parts of the descent.
On the way down there's a whole team of people around me. All have volunteered to help people who get into difficulty on our fantastic landscape and all are dedicated to what they do. For this I am in awe and eternally grateful.
There's also the friendly face of Phil Howson and Andy "Paparazzi" Buck. Both have walked back up the mountain to make sure I'm ok. Andy is snapping away on his camera like nobody's business telling me "there's a reason for it" over and over again. I'm still not sure what that reason is!
At some point on the tricky descent we stop for a moment and I'm examined by a Doctor, who thankfully is happy that no lasting damage is done. This wonderful news is then relayed to my Mum and Bea by Phil Howson.
One final obstacle and the high point of being stretchered down is literally being lifted 10 feet into the air over a high stile. Obstacle complete wheels are fitted to the stretcher and it becomes a "wheelbarrow" again for the final descent on the gentler grassy slopes to a waiting ambulance in Edale.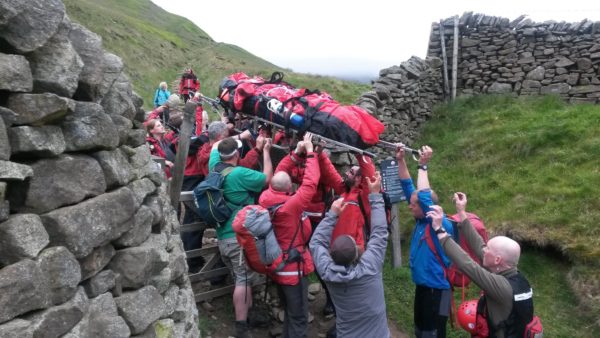 I say my thankyous and MR brief East Midlands Ambulance Service and hand me over. I'm transferred to the waiting ambulance and I'm on my way to Northern General A&E.
The journey is not too bad until we hit Sheffields' pothole ridden roads, things start to hurt a little again!
We arrive and I'm whisked straight through to X-Ray on a stretcher and this time my ankle poses for the camera. X-Rays done I'm taken through to an examination area and wait to see a doctor. Then the face of Strider Heather Wallis appeared, Heather works in A&E. It was so reassuring to see a friendly face again. I explain about what has happened and I'm not sure what Heather did but I didn't have to wait too long to see a doctor.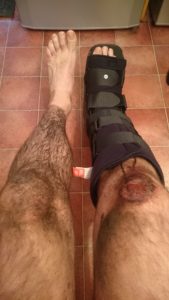 Examinations over I'm told I have torn some ligaments and in doing so snapped the end off a bone. I'm given a boot, some crutches and some strong painkillers. Then I'm on my way home with an appointment the next morning at Fracture Clinic.
A deep restful nights sleep (must be the drugs) and I'm back at the Northern General on Monday morning. I'm told by another doctor no operation or metalwork necessary, just lots of rest for 4 weeks and then Physio.
I'm hoping I'll make a full recovery but it will be some time before I'm running again!
Postscript
I hold my hand up and say that for this race I only took the least kit up with me as required for the race.
On hindsight it would have been wiser of my own accord to take full kit given the weather conditions. I put other runners at risk by them giving me stuff to wear at their own personal expense. It wasn't nice up there and any one of them could have succumbed to the elements.
Mountains are not forgiving places. It would have been a different situation if I had not been part of an organised event. Sure there would have been people around but the outcome could have been a lot worse.
I was fortunate that there were so many valuable people and resources on "foot" around me. Do not under estimate mountains and if you do venture out into them always be prepared.
I'd like to say a huge thank you to everyone mentioned above and to those I haven't mentioned. It's not that I've forgotten you, there was a lot going on and my brain was somewhat "happy within" at times!
Special thanks goes to Sarah Broadhurst (DPFR). The Mountain Rescue teams. East Midland Emergency Services. The Northern General Hospital.
I'd also like to thank my fellow runners who gave up their gear and their race to make sure I was okay and also the local paparazzi.
Accelerate deserve a special mention; for organising the race series, for omitting a DNF in the race results (very courteous).
Mountain Rescue play an important part in the lives of the local running clubs. Many events could not happen without their total voluntary commitment, dedication and support, please consider donating.
£100 was raised through donations on the day at the race for EMR.
Phil Howson has set up a Just Giving page for Edale Mountain Rescue
Accelerate store have made also a generous donation to EMR.
More details about my rescue can be found on the Edale Mountain Rescue website
Happy Within Everything's Gone Green X