Race Date: Wednesday 1st July 2015
Hope fell race is 5.9 miles and has a total ascent of 1483ft. This race, on one of the hottest days of the year so far, attracted 215 runners, including 12 Striders. Well done to all for making the effort on such a hot day.
The race was won by Jonathan Crickmore of Dark Peak in 44 mins exactly. First lady was Olivia Walwyn of Macclesfield Harriers in 50.50.
Striders' Results:
| | | | |
| --- | --- | --- | --- |
| Pos | Name | Cat | Time |
| 24 | Andy Davies | MV40 | 53.14 |
| 63 | Michael Timm | MV40 | 59.31 |
| 67 | Ian Stinson | MV40 | 60.11 |
| 76 | Kevin Sibley | MV40 | 61.09 |
| 88 | Phil Howson | MV40 | 62.26 |
| 90 | John Rawlinson | MV40 | 62.36 |
| 114 | Simon Wiles | MV40 | 65.57 |
| 132 | Anthony Horstead | MS | 67.43 |
| 145 | Adrian Moss | MV50 | 70.37 |
| 161 | Richard Garton | MV50 | 72.25 |
| 183 | Lucy Smith | FS | 77.11 |
| 195 | Carol Beattie | FV60 | 79.17 |
Official Results: Hope Fell Race results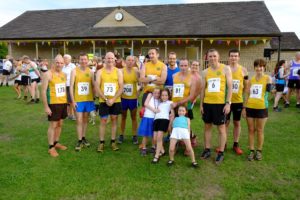 Striders at Hope Fell Race