Race Date: Sunday 10th May 2015
13 Striders joined the thousands of runners taking part in the 30th Leeds half marathon this morning. It was a gloriously sunny day which made for very pleasant, if not slighty warm, running conditions. The route had a few inclines and some fast downhill stetches but on the whole was a much flatter route than the Sheffield half. This allowed for some speedy times and some PBs amongst the Striders present.
The race was won by Mohammad Aburezeq of Altrincham & District AC in a blistering time of 1:11:18. First lady home was Hannah Oldroyd of UKnetrunner.co.uk in 1:23:10
As for the Striders, the Goldsack train keeps on rolling. Hot on the heels of his debut marathon performance at Blackpool, then his 1st place in the parkrun comes a first Strider position in the Leeds half marathon. Well done to Martyn and to all the other Striders who ran at Leeds and notched up some fantastic times.
| | | | |
| --- | --- | --- | --- |
| Pos | Name | Cat | Time |
| 127 | Martyn Goldsack | M | 01:26:14 |
| 221 | Ed Startup | M | 01:29:13 |
| 425 | Suzanne Garnett | F | 01:34:10 |
| 432 | Nick Burns | M45 | 01:34:16 |
| 446 | Michael Richardson | M35 | 01:34:27 |
| 560 | Ross Drayton | M | 01:36:07 |
| 570 | Adrain Moss | M50 | 01:36:14 |
| 757 | Richard Sands | M40 | 01:38:48 |
| 1488 | Stephen Atkinson | M40 | 01:46:34 |
| 2285 | Alex De Salis | F | 01:53:28 |
| 3732 | Richard Garton | M50 | 02:04:22 |
| 4043 | Alison Muir | F | 02:06:40 |
| 4391 | John Walker | M50 | 02:10:06 |
Full Race Result here: Leeds half marathon result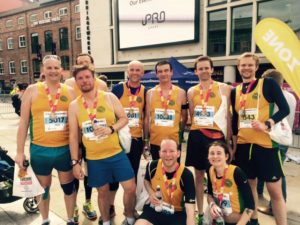 Striders after completing the Leeds half marathon