Race Date: Sunday 19th April 2015
13 Striders started the Manchester Marathon this year. All the training must have paid off, because there were a lot of PBs achieved and a fair few smiling faces at the end.
First for the statistics, and then I'll give a first hand account.
The race winner was Paul Martelletti of Run Fast, who finished in a blistering 02:17:44. First lady home was Georgie Bruinvels of the snappily named Aldershot, Farnham & District AC, in a super impressive 02:37:16. To put that into context, she finished in 26th place.
There were 7806 runners who took part.
Now for the interesting bit, from the point of view of the Steel City Striders!
| | | | |
| --- | --- | --- | --- |
| P | Name | Cat | Chip Time |
| 46 | Mark Gray | M40 | 02:41:26 |
| 503 | Sam Needham | M | 03:00:07 |
| 727 | Ben Heller | MV50 | 03:07:26 |
| 1132 | Peter Brown | MV55 | 03:14:48 |
| 1159 | Steve Haake | MV50 | 03:15:19 |
| 1714 | John Rawlinson | MV45 | 03:25:31 |
| 2001 | Matt Rimmer | M | 03:28:55 |
| 2193 | Adrian Moss | MV50 | 03:32:22 |
| 2607 | Anthony Horstead | M | 03:39:23 |
| 2636 | Matt Gibson | M | 03:39:47 |
| 3411 | Steve Clarke | M | 03:49:11 |
| 4159 | Lucy Smith | F | 03:57:12 |
| 4777 | Alex De Salis | F | 04:05:53 |
| 4866 | Matthew Surgeon | MV55 | 04:07:47 |
| DNF | Adam Whitworth | M | DNF |
Full results can be found via the Chip Race website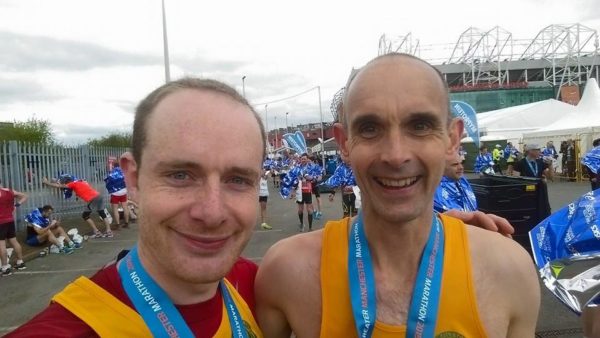 Me (Sam Needham) and Mark Gray at the finish – waiting for more Striders to finish, feeling rather relieved and I think in both our cases slightly annoyed we hadn't managed to go just a little bit quicker! But let's rewind a few hours…
I woke at 4am…and clearly had no chance of going back to sleep. Nerves and adrenaline saw to that. I got picked up by Steve Clarke at 6:30 from Abbey Lane. I was on time for once! We debated whether or not we'd actually get to Manchester in time for the race. There was some uncertainty at this point. We met Matt Gibson down in Rivelin Valley, and he took over driving duties. Ladybower & Derwent, scene of so many training runs over the last few months, looked resplendent and wonderfully peaceful as we drove past and up towards Snake Pass. We were treated to a good view of Manchester from the top, and made good time all the way in. Until that is we couldn't reach the official parking and began to panic a bit. It seemed impossible to get anywhere near Old Trafford due to every road being closed. We gave up in the end and went for some unofficial parking. There was then the necessity of facing long queues at the porta loos, which put pay to a Striders group photo.
I got to the start area about 2 minutes before 9 o'clock, vaulted the barrier because needs must and found myself a fair distance behind the 3 hour pacer, which is what I was aiming for. The intention had been to find Adam Whitworth before the start, but this didn't happen. Before I'd had a chance to compose myself or for that matter take my usual shameless selfie, the gun went off. Only it sounded more like a canon and made me jump out of my skin! Just time for a quick moment to myself, eyes shut, visualising the race, long exhale. Then the shuffle over the start line. Some confusion over which of the 2 tracking mats was the actual start for Suunto starting purposes. Then the constant scramble for position, and the knowledge that I desperately wanted to find Adam in amongst the hundreds of jostling people, even towards the front of the field where I managed to start.
I saw Mark Gray (clearly in the zone already, with plenty of space around him – unlike me!) shortly after he rounded the first dog leg which leads back towards the start, but doubt he heard my shout. Shortly afterwards, I found Adam. Relief! We stayed together according to plan for a few miles, gradually gaining on the 3 hour pacer. It was properly claustrophobic at this point, with runners all around us all doing 6:40 minute miles, but with literally no room to swing a cat anywhere and elbows everywhere. I opted to pass the 3 hour pacer at about mile 5, in the process beginning to leave Adam behind due to raising me pace slightly. Suddenly I found myself with a lot more space around me, which made me a lot happier. Being stuck in the masses was clearly a recipe for disaster – and in fact in turns out at least one runner went down on a tight corner, gashing his knee badly. Race over for him.
Now I had space, I could get properly in the zone without being distracted by the need to avoid or weave round hundreds of other runners. I settled into a comfortable pace and concentrated on nothing more than the steady, never ending flow of the run, occasionally checking my watch for pace. I saw Mark again not long before I reached half distance. He had already passed this point and was clearly doing well still. This time he certainly heard my shout! I crossed half way in about 01:26, which a year ago would have been a half marathon PB. How things change. I saw Ben Heller on the way back out of that stretch (the course goes back on itself a few times). High five as we passed. Right hand ringing for a good mile afterwards! Thanks Ben! I began to spot Striders dotted in amongst the masses on the other side of the road, but sorry if I didn't give you a shout of encouragement. I didn't spot everyone.
Back through Altrincham and still going strong. Feeling just as if I hadn't already run 16 miles. A couple of sips of water at every station, the same with any isotonic drinks given out. Kept on missing the big skips intended for bottles. Quite hard to aim while running, though maybe I'm just a really poor shot. Past mile 18, where I crumbled last year. Still going strong. Beginning to believe I'll break 3 hours, by a significant margin. Start making the mistake of doing pace maths in my head rather than just keeping my mind empty. If I can only keep my average at 6:38 minute/miles I'll be on for well under 3 hours.. that's a massive cushion.  Surely good for age is in the bag! Mile 22, and I begin to feel fatigue. My pace had dropped imperceptibly during mile 21. I began to think I should have taken some energy gels. The last 4 miles were a steadily increasing battle, literally clawing my way along the road. Trying to keep my pace as high as possible whilst knowing I no longer had the legs. Managed to increase my pace sporadically, but I could no longer sustain sub 7 minute/miles. Began to be passed by people I had passed earlier on. See the 25 mile sign and nearly despair completely. In hindsight, it was clearly in completely the wrong place. I got passed by the 3 hour pacer very close to the end. To his credit, he tried to keep me with him, but I just didn't have it in me. The last stretch, where you can see Old Trafford looming in the distance, was complete torture. I know I could still potentially break 3 hours, but only just. But my legs wouldn't work. It felt like running through treacle. Begin to wonder why on earth I'm putting myself through this level of pain. In reality, I never really dipped below 8:37 minute/miles and only then in the last half mile. If only I'd had a bit more in me!
I rounded the final corner and could see the finish and the clock in the distance. Proper tunnel vision now. Close to complete exhaustion. Want to sprint, but can't conjure up the speed I want. See the clock tick over 3 hours. But only just. Cross the line. Stop. Can't catch my breath. I'm not asthmatic, but now I know how it feels. Moment of panic, but it goes away quickly. I've got good for age. London 2016 here I come! Relief! …and a 34 minute PB. That'll do, but I know I can do better.
Walk to the girls handing out the medals and space blanket, get my goodie bag. Protein drinks being dished out. See Mark. He smashed it. Recovery beer. None alcoholic. Photo. We waited for other Striders to finish… lots of smiles. A lot of PB's accomplished!
Very well done to all who took part, and commiserations to those whose race didn't go according to plan. I think we've well and truly thrown down the gauntlet to all those Striders doing London next Sunday!