Race Date: Sunday 12th July 2015
This was a charity 10k race run in order to raise funds for Weston Park hospital. I don't know what it is about Graves park but this was a punishing 10k. Perhaps it was the half mile downhill followed by the 2.5 mile steady uphill to complete a lap and then doing it all over again that made it so hard, or perhaps it was the intense heat once we ran out from the cover of the trees. Whichever, there was a lots of pained faces during this race.
This 10k represented an anniversary for me. One year since I started to run properly. Having this race as an introduction to running, I am wondering now how I managed to convince myself to carry on. Last year I finished the race, completed exhausted in 55.15. This year I completed it, completely exhausted, in 46.00. Just shows what a year of training can do. Same again next year and I'll be with the elites!
Results: The race attracted 386 runners, several of them Striders despite the clash with the Dronfield relays. The results lack club affiliation so apologies if I miss anyone off.
The race was won by Daniel Page of Autoworld in 36.16. First lady home was  Lisa Giampalma (unattached)  in 43.58. Special mentions must go  to Strider Sam Paymanfar for his hard earded second place in the VM40 category and to Peter Macqueen for guiding Anthony O'Keefe around the course and oh so nearly achieving the sub 50 target, which would have been achieved if it wasn't for traffic  – well done all.
Striders' Results:
| | | | |
| --- | --- | --- | --- |
| Pos | Name | Cat | Time |
| 16 | Sam Paymanfar | MV40 | 42.58 |
| 27 | Martyn Goldsack | M | 44.18 |
| 32 | Nick Burns | MV40 | 46.00 |
| 65 | Peter Macqueen | M | 50.04 |
| 243 | Luis Basitdas Teke | MV40 | 64.31 |
| 278 | Ruth Kaiser | F | 67.53 |
Official Results: Run in the Park results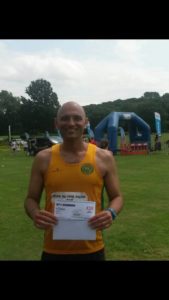 Sam Paymanfar – 2nd place in MV40 category