Race Date: Sunday 20th September 2015
Another quality race that was a victim of a clash of dates with many Striders taking part in the Sheffield Way instead.
The Fat Boys Stanage Struggle passes through beautiful Peak District countryside beginning in the village of Hathersage the route progresses via track, grass, path and moorland up onto Stanage Edge, out to High Neb, with a quick downhill return leg on very runnable ground back to the village.
The Struggle is, despite its name, a very accessible race.
It provides a serious challenge for the swifter runners attracting top names capable of fast times – whilst the varied terrain ensures that everyone can excel at some stage of the race. Road runners and other fell race virgins often use The Fat Boys Stanage Struggle as their introduction to fell racing.
The first mile is on easy track with open gates ensuring that the field spreads out quickly enabling faster competitors a trouble free start. The complete route is signed and marshalled throughout by Fat Boys – with additional support from St John Ambulance and the Edale Mountain Rescue Team.
The race attracted 296 entrants of which 292 finished. There were 5 Striders in attendance – well done all. The race was won by Stuart Bond of DPFR in 38.20. First woman was Caroline Brock (unattached) in 49.28.
Striders Results:
| | | | |
| --- | --- | --- | --- |
| Pos | Name | Cat | Time |
| 45 | Kevin Sibley | M40 | 48.45 |
| 65 | Dave Ansell | M50 | 50.45 |
| 141 | Jimmy Sharman | M | 56.27 |
| 176 | Joe Dunne | M | 58.45 |
| 271 | Jill Davies | F50 | 70.25 |
Official results: Stanage Struggle results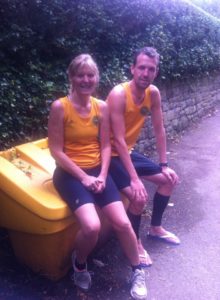 Loving the footwear, Jimmy