Race Date: Wednesday 8th July 2015
This 10k race is organised by Sheffield Running Club and is a charity fundraising race in aid of the Greaves House Farm Trust, a care farm that provides therapeutic meaningful work activities for vulnerable people with learning disabilities and / or mental health problems. For information, click here. Included the entry price of £10  was a free mug which could be used for your free tea/coffee and there was free flapjack and cakes – not forgetting a stunning race.
The race itself was a 2 big laps and 1 small lap course which incorporated multiple terrains: road, trail and fell and afforded wonderful views of the pennines, when you were not looking at where to put your feet. The road section of the race was the central lane, all uphill,  which had to be conquered three times with added headwind – definitely character building.
The race attracted 55 runners of which almost a quarter was made up of Striders so well done to everyone for making the effort. The race was won by Joe Sweetnam Powell of Sheffield RC in 40.12. First woman home was Claire Spencer also of Sheffield RC in 48.06. Special mention should be made to the Striders prize winning women's team made up of Ashleigh Barron,  Hannah Milton and Nancy Stuart. Well done ladies.
Striders' results
| | | | |
| --- | --- | --- | --- |
| Pos | Name | Cat | Time |
| 7 | Andy Davies | M45 | 42.15 |
| 10 | Paul Stuart | M45 | 43.17 |
| 23 | Nick Burns | M45 | 48.41 |
| 27 | Alex Arblaster | SM | 50.15 |
| 28 | Doug Armstrong | SM | 50.20 |
| 29 | Darren Maher | M45 | 50.44 |
| 31 | Graham Hague | M60 | 50.58 |
| 34 | Ashleigh Barron | SW | 52.52 |
| 35 | Martyn Goldsack | SM | 52.53 |
| 39 | David Hewitt | M60 | 54.27 |
| 42 | Hannah Milton | F35 | 55.00 |
| 50 | John Walker | M50 | 61.08 |
| 53 | Nancy Stuart | F35 | 64.26 |
Official Results: Stocksbridge Chase results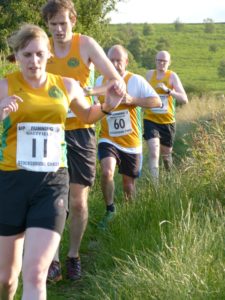 Striders' battling it out
Great for a brew at the end