Race Date: Sunday 26th July 2015
This race was organised by the Handsworth Road Hogs in aid of the Rotherham Hospice. The race came in two guises, a 5k and a 10k. In the 10k there were 59 runners including 7 Striders.
The race was won by David Blow in 38.04. First lady was Lauren Davies Beckett in 41.42. No club information is available in the results.
Striders' Results:
| | | | |
| --- | --- | --- | --- |
| Pos | Name | Cat | Time |
| 5 | Colin Hardy | M | 39.28 |
| 10 | David Perkins | MV | 41.36 |
| 12 | Stuart Carrick | M | 42.11 |
| 27 | Tom McCart | M | 47.14 |
| 40 | Mary Craig | FV | 52.57 |
| 48 | Emma Beer | F | 57.49 |
| 54 | Zoe Dickinson | FV | 63.05 |
Officiasl results: Waverley 5k & 10k race results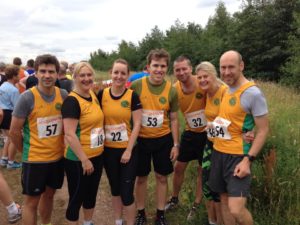 Striders at Waverley 10k