Race Date: Sunday 16th October 2016
Race Report by Jason Brannan
Oh we do like to be beside the seaside…
A band of five hardy Striders braved seagulls, squalls and sandcastles at this year's Bridlington Half Marathon – starting from the newly built and very impressive East Riding Leisure on the promenade.
On the approach to Brid as the sky was beginning to bruise, it was clear the forecast weather was about to throw its worst at these souls of Sheffield.
The course itself starts on the sea-front then heads off out into the countryside via Sewerby, Flamborough and Bempton before returning to Bridlington – then takes one more loop out to Sewerby, passing through Sewerby Hall grounds before returning to Bridlington and the sea-front finish.
Billed with the classically 'undulating' moniker, the course was run pretty much entirely on open roads, with the marshalls doing sterling work standing up in the pouring down – and ensuring runners didn't get mown down.
The course managed a neat trick of seemingly having far more up hills than down, and somehow crammed a year's rainfall into around two hours. As runners neared the final turn for home the gathering wind had an unwelcome surprise for them.
What should have been a well-deserved long downhill stretch and a flat firm drag back to the finish on the prom, was replaced with driving rain and 'stop you in your tracks' wind – that made the flashing green neon of the local amusement arcade seem like a distant and forever out of reach oasis.
Great performances all around from the Striders in some awful conditions.  For reference a good course that in better conditions holds decent PB potential.
Extra points for anyone spotting the 'Madness' and 'Withnail and I' references…
| | | | |
| --- | --- | --- | --- |
| Pos | Name | Cat | Time |
| 31 | Jason Brannan | V40 | 1.28.34 |
| 63 | Peter Brown | V55 | 1.33.58 |
| 119 | Tud Jackson | V50 | 1.40.44 |
| 199 | Richard Giles | V35 | 1.47.26 |
| 251 | David Hewitt | V60 | 1.52.14 |
529 people took part in the race including 5 Striders. Well done to all! A special mention to Jason and Rich for achieving new PBs despite the conditions. The race was won by Steve Bateson of East Hull Harriers & AC in a time of 1.11.58, and the first lady home was Sara Rookyard also of East Hull Harriers & AC in 1.31.13.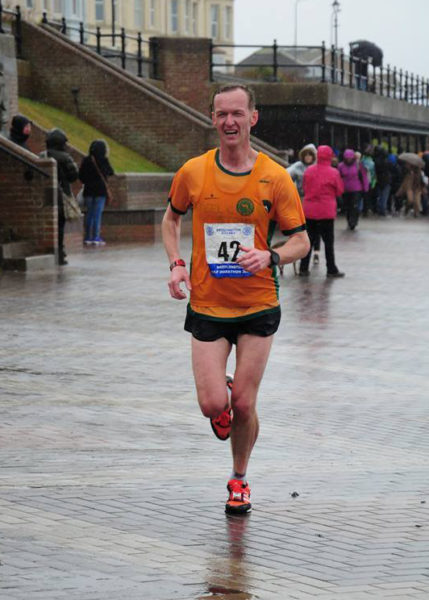 Full results available here.
Save
Save
Save
Save
Save
Save
Save