Race Date: Sunday 21st August 2016
Race Report by Helen Cain
What a fantastic day. Woke up to perfect weather for a nice run in the country. At the start there were plenty of facilities including parking, toilets and the barn to sit in and relax. After a brief about the race, we were on our way.
The first path on the course is narrow, so slow going unless you are near the front – but the slow pace suited my lack of training and lack of sleep due to three young kids! Once out of Whirlow, the route takes you up to Ringinglow Road (a quick reminder of the Sheffield Half) before heading back across fields and into Limb Valley. I then enjoyed a steady run up Limb Valley, around Lady Canning's Plantation and onto Houndkirk Moor. The trail along here is undulating and rocky in places, but has some fantastic views over the whole city. The route doesn't continue down to Fox House pub, but instead cuts across to Burbage. This is where it became more rocky, so I had to walk some parts. Once at Burbage, a steady incline goes to upper Burbage before heading over Higger Torr, followed by a nice downhill section.
The route then goes back the same way, so again, a few rocky parts while getting back to Houndkirk and then straight back to the top of Limb Valley. Finally, a long downhill (one of my favourite runs) before a last little uphill section into Whirlow and the finish line. It was a tough 12 miles for me due to lack of training, but the lovely route and fantastic views made it an enjoyable day. And to finish, I had one of the best burgers ever…

| | | | |
| --- | --- | --- | --- |
| P | Name | Cat | Time |
| 22 | Alex Shepherd | Veteran Male | 1.52.37 |
| 71 | Helen Cain | Senior Female | 2.15.38 |
126 people took part in the race, including 2 Striders. Well done to both! The race was won by Ollie Hart in a time of 1.29.15 and the first lady home was Heather Mochrie in 1.42.23.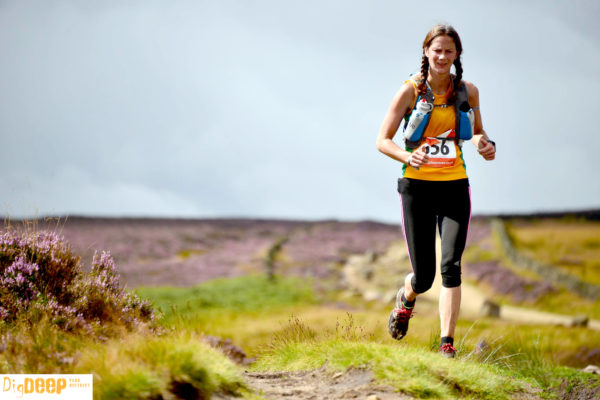 Full results available here.