Race Date: Saturday 20th August
Race report by Martyn Goldsack
Race weekend in the Barron-Goldsack residence almost always goes a little something like this… The evening before is spent packing. I bundle everything into a rucksack or suitcase haphazardly, pin my number on my Striders top (haphazardly) and then lay in bed with a book and try to switch off to the following morning's task. I at least TRY to switch off. Cupboards fly open and shut, lights go on and off and it sounds as if the entire cast of STOMP the musical has come round the flat for a sleepover as the better half goes about her preparation routine. My gripping chapter becomes three times as long as I have to re-read lines over and over again in-between "How many gels are you taking?", "Do you reckon I should pack full waterproofs and 1.5 litres of fluid or half waterproofs and 2 litres of fluid?" and my all time favourite bedtime discussion "What time shall we set the alarm for love?"
Given my day job, anything past 5am is a lie in to me and when I don't have to get up for work my subconscious mind goes into hibernation mode and this includes race days. There have been countless occasions where I have been in charge of getting us places "on time" which have ended up with us sprinting to train stations and up hills to bus stops pre race and so these days, due to my relaxed approach to said situations, it is better to be earlier than late and let the lady take control of this part of the race day and this usually starts with a repeat performance from the night before. Cupboards flying open and shut, lights going on and off and the entire cast of STOMP the musical repeatedly screaming at me to wake up and get my lazy ass out of bed!
The morning of the 20th August was no exception. Final checks were made to our gear whilst we stuffed as much fat into our chops as we could before taking a steady 2 and a half mile uphill trek to the start line at Whirlow Hall Farm. Doing a lot of running together over the past year or so we have become quite accustomed to the odd domestic here and there during times of extreme fatigue and so decided to place a bet on how many we were likely to have during the course of a 30 mile ultra. Ashleigh went for 6 (obviously feeling really revved up to let leash on me again for my morning's laziness) whereas I decided on 2 or 3 maximum. It was going to be a long day!
On arrival at Whirlow Hall Farm we bumped into Blaine Quigley and Andy "Gold Star" Davis and we snapped ourselves a pre race selfie before having our briefing and being ushered out to the start line. The gun went off and being quite far back we got stuck behind a considerable amount of traffic on the initial narrow, uphill climb out to Limb Valley. In a way this was probably a benefit as we were both raring to go and would more than likely have set off far too fast. Talking of speed, about a mile in we could just make out our Gold Star as just a blur on the horizon, battling within the top 5 and looking extremely strong indeed.
As the traffic subsided and we got into our rhythm, the first few miles went very well indeed. The relentless off road training that we had put in mixed with the adrenaline of race day saw us bounding up the hills of Limb Valley and Houndkirk Road easier than we could have imagined and as we turned into Lady Canning's Plantation it seemed as though nothing could possibly go wrong. But then disaster struck! We were taking a different route through the plantation than we had originally recced and this encouraged panic to set in enough for Ashleigh to be adamant that we had taken a wrong turning and that we were following the 60 mile route. Knowing that there had been no other signs and seeing no break offs of way markers or other runners, I myself was adamant that we were on the right track and DOMESTIC NUMBER ONE manifested as we rejoined Houndkirk Road. With the combination of repetitive concerns of misdirection and the brutal, ankle twisting terrain of the uphill trail I "very politely" requested that she quieten down and we continued for a bit in silence. Fortunately, a few hundred metres up the track and we came across two cows mounting each other and the world became a much friendlier place again.
DOMESTIC NUMBER TWO was nothing more than a small blip where I was told off for going a little too fast along Burbage but then it was onwards and (yes you guessed it) upwards to Stanage Edge and, to take from the actual name of this race, we really did have to Dig Deep as we battled what felt like gale force head winds both on the climb to and all across The Edge.  The wind made it so that extra vigilance had to be taken with regard to our footing on this highly technical stretch of the course yet we crossed it in what we deemed a very respectable time. We were both feeling very strong and positive as we comfortably trotted up a hill that had reduced us to crawling during training and then stretched out the legs on the long downhill section towards the base of the dreaded Win Hill.
It was at the base of Win Hill that we encountered two things. A brilliantly placed feed and drink station with loads of coca cola and sports nutrition products and DOMESTIC NUMBER THREE! Even though not being born and bred in Yorkshire, I have been here long enough to appreciate and adopt the persona of "The Tight Yorkshireman" that Messrs Howson and Moss would be proud of. My thoughts being that I had paid a decent amount of (don't get me wrong very worthwhile) pounds to enter this event and that therefore I wanted us to put some of these sports nutrition products in our bags for a later time. Ashleigh, being very aware of the weight of her back pack and the amount of miles we still had to cover was not under any circumstances prepared to put any more weight on her person and after some frustrated words between gulps of cola and bites of energy bar I was "very politely" told to carry my own "flipping" stuff. Cue more silence!
For those who haven't had the experience of climbing Win Hill I'll do my best to describe it here. We started at what felt like 3000ft below sea level by climbing a set of stairs that were so wide and tall that we virtually had to do the splits to take each one. It was about halfway up this 100 metre staircase that we encountered a comedian masquerading as a member of the public who told us that we were "nearly there, not far to go to the top now!" Fortunately (or unfortunately whichever way you look at it) we knew that it wasn't a very good joke and, leaving him behind to chuckle at his own words that he was probably likely to use on the next person who passed him, we attempted a lame jog through the forest for all of ten seconds before coming face to mud with a miles worth of vertical incline. This climb is seriously tough! To your left is a huge ravine that gets deeper and deeper the higher you climb. Your fingernails get full of mud and plant life as you grab onto tree roots and rocks to haul yourself up Mother Nature's ladder of doom! This part of the climb lasts for about 700 metres before emerging onto a trail that winds upwards even more to the very tip of the hill which is situated over a mile from its base. On reaching the summit we dibbed into the check point (Kudos to the marshal who was sat up there all day in the elements) and congratulated each other on a great achievement. "Only another 15 miles to go love!"
It was at this literal high point that things took a turn for the worse and, unbeknown to us at the time, we had missed a vital sign to veer off the track to take a steep downhill to follow the Intro Ultra route. We were enjoying the steady downhill trail after the horror of Win Hill and were back to finding our rhythm again when we saw a chap in the distance coming back up the hill towards us looking at his map. He told us that he thought we were going the wrong way, I thought we were sort of going the wrong way because I couldn't remember this part from the recce and so we started to climb the track again with him a little ahead to see if we had missed a turn off. It was then we encountered two other chaps running down towards us. We asked them if they were doing the 60 or 30 miles and they told us that they hadn't seen any signs so this must be the way for the 30 miles and so we decided to then turn around and follow those two back down the track instead. Some way back down this track and after concerns that we had gone well past the distance of the next check point Ashleigh fortunately referred to the GPS route and we had gone very wrong indeed. We tried to shout down the other guys who had gone too far ahead (these guys apparently did an extra 10k in total) before turning around to yet again climb the track to find the turn off. When we eventually got to the sign it was quite disheartening to realise that we had done an extra 4 miles with quite a bit more unnecessary elevation.
We were now unofficially just under 18 miles into the race and still looking for the 14 mile checkpoint so morale was quite low. A domestic free second half was in order and we pulled together to keep positive. Woes were well and truly forgotten about for 15 minutes when we reached the feed station. It was a feast fit for a King and Queen! After two months of Low Carb High Fat eating I used this opportunity to guzzle cola and shovel as many pork pies, chocolate crepes, flap jacks, crisps, cakes, biscuits, sweets and nuts into myself as I possibly could! A quick coffee and a pep talk and we were off again with a more positive view on completion of the challenge.
The second half was quite a bit tougher than the first. After the eerie, mechanical sounding trails of the Hope Cement works we were faced with another huge climb through the vegetation of "Jurassic Park", so nicknamed from our previous recce of the section where we were ambushed by swarms of bugs the size of pterodactyls that feasted upon our blood. Luckily, the drizzly, windy weather of Saturday meant that the Lizard bugs were in hibernation. We then spent a good few miles running down alongside the River Amazon. It was definitely the Amazon because it felt as though we had ran that far already. Our joints were really starting to hurt at this point and the wind was blowing the low hung branches of trees so hard that it felt as though we were getting hit in the head by logs.
With only 10K left to go Ashleigh was already in unchartered territory as we passed marathon distance. Mentally this was really tough for her and she really had to grit her teeth to keep on going, especially during the difficult climbs through Hathersage and Burbage but we managed to find our way back to Houndkirk Road in a good time. Revisiting the brutality of Houndkirk with over 30 miles in the legs was excruciating on the ankles and knees but soon enough we were back to Limb Valley and dibbing into the final checkpoint before attempting our final stretch towards the finish line. This last mile or so was a blur of aches and pains and a few rogue flies that decided it would be a laugh to land in our mouths and eyes to make the last few metres a little harder than they already were. Finally, we turned the corner and crossed the finish line with Strava stating 34.4 miles and 4700 ft of elevation in under 7 hours.
As soon as we crossed the finish line we grabbed a couple of coffees and collapsed down onto some hay bales. We got chatting to fellow 'Ultra Mad' strider Gavin Pumford who came in just behind us and had our picture taken with the big inflatable mammoth (courtesy of Tonya Kennedy who happened to take a fair amount of great pictures of us along the course of the run too – Thanks for that Tonya). We got to see Andy's strava upload and were all amazed at the time in which he'd managed to achieve on such a tough, yet amazingly picturesque race. Great to see you back on form Gold Star!
I would highly recommend this race be put in people's calendars for next year. Us… Well as I won the DOMESTIC CHALLENGE I'm afraid she had no other choice than to accept the challenge of the 60 mile route next year. I'm looking forward to it already!
| | | | |
| --- | --- | --- | --- |
| P | Name | Cat | Time |
| 6 | Andrew Davies | Veteran Male | 4.47.19 |
| 81 | Martyn Goldsack | Senior Male | 6.54.36 |
| 81 | Ashleigh Barron | Senior Female | 6.54.36 |
| 96 | Gavin Pumford | Senior Male | 7.12.07 |
| 122 | Nicole Brown | Veteran Female | 8.16.26 |
| 130 | Blaine Quigley | Veteran Male | 8.53.41 |
138 people took part in the event, including 6 Striders. Well done to all! The race was won by Lee Kemp in an impressive time of 4.03.01, and the first lady home was Lucy Wasinski in 5.25.49. Congrats to Andy for claiming 2nd Vet prize!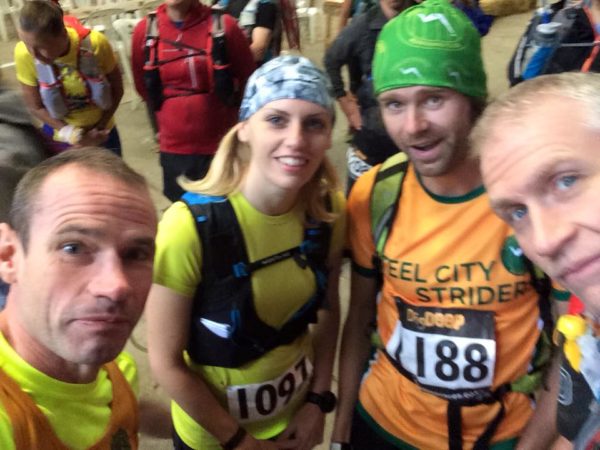 Full results available here.