Race Date: Saturday 20th August 2016
Race report by Simon Bennett
I only entered the UTPD back in June, after contemplating what to enter. A 70.3 Triathlon (1/2 ironman) or a Marathon. But the UTPD at £60 for a full day out in the Peaks, a very well marked course, and marshalled with 21 check points in some far out places.
The week before, I had just come back from two weeks in Cornwall so all the normal things were going through my mind, had I done enough training?????? I had only done one long run of 22 miles. Hot weather had been forecast for the week before but was due to turn wet and windy for the UTPD weekend (OH NO).
Friday before the race I went up to register and listened to the talks by the guest speakers. Afterwards I spoke to Blaine Quigley, who was doing the 30 mile intro to Ultra on the same day. Wow what an organised man. He knew the weather hour by hour and had all his equipment ready. I was still undecided what to wear for the weather!!!!
That night I went home to prepare my kit, and drop off bags with food, drinks and clothes in. The ladies hockey team were playing in the Olympic final, so I got to bed at 10.30pm, alarm set for 3.45am. The last time I looked at the clock it was 12.15am, just over 3 hours sleep.
RACE DAY
Alarm going off at 3.45am, race briefing at 5.30am, race start 6.00am. Breakfast was hard getting down at that time in morning, large bowl of porridge and a big mug of strong coffee. Bags checked once more, weather checked, not looking good at all. At the race briefing Ian Loombe who organises the Dig Deep weekend, pointed out that on the course there was a big bull in a field and more aggressive cattle at the top of the Limestone Way. Not what I wanted to hear.
I have broken the race down into six stages. Stage one is from the start at Whirlow Farm to feed station at Strines junction….. about thirteen miles. I find this stage a bit of a warm up. From Whirlow Farm it goes over to Burbage Edge, onto Stanage Edge, down though Wyming Brook and then up to the feed station at the Strines. It is on this stage that you are most likely to have company. I was running with a lad who had come down from Durham, the pace felt comfortable, but I had put a waterproof coat on as a precaution because the forecast was for heavy rain from 6.00 till 8.00. It turned out to be just showers. I could feel myself overheating and sweating profusely, but was worried that if I took my coat off I would get a chill because I was sweating so much.
At the feed station I was relieved to swap my waterproof for a light weight jacket, which I had in my drop off bag.
Stage two is up to Derwent Edge, then along to the Back Tor check point at Lost Lad. Then down to the Ladybower Reservoir and back up to, and across Derwent Moors to the Strines feed station. There I changed into a light weight jacket, and put lemon curd sandwiches, salt & vinegar crips and Jaffa cakes into my rucksack. The lad from Durham (Chris) was also ready, so we set off up to Derwent Edge. Running on the slabbed paved path along the edge, the tops of my legs started to tighten up. It was only fifteen miles in. Going up from the Ladybower up to Derwent Edge is where I had planned to eat……. Sandwiches good, crisps not so good when your mouth is as dry as a rabbit hutch.
Back at the feed station my partner and mum and dad were due to meet me, so I was looking forward to seeing some support but alas they were delayed so I didn't see them. I asked the marshall at the checkpoint/feed station that if they did turn up to take my bag to Edale.
Section Three is from the Stines feed station to bottom of Win Hill.
Heading to the bottom of Win Hill, where there was another feed station, I went over Stanage and down to the Yorkshire Bridge. I felt at my most low whilst going over the A57 up to Stanage Edge….. 1. My family had not been at the last check point, and 2. Chris from Durham was going away from me at such pace that I felt that I must be slowing significantly, and it was not even half way through the race.
I began to have negative thoughts going through my mind and even considered calling it a day at the Win Hill checkpoint. Such was my negative pattern of thought.
Section Four – Win Hill to Edale
At the feed station at the bottom of Win Hill Chris was waiting to give me some much needed support. I felt that I had recovered a little after a long down hill road section. There was still no sign of my family but I just had to get on with it.
I topped my water up, and had my sandwich and banana in hand for the long walk up Parkin Clough. (If you've never walked up Parkin Clough, then do so to appreciate the steepness of the hill). Again Chris soon disappeared out of sight, now I was on my own, so come on. I remember at one point going dizzy as I looked down from Parkin Clough, such was the height of it.
I was very glad to see the top of Win Hill. I dibbed and set off on my way to Hope Cross. This part of the course should be very runnable, as you've done over 33 miles, but not for me. As soon as I set off from Win Hill I was getting spasms in my quads, radiating into my calves……a feeling that I had never had before so didn't quite know what was happening to my poor legs. I stopped and walked again stretching as I went. Luckily it didn't materialise into full cramp!!!!
I managed then to run onto Hope Cross, then walked up Crookes Stone Knoll Along the top I was continually being blown backwards by strong gusts of wind, and had to be careful not to fall. After check point 11 I was told that it was 3K to Edale and believe me that was music to my ears.
Coming off Ringing Roger is a steep descent where the quads take all the strain. I was glad to get to the bottom because my legs were burning like hell.
Section Five – Short section through Castleton then onto Bradwell. When I finally got to the water station at Edale, I once again was disappointed that my family had not yet arrived. However upon leaving, they appeared around the corner, and when they said that I looked quite good, it gave me a much needed boost.
I asked them for Wine Gums, "Oh we've left them in the car" came the reply. "Never mind, we'll see you at Castleton and you can get them there." Fine.
Going up Hollins Cross felt really good but coming down was not so. I felt my IT band twinge (an old injury), so I decided to take it easy, walking, as the ascent was steep and off camber. When the terrain started to level out, I began to run again.
When I reached Castleton, Wine Gums and Snickers in pocket I began to ascend Cave Dale against a strong head wind. Then the rain began to pour down, and did it come down. Within minutes I was soaked to the skin.
However I knew that at the Bradwell feed station, there awaited a full change of clothes.
Anyway with nowhere to shelter I persevered. From the top of Cave Dale I descended through 4 fields, 3 had very long grass which soaked me again, as if I could get any wetter. Then onto the steep road descent, where I realised how much rain had actually fallen. The road was streaming.
I finally reached the Bradwell feed station, where there was a wide variety of snacks, fruit, sandwiches and much more.
I was glad to replace my soaking wet clothes with fresh, dry ones. I spent about 15-20 minutes there, had a hot coffee, and some fruit. Two other runners came and went, then another… Ishmail Burdeau who looked as if he might be in my V40 age category came in. I knew that I was lying in 10th place at Bradwell so was almost certain that a decent V40 finishing place was on the cards. Ishmail didn't stop at Bradwell feed station for very long, so when he left I didn't want to be too far behind him. I got my things together and was off.
Half way through Bradwell I passed Ishmail Burdeau, said a quick "Are you ok?" and continued on.
From Bradwell there are 15 miles left, but when you've done 45 miles what's 15 more.
Section Six – from Bradwell to Whirlow farm
A short but steep climb out of Bradwell and onto Shatton. I could see the other two runners in the distance, and was continually checking behind to see if Ishmail was catching me up, but no sign of him, although I knew he couldn't be far behind.
At the end of the river section near the water station I looked behind once more and could see Ishmail in the distance, so I didn't stop for water, knowing that I had enough in my rucksack.
I passed the other two runners at this point. Phew back in 10th place again.
From here it's a long climb up to Hathersage Moor and to Carl Walk check point. I made good progress to Hathersage Moor. I looked back, and Ishmail Burdeau and the other two runners were now all together. Just keep going, every step is one closer to the finish, I kept telling myself.
When I got to Houndkirk Moor I only had to keep going, down Limb Valley and onto Whirlow Farm, so it was plain sailing all the way back.
When I completed the race Chris was waiting and we shook hands and congratulated each other.
Sitting in the barn after the race, I began to shiver uncontrollably and Ian Loombe came to see if I was OK. I ended up in Whirlow farm house wrapped up in a sleeping bag sipping a mug of hot chocolate courtesy of Mr Loombe… Very kind.
I was then checked out by a medic and was found to be ok. She suggested that I go home have a hot bath and rest.
The next day I found it hard to walk, but I made it to the presentation, where I was pleased to find that I had come 10th overall and 2nd vet 40, in a field of 70 runners and 41 finishers.
So, there is only one thing left to say and that is a big thankyou to Dig Deep Races for a well organised event. Also a big thankyou to all the marshalls, some of who were put into the most hostile and remote places and didn't complain.
Plus top of Strava with only 2 runs in one week, must be a record in itself.
• Distance 100.8 km
• Total running time 11 hours 58 mins
• Climbing 3070 metres
| | | | |
| --- | --- | --- | --- |
| P | Name | Cat | Time |
| 10 | Simon Bennett | Veteran Male | 12.33.55 |
The race was won by John Bottomley in a time of 10.09.10, and the first lady home was Sally Fawcett in 10.21.56.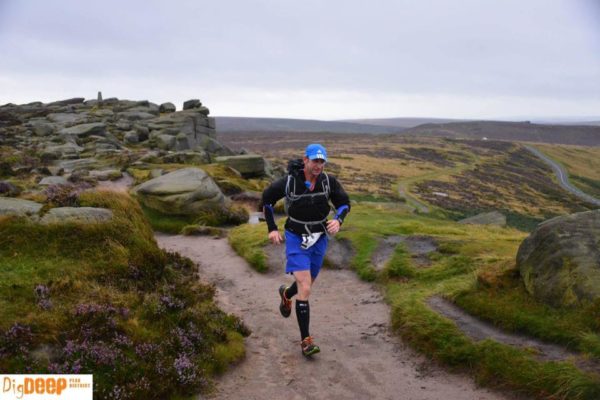 Full results available here.