Race Date: Sunday 21st August 2016
Race Report by Jeni Harvey
With a stunning route on the edge of the Peaks, muddy and varied trails and a bbq to refuel at the end, the Whirlow Trail 10k is surely one of the most fun six-mile races around.
There's a climb up the beautiful Limb Valley, lots of stiles (to leap over if you're fast, useful for a bit of a rest if you're not) and then a push up through Lady Canning's Plantation, which is rewarded by fantastic views over the city from the heather-strewn moors.
The race took part as part of the Dig Deep Peak District festival of running at Whirlow. With the hardier (and madder?) runners taking on the huge challenge of 60-mile or 30-mile ultras on the Saturday, the Sunday was for two shorter races, a 12 miler and a 10k.
James Rose and Ben Jones shot off at the front of the 10k pack – I could just about see them up ahead as two yellow specks on the skyline – as the slower runners among us had more time to pick our way through the mud and up the valley.
When we reached Lady Canning's, I was just jogging into the plantation, wondering where the hill might end, as James Rose belted back towards me, already on his way home. He went on to finish third in an incredible 43:30. Well done James!
Through Lady Canning's we avoided mountain bikers and dog walkers, pressing upwards until the trees ended and the moors opened out before us, the incredible views prompting some runners to pull out their phones for some quick photos.
On the way downhill, I was overtaken by extremely-speedy fellow Strider Laura Pope, and then narrowly managed to avoid taking a wrong turn, as an arrow pointing us off the main Limb Valley route was very easy to miss.
From there, it was a final sprint uphill for some 100m or so until we were back at Whirlow Hall Farm, to be welcomed by beers, cakes, a barbecue and even a giant inflatable woolly mammoth.
With a medal and a technical T-shirt for all finishers, the £15 entry fee was reasonable for such a picturesque and well-organised event.
As well as a third male place for James Rose, kudos should also go to Ben Jones, who finished closely behind James, in seventh place.
| | | | |
| --- | --- | --- | --- |
| P | Name | Cat | Time |
| 3 | James Rose | Senior Male | 0.43.30 |
| 7 | Ben Jones | Senior Male | 0.44.43 |
| 25 | Stuart Jones | Male over 50 | 0.54.02 |
| 36 | Dave Beech | Male over 50 | 0.57.12 |
| 56 | Laura Pope | Senior Female | 1.01.21 |
| 59 | Jennifer Harvey | Senior Female | 1.02.04 |
| 85 | Helen Eberlin | Female over 50 | 1.07.30 |
| 99 | Emma Beer | Senior Female | 1.11.15 |
148 people took part in the race, including our 8 Striders. Well done all! The race was won by Steve Franklin in a time of 39.14, and the first lady home was Kate Morris in 49.21.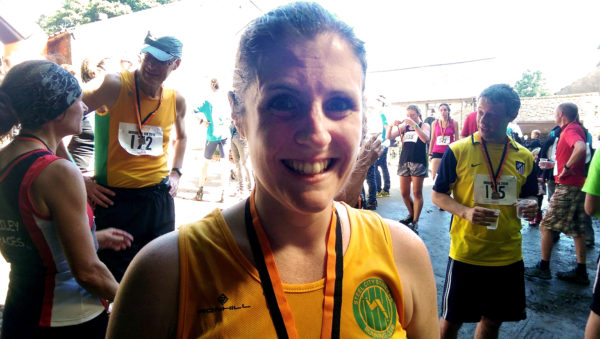 Full results available here.
Save
Save
Save
Save
Save