Race Date: Sunday 11th September 2016
Race Report by Andrew Long
I'm sure the Great North Run doesn't need explaining other than it's the World's Biggest Half Marathon. As they tell you repeatedly as you're waiting for it to start (like you can't see the other 40+ thousand people around you!)
In its 36th year, and a staggering £56 to enter this year, I'd been told horror stories of it taking seemingly hours to get over the start line, lots of pushing and jostling in the first couple of miles and the fact that it always seems to be the hottest day of the year in the North East. The only true bit was that It was incredibly hot. Although it apparently was about 17 degrees, there was no breeze (until the sea front) and no real shade on the dual carriageways out of Newcastle, through Gateshead and out to South Shields.
As for the race. Despite my earlier boasts, I didn't come anywhere near beating Mo Farah who won it in 1.00.04.
The atmosphere running out on to the Tyne Bridge was amazing although I was over before the Red Arrows got there and they didn't seem to fancy following us through Gateshead.
It seems like the entire North East comes out and lines the roads, and I'm sure that there wasn't a supermarket left within 20 miles that had any jelly babies, oranges or ice pops left judging by the amount that were being offered to the runners. (and fair play to anyone who took a beer from whoever was handing it out at the 11 mile point!)
The course is mainly dual carriageway and despite what you're told, It's not flat, (but it's not 'Yorkshire Undulating' either). There are a series of inclines including a 2 mile one between 3-5 miles and then one last one before you get to see the sea.
A common mistake at this point is that people see the sea and assume that's the finish (despite their watches telling them they've only done 12 miles) so really go for it down the hill, only to find out that there's another mile along the sea front to do!
For me it was a race of two halves. The first 10 miles I was absolutely flying (for me!). Strava tells me I smashed my 15k and 10 mile records then I felt a problem with my hamstring, tried to overcompensate and ended up shuffle running the remaining 3 miles to sneak in 100 seconds under my Sheffield Half time at 1.57.00 in my second half marathon. The North East news said that Sheffield had the second biggest turn out of runners outside the North East (after Leeds) and I was one of 8 Striders to finish the race.
| | | |
| --- | --- | --- |
| P | Name | Time |
| 1859 | Stephen King | 1.38.09 |
| 1950 | James Fletcher | 1.38.28 |
| 4133 | Richard Sands | 1.46.04 |
| 9249 | Andrew Long | 1.57.00 |
| 13424 | Emma Beer | 2.04.15 |
| 13427 | David Perkins | 2.04.15 |
| 26840 | Tom Bolland | 2.29.15 |
| 30526 | Zoe Dickinson | 2.37.39 |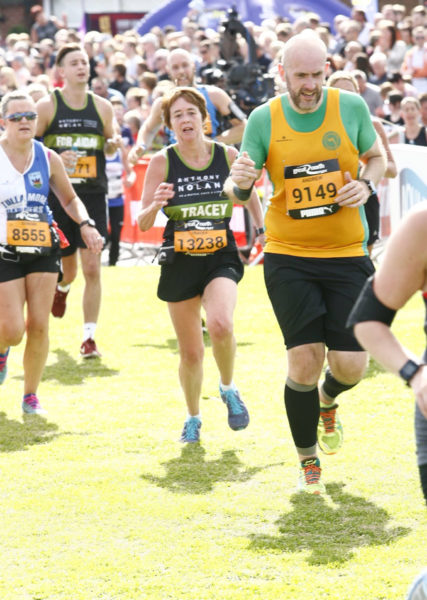 Full results available here.