Race Date: Sunday 23rd October 2016
Race Report by Ashleigh Barron
Martyn and I had kept unusually quiet about signing up for this particular marathon. It was a big ask for Martyn to return to the place he grew up in and left behind when he was 19 years old. Let's just say the baggage wasn't just in the baggage area on this occasion! But, being unable to go more than a few weeks without running another marathon, we signed up anyway.
It's common knowledge amongst the club how much Martyn wanted to run a 3.05 marathon (GFA), missing out by just 72 seconds in Liverpool after losing time to the dreaded gusts along the Mersey (seriously, don't mention the G word to this guy, you'll never hear the last of it). Could it be 6th time lucky? For myself, I felt no pressure. After Malta marathon my goal for this year was to earn a place in London Marathon, and had already achieved the required time in Edinburgh. I couldn't enter the ballot without him of course, so was kind enough to allow him another 3 attempts before I sod off by myself!
I was feeling particularly positive after Chesterfield Half two weeks out from the marathon, achieving a new PB by over 4.30 minutes seemingly out of nowhere. "Just need to stick a long run in now and job's a good un…", I thought. However, true my form as Sheffield's Unluckiest Runner, by the following Tuesday I'd started to feel like I'd been kicked in the back in my sleep… Maybe I had? *narrows eyes at Martyn*. A visit to the physio didn't ease any concerns as I was sent for an x-ray on suspicion of fractured ribs (the things I'll do for a PB!). After getting some strong pain killers from the doctors it seemed to ease as the days went by, though the advice was not to run the marathon…
In the week leading up to the race, a few loops of Millhouses Park were in order to test the water as I'm not one to listen to any advice that is to not run a marathon (#deathbeforeDNS). Attempt one, it felt like someone was digging their fist into my back (OK fine, it's off!), the second there was still a bit of pain (but hope yet!), the third merely a niggle (right, I'm attempting it!) and by the fourth day it was the full blown cold I was more concerned about. I figured if I could keep it off my chest it'll 'be reyt'. Martyn had put in some blistering training runs on top of working 7 days a week, and I was quietly confident he'd do well. Either way, I was coming along to witness the spectacle!
After a shall we say 'memorable' experience in a hotel with Trip Advisor reviews including "Some sort of sick joke…", "Disgusting" and "This place should be shut down" race day was upon us!
The race itself was a mental battle for me, trying to find excuses to slow down. That old chestnut "I'll just try to keep this up for the first half and then I'll slow down and 'enjoy' the second half…", but as the miles ticked by my pace was still pretty decent. At this point I was breaking the race down into nose blows, allowing myself one every two miles as a treat. At mile 11 there was a headwind and rain driving into my face, and my eyes and nose were streaming. Halloween had come early. A marshal shouted '5th lady' at me which spurred me on. By mile 17 I was out of tissues and things reached a new level of gruesome…
Meanwhile, Mark Gray's race was about to take a turn for the worst. Mark was running a very strong race and was looking good for a 2.42 finish at around the 18 mile mark. Unfortunately, this is where he and two other runners were directed in the wrong direction by two marshals which meant a 1.8 mile detour. He was in 5th place at this stage and judging by his estimated time was potentially robbed of a well deserved 3rd place finish and 1st vet prizes.
Mark had resigned himself to an 8 mile (sub 3 pace) 'jog' home, but this is where he became a knight in shining armour and true Strider spirit was demonstrated. He spotted Martyn flagging a mile out from the finish after a very strong race of his own. The pain had really kicked in for Martyn as he was about to embark on the last killer hill with cramp in both legs – but he knew he was on for GFA. Mark was having none of this, knowing a sub 3 was possible. Mark pulled him to the finish in an amazing time of 2.59.13, after which Martyn must have deliriously thought Mark was a teddy bear as he wouldn't let go of him. I happily came over the line with a new PB, and knew as soon as I saw Martyn he'd put a good effort in as he was 'smurfing' (he turns blue after a hard running sesh). I was very proud of him indeed, both in terms of running effort and conquering demons.
All in all, the course is great (flat apart from the evil finish) though not very well supported by spectators for a big city marathon. It was a little surreal running through the city centre seemingly invisible, dodging people going about their Sunday morning shopping. But I would certainly recommend it, and would definitely run it again. Roll on London!
| | | | |
| --- | --- | --- | --- |
| Pos | Name | Cat | Time |
| 23 | Mark Gray | V40 | 02.59.50 |
| 24 | Martyn Goldsack | M | 02.59.13 |
| 107 | Ashleigh Barron | F | 03.24.48 |
672 people took part in the race, including we three Striders. The race was won by Team Derby Runner Chris Millett in 2.37.52, and the first lady home was Catriona Alison Jane Paterson (unattached) in 3.01.13.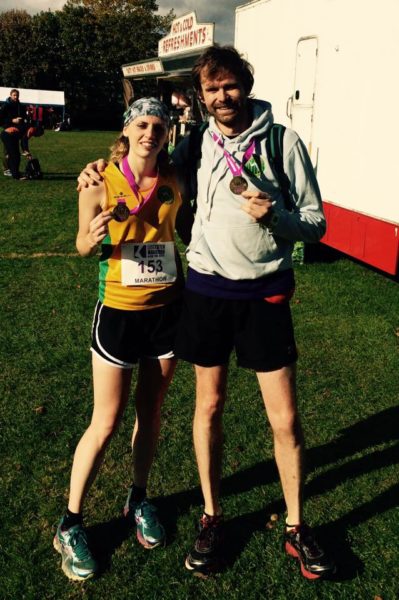 Full results available here.
Save
Save
Save
Save
Save
Save
Save
Save