Race Date: Sunday 25th September 2016
Race report by Alex Arblaster
[05:40 alarm goes]… What the?!?… Where am I!?!…What time do you call this!?! Oh that's right, its time for my first marathon. Hold on, it doesn't start until 10:00, why am I up now? Before I answer that I'll rewind to where I am and why…
I'm in Inverness, along with fellow strider Ste Doherty, for the Baxters Loch Ness Marathon. I'd wanted to do a marathon for a while, mainly to tick a box, and I had been holding out for London having watched it on TV since being a child. However, having entered both the general and club ballots for several years I'd come to the conclusion that there is more chance of finding the proverbial rocking horse excrement on the moon than getting entry into London.
With that in mind the search for where to do my first (and only) marathon began. There was something about Loch Ness that caught my attention, possibly as I'd been there on holiday as a youngster or maybe because I hoped I may catch a glimpse of Nessie.
For whatever reason, it caught my attention and here I was. I'd actually arrived the day before and after a short 1hr15min flight from Manchester, found myself wandering around Inverness towards the race village (at the finish of the route) to register and collect my number. The end of the race is a short walk from the city centre, next to the River Ness, in Bught Park. This is where I first caught sight of Nessie, well a 25 foot inflatable cousin at least. There was an expo that had various firms offering their wares; clothes, tech, food etc and lots of people making last minute purchases.
There was also a pasta party that we'd bought tickets for. After a wander around the stalls we went to carbo-load. At a tenner a pop the pasta party was somewhat underwhelming, we get a small bowl of pasta, cup of soup (Baxters of course), and cheesecake, which although nice they were rather stingy with the portions.
Anyway after that we wandered back to the hotel and there was time for Irn Bru and some tea at the bar before an early night.
This brings me back to 05:40 on race day. We had to be up at this time as we needed to be at the race village for 07:15 to get transported to the start of the race which was at the bottom of Loch Ness. The simple idea being that you are taken to the bottom of the Loch, which is about 25 miles in length, and run back to the centre of Inverness.
We arrived spot on time to the queue for the coaches, there must have been a good 50 coaches lined up. It didn't take long to get on the coach and we set off at 07:45. We then drove in convoy down the west side of Loch Ness, around the bottom and then climbed to get to the start on the east side, high up above Loch Ness. I took just over an hour to get there and we were dropped off 300m up a hill just before 09:00. We then had a hour to entertain ourselves before the start. The isn't a great deal to do at the top of the hill on a windy, chilly morning – apart from try to stay warm.
Despite being windy and chilly it was at least dry and I knew that conditions were pretty much perfect for a marathon, it was cool and the wind would be behind us the whole route.
Start time came, 10:00, and I along with the other 2,500 people taking part were in good spirits, despite being literally in the middle of nowhere, there was a PA system with announcements throughout and a warm-up before the race. Personally I was excited, any pre-race nerves in the week prior had long since disappeared. I was very happy to be there, in a beautiful part of the world, the views from the beginning were simply stunning, and was ready to go. A gun started the race and also signalled to the band of bagpipers to start playing, and off we went.
I had studied the route and read the newsletters that were sent out prior, and I also knew that what goes up must go down. I was well aware that the first 10 miles were downhill so didn't want to go off too quick. Along the first 10 miles there were a few cheeky short, sharp, climbs as you twisted and undulated down to Loch level. There were plenty of drink and food stations which alternated between water, electrolyte drink, food, and combinations of all three along the route.
Essentially you're running through a stunning landscape, past the odd house here and there with the few locals who do live out there at the end of their drives to clap you on. At about 10/11 km you hit the first village on route, Foyers, and seemingly most of the village out (when I say village it's probably more of a hamlet). For me I hit Foyers about an hour into the race and all felt good.
Once you hit 10 miles you're down at Loch level, sweeping along the shore. In the distance you can see Urquhart Castle on the opposite bank. It was a focal point but it seemed to take an age to actually get inline with it – at points Loch Ness is a mile wide, so it is easy to think distant objects are nearer.
For the next few miles all was still good, I passed the half way point in 1hr 59mins, which was exactly as planned.
The next hamlet, Dores, sees the start of a tough section, a section that ended my aspirations of a 4 hour marathon. I heard some locals talking about "Dores Hill" coming up as they passed me. I had read about a 2 mile uphill section at 17 miles but it didn't prepare me for it. By the end of the climb, at 19 miles I was in a world of hurt with 7 to go. I just couldn't recover and from this point the final 3rd of the race was a real struggle and I was having to walk at regular intervals – however it never seemed to really help. This was a really tough part of the race, as I was tired and still in the middle of nowhere. There were dreams of passing buses stopping to pick me and whisk me to the end. I just had to get stuck in and tick the miles off, one by one.
You hit the City limits at about 23 miles – I was telling myself that there was only a park run left to do. Despite this I was still running backwards. A guy that had come up to me to say he was from Abbeydale about 10 miles earlier that I had long since passed caught me up. He said it only mental and all I had to do was run from Addeydale to Endcliffe Park. At this point I almost regretted having earlier said that he should come along to a Striders Monday night session such was my state at that point in time.
Then with about half a mile to a steward told me that I had to keep running as the photographer was round the next corner. This spurred me on to lose the grimace and keep going.
Into the final 100 yards and I could finally see the finish, I could hear the announcer calling out names. It seemed to take an age to read my name out with yards to go – at this point I was so elated to hear my name. The race was finally done.
I managed to finish in 4:19:17. Initially I was disappointed to not hit 4 hours. But as time passed I looked at the stats, I'd finished 1222 out of 2479 – just making the top 50%. I have also been telling myself that there is only a small percentage of the population that ever run a marathon.
Shortly after I finished there was a finisher from the 100 Club in Japan – he was finishing his 700th marathon! The club travel the world doing the best marathons countries have to offer. Loch Ness has obviously stood out to the club.
The Loch Ness Marathon is a unique opportunity to run along an iconic lake, one of the most famous in the world. A challenging route with plenty of rise and fall. Well worth it for those who like being away from bashing the streets and a town or city.
I didn't see the real Nessie but you may have more luck.
| | | | |
| --- | --- | --- | --- |
| P | Name | Cat | Time |
| 314 | Ste Doherty | M40 | 03.34.06 |
| 1221 | Alex Arblaster | MS | 04.19.17 |
An impressive 2468 took part in this year's race including our Strider duo Alex and Ste. Well done to both! The race was won by Mohammad Abu-Rezeq of Altrincham in a time of 02.20.52, and the first lady home was Jennifer Wetton of Central AC in a time of 02.47.02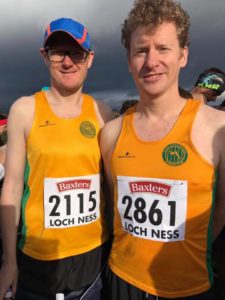 Full results available here.
Save
Save
Save
Save
Save