Race Date: Sunday 6th March 2016
Only Peggy would choose to run in a race with a bizarre name like this, a results list that makes no sense but is timed to the thousandth of a second and states that it is sold out but seems to have only 53 entrants – however they do do it differently in Norfolk!
The blurb states that:
The course takes in some of the most beautiful sights that the Norfolk coast has to offer.  You'll run along what feels like remote open pathways, up and over sand dunes with views as far as the eye can see, past the seals at the local seal colony and run with your toes inches form the water.
so it should've been a nice run.
The race was won ( I think)  by Richard Johnson of Norwich Road Runners in 00.40.06.964. The first woman home was Sarah Peachey of Norwich Road Runners in 00.45.39.460.
Striders Results:
| | | | |
| --- | --- | --- | --- |
| Pos | Name | Cat | Time |
| 15 | Richard Pegg | Male | 00.49.34.435 |
Official Results: The Nelson Knee Knobbler results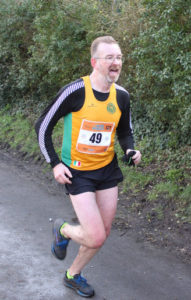 Richard Pegg eating up the thousandths of a second