Race Date: Saturday 25th June 2016
Race report by John Rawlinson
"The NoMad Ultra is organised by Long Eaton Running Club and comprises 50 mile and 50K options, there is also a team relay option in the 50k. The 50 mile option follows the Derby Nomad Way, a recreational route circumnavigating the city of Derby through the rolling countryside of South Derbyshire, Erewash Valley and Amber Valley. The 50K route follows the same route as the 50 mile at the beginning and end with a detour through some of the more scenic parts of Derby in the middle.
Four Striders took part this year, Matt Gibson, John Armitage, James Fletcher and myself. For both Matt and John it was their first race above marathon distance. James is an experienced ultrarunner and was doing this just one week after completing the 69 miles Rat Run Wall Race.
The 50 mile and relay runners had been set off in stages from 6am onwards, but we joined 41 other runners for the 'mass start' at 9am. The route was not marked except for some small sections, so some navigation was necessary. Maps and route descriptions were available, but being lazy by nature I usually like to let someone else do the route-finding for me. James had the route programmed into his Suunto and so found it impossible to shake me off for 32 miles. The weather was mostly fair except for a couple of torrential downpours, the first one of which hit just before we arrived at the first checkpoint so the refreshments we had been looking forward to had become Mars bar soup, drowned jelly babies and flat Coke.
The route itself was interesting and varied, the first 18 miles or so was flattish with some sections along the Derby canal and River Derwent. There were also some very pleasant parkland sections near the city centre. The last 12 miles of so was more off-road and hilly with the usual nettle/cattle issues to add interest.
At the end we were all greeted by the very enthusiastic and friendly race director, who shook our hands and directed towards the jacket potatoes and beer (included in the entry fee). We had all come through relatively unscathed, although James' foot subsequently swelled up like a water melon and John had some 'gentleman's' chafing issues for which he sought aid. A look of mild alarm crossed his face when the St John's ambulance volunteer emerged from the tent carrying a large blob of Vaseline on a blue-gloved hand, I think he thought she was going to apply it for him.
Overall this was a very friendly, well-organised, club-run event and I would highly recommend it to anyone considering their first ultra. I might well be back next year to try the 50 miler."
50 Mile Ultra
| | | |
| --- | --- | --- |
| Pos | Name | Time |
| 32 | Nicole Brown | 13.10.00 |
32 runners took part in the 50 mile race, including one Strider, Nicole – who was 6th lady. A navigation error in stage 5 added on 40-60 minutes and several miles… but she was very proud of her final stage – 5.3 miles in 1hour 7 after 45+ miles of running. Well done Nicole!
The race was won by Daniel Hendriksen (unattached) in a time of 7.45.18, and first lady was Lucy Rudge of Bearbrook Running Club in 10.05.23.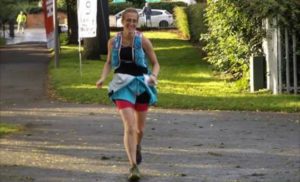 Nicole at the finish

50K Ultra
| | | |
| --- | --- | --- |
| Pos | Name | Time |
| 9= | John Rawlinson | 05.44.00 |
| 9= | James Fletcher | 05.44.00 |
| 23= | Matt Gibson | 06.27.48 |
| 23= | John Armitage | 06.27.48 |
45 runners took part in the 50K race, including our gang of four Striders. Well done to seasoned ultra-pros John & James on a top 10 finish, and to John & Matt for running their first ultras!
The race was won by David Greenwood of Holme Pierrepont RC in a time of 4.18.24, with the first lady Katie Hateley of Stilton Striders RC in 5.38.00.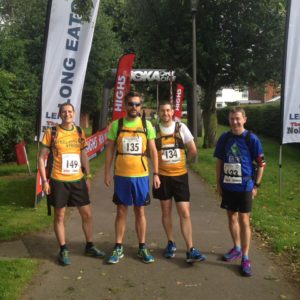 Left to right: James Fletcher, John Armitage, Matt Gibson, John Rawlinson pre-race

Full results available here.