Race Date: Sunday 10th April 2016
According to the organisers, the Sheffield Half (Or as it is officially known, the Plusnet Yorkshire Half) is one of the toughest in the country. However, with the views from Ringinglow Road and Sheephill Road it must also be one of the prettiest, especially on a gloriously still sunny morning!
The club benefited from a huge turnout of all abilities, and also provided the pacers for the event. Particular thanks go to them! There was plenty of Striders based support out on the course as well – encouragement is always appreciated.
The race winner was John Franklin of Serpentine RC, in a time of 1:10:24. The winning lady was Zanthe Wray of Hallamshire Harriers, in a time of 1:23:09. First Striders were Phil Skelton in 1:19:05 and Amy Earnshaw in 1:30:35. Well done to the both of you, and everyone else who took part as well. It's a challenge!
5948 runners finished the event, of which 142 (at last count) were Striders (Though only 114 were listed as such). I've added in as many Striders who weren't listed as in the club as I can find. Bearing in mind the high numbers involved, I must apologise in advance to anyone I've missed! Just let me know if you're not included in the table and I will add you in as soon as I can.
The obligatory group photo before the start…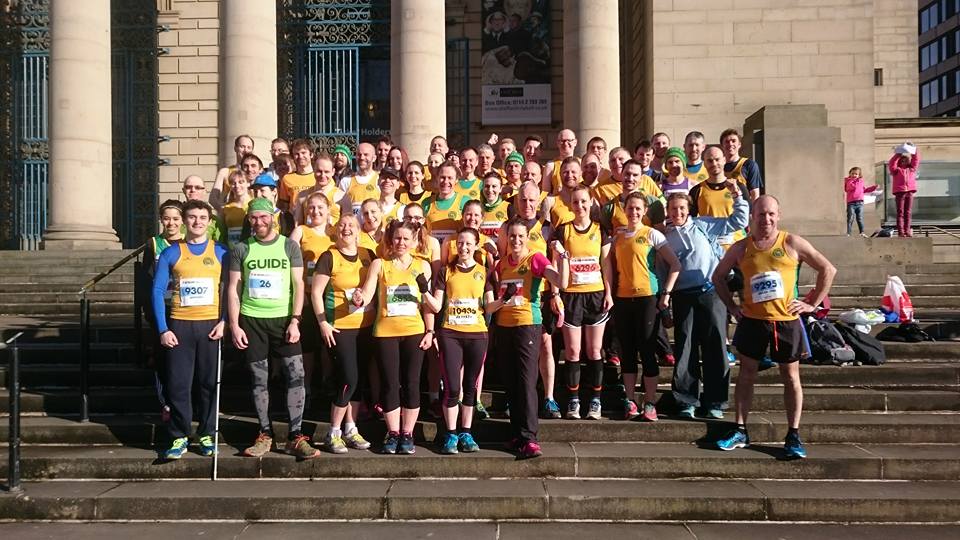 Zoe Dickinson enjoying getting the worst of the route over with…
Photos courtesy of Andy Green & Mick Wall.
Here's a link to the Flickr album:
https://www.flickr.com/photos/steelcitystriders/sets/72157666926745786
Without further ado, the Striders results: