Race Date: Sunday 20th March 2016
Hillsborough Park running track (now defunct), circa 1983 was the last time I properly raced on the track. It was Sheffield Junior schools finals I seem to recall and I bombed badly having no idea about pacing. The track was so different to those school yard races where I was supreme claiming the unofficial Hillsborough Junior school 'fastest kid in school' title.
So fast forward 33 years and I decide that after becoming increasing frustrated being unable to make further progress on my 10k and Half Marathon times due to lack of training time i'm going to try something new in 2016. I always knew I had some short term speed and have been buoyed by performances in the Hillsborough Park Bin to Bin Strava segment at the end of Hillsborough Wednesday runs, so why not have a pop at 100m and 200m?
The main aim of the season is to compete in the three Northern Vets league meetings, then finish things off in September at the Yorkshire Vets championships.  I've put the dates below for those that could be interested.  Remember, vets racing starts at V35.
But before the vets start in April I needed to get a time on the board, so I travelled to Spenborough (near Batley/Cleckheaton/Dewsbury) for their annual Winter Warmup Track Event.
I know what you are thinking, a 60 mile round trip to run 100m and 200m cannot possibly adhere to the Phil Howson value for money (pound per mile) formula? And you're right, at £5 per event I daren't even do the maths on £10 for 0.3km.
The Winter Warmup consisted of 54 track events and 42 field events across all age categories combinations.  100m, 200m, 400m, 1000m, 3000m, Shot, Hammer, Javelin, Discuss, 1 mile walk at Under 11, Under 13, Under 15, Under 17, Junior and Senior age groups.
So as you can imagine, the day was quite a long drawn out affair and a very busy and buzzing track.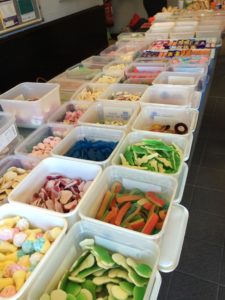 Entries were allowed on the day and you could tell they'd done this plenty of times as it all went like clockwork. There were food, drinks and the biggest selection of sweets for the kids i'd seen in many a year. The pick and mix on offer was unlike anything i'd seen since Woolworth's in Hillsborough closed down.
I had a warm up and made my way to the other side of the track. There were families on the outfield and tents erected for various clubs. The beautiful spring sunshine made for a lovely day both competing and spectating. There was even a little stand at the finishing line with a crowd in it. No pressure then?
We mingled around as we waited to be called and I saw who I thought were my opposition. Tall, slim and muscular types who looked like brick outhouses. Very intimating. Turned out, they were just the juniors. And boy could they run. I was reassured somewhat as I got chatting to a couple of fellas more my age in the run up to the senior race.
There were enough senior men for 2 races so they put the three oldies and two of the older young uns in the same race. When I say older young uns, they were still only 20!  To add to the intimidation and fear, the young uns had brought their own blocks.  I had to make best use of the foot placement technique a lad from Up and Running had shown me a few weeks.  Absolutely no idea how to properly go from a crouch start as i'd only practiced it a few times.
The starter's gun fired and we were off.  Don't think I made a great start as one of the older guys got the run on me and the two 20 year olds went away as expected. Thankfully I managed to haul in the fast starting older guy and chased down the young uns. Sadly, not enough in the tank to get near them as the finishing line approached.
Records shows that my 100m debut was 13.1 on the clock as I finished 3rd from 5 starters. Happy enough, looked a bad start and had no idea how to change pace or what to do mid race to try and catch those in front.  You probably learn these things through experience?
| | | | | |
| --- | --- | --- | --- | --- |
| P | Name | Club | Cat | Time |
| 1 | Josh Peel | Durham Harriers | U23 | 12.3 |
| 2 | Patrick Thackray | Wakefield | U23 | 12.6 |
| 3 | Mick Wall | Steel City Striders | V40 | 13.1 |
| 4 | Jason Newell | Spenborough | V40 | 13.6 |
| 5 | Neil Aspden | Hyndburn | V35 | 15.2 |
After the race I was chatting to runners from Durham City Harriers and they have kindly sent me the video of the race. Blink and you might miss it.
Its only March and hardly anyone has ran 100m so far in 2016, but i'll happily claim the 4th fastest V40 100m time this year according to Power of 10.
As most of the kids races had finished, the 200m races came around a little quicker and it was mostly the same people running as the 100m.
I was in a race of four people alongside two of my 100m foes and a new older chap. I had the young fast lad on my inside and the fast starting older guy from 100m on my outside. The 200m took for a little more thought as I didn't want to go out too quickly and fade at the death. So I held things together for the first 60m or so and as expected the young lad came flying past. I wanted to keep the fast starter within view and caught him through the bend and thankfully went away from him in the straight to claim 2nd place in 26.9. The young lad had way too much for me (25.0) to get anywhere near him over 200m.
| | | | | |
| --- | --- | --- | --- | --- |
| P | Name | Club | Cat | Time |
| 1 | Patrick Thackray | Wakefield | U23 | 25.0 |
| 2 | Mick Wall | Steel City Striders | V40 | 26.9 |
| 3 | Jason Newell | Spenborough | V40 | 27.5 |
| 4 | Gareth Ward | Saltaire Striders | V35 | 30.6 |
Again, happy enough to have beaten all the people my age, especially as the fast starter was a regular vets competitor.  Although on reflection, maybe I should have just gone for it in the 200m from the off.  Tough one.
Power of 10 shows 26.9 gets me in the top 20 V40 over 200m for 2016.  I'll take that too.
So that leads me to the future, the three Northern Vets meetings and the Yorkshire Vets.
Wednesday 13th April, Cleckheaton
Wednesday 8th June, Manchester Sport City
Wednesday 27th July, Leigh
Sunday 25th September, Yorkshire Vets Championship, again at Cleckheaton.
Having spoken to the chap yesterday who regularly runs the vets events, he says the whole meeting is over in 90 minutes as there is nowhere near as many people to race as Spenborough with all the kids. Reassuring to know.
So it would be great to see more Striders taking part in these events.
Full results of the meeting available from Power of 10 website.
YouTube video courtesy of Durham Harriers and Athletics Club.