Race Date: Monday 12th September 2016
The last one of the season means autumn is on its way, there are final standings to play for but more importantly it's fancy dress!!
284 runners completed the final Trunce of 2016 including 18 Striders. Well done to all but especially to the 5 PBers this time round.
Trunce 9 was won by James Thompson of Kingstone Runners in 25.46. The first woman was Lindsay Crew (unattached) in 29.41.
Striders Results:
| | | | |
| --- | --- | --- | --- |
| Pos | Name | Cat | Time |
| 13 | Andy Davies | MV 40 | 28.18 |
| 18 | Paul Stuart | MV 40 | 29.18 |
| 59 | Steve Clarke | M Sen | 33.45 |
| 61 | Rob Davies | MV 50 | 33.52 |
| 65 | Phil Howson | MV 40 | 34.32 |
| 66 | Simon Ellis | MV 40 | 34.35 (PB) |
| 74 | Al Cook | MV 40 | 35.11 |
| 79 | Neil Booth | MV 40 | 35.18 |
| 82 | Steve Marren | MV 50 | 35.26 (PB) |
| 84 | Graham Hague | MV 60 | 35.35 |
| 95 | Steve Hale | MV 40 | 36.12 (PB) |
| 104 | Mark Platton | MV 50 | 36.55 |
| 108 | Tom Nuttgens | MV 50 | 37.19 (PB) |
| 130 | Tom McCart | M Sen | 39.50 |
| 187 | Jane Bowles | FV 40 | 44.40 |
| 208 | Philippa Moorhead | FV 50 | 48.27 |
| 211 | Rebekah Krain | F Sen | 49.33 |
| 213 | Stella Krain | FV 40 | 49.44 (PB) |
Full results:
The season's results are a bit weird to follow on the graphs provided on the Trunce website but I think I can gather that congratulations should go to the following runners:
Andy Davies – 3rd Vet 40 Male
Rob Davies – 5th Vet 50 Male
Stacey Almond – 4th Vet 50 Female
Mir Jansen – 6th Vet 50 Female
Graham Hague 5th Vet 60 Male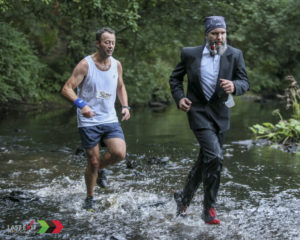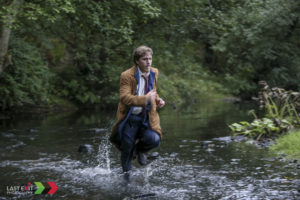 Now that's how you do fancy dress. Well done Al and Tom