Valencia Half Marathon report by Steph Street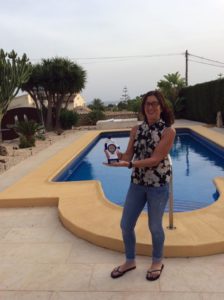 If you want a potentially fast race on tarmac then this is for you. Just make sure you don't go when the weather is unseasonably hot, it was 25 degrees by 10am on Sunday! This put an end to my PB plans but I guess others must have been affected too as times overall were slower than I expected.
Valencia is beautiful and there is plenty of pre race carb loading to be had in the local rice dishes. Generally the race was really well organised and very generous goody bags before and at the end. Also free beer at the end! One issue was poor organisation at the end as there was a crush of people waiting for water after crossing the finish line and unable to exit the funnel for up to half an hour, this was quite scary but I am sure will be dealt with by next year.
A more enjoyable area to run than the roads would be the Jardins Del Turia, a park that runs right round the city formed out of a dried up river bed that proves shade and traffic free paths for runners and cyclists for miles.
The full marathon and 10k are coming up in November which may be a cooler run, I was certainly wishing I was doing a 10k on Sunday instead of a half but am very proud to be coming away with a trophy. If anyone is thinking of going over to race do get in touch and Ian and I would be happy to pass on more info from our experience there.
Full Result in this Valencia Half Marathon Result post