Race Date: Sunday 31st July 2016
Race Report by Emma Portus
Sunday 31st July was a bright and breezy morning for the Waverley Dash, a scenic little trail race starting at the new Waverley estate near Catcliffe. I vastly underestimated the time it would take me to get there so I arrived at Waverley over an hour before the race was due to start, registered for the very reasonable price of £5 and waited for a few clubmates to arrive. There were 7 Striders in total, in a modest field of fewer than 100 runners for the 10k.
It was a beautiful day for a run, although the late start of 11am meant the temperature was climbing throughout the course, however the organisers had plenty of water on offer. The blazing sunshine briefly hid behind some clouds as the race began, so of course I started too fast, belted out for the first two miles, then abruptly ran out of steam when the sun came back out and baked all the energy out of me. Running at a slightly easier pace let me take in the rather lovely scenery – over fields, along the River Rother for a short distance and past Lake Waverley. The 5k runners peeled off after about 4k whilst the 10k runners turned right over the river and in a loop through the woods and footpaths around Treeton Dyke, before heading back over the bridge and up the hill towards the finish line back on the Waverley estate. The final mile of the course was where we really had to dig deep – a series of bends, each followed by a climb, each turn made more frustrating by the sight of the finishing line at the top of the hill.
I was paced/encouraged by fellow Strider Jane Wright Saunders (thank you!) who insisted she wasn't intending to race but to accompany her stepson – I'm pretty sure I would have slowed down much sooner otherwise. The last struggle uphill (helped by Jane and also by Colin Hardy, who had come to take photos and offer support) was followed by a nice flat 50 yard dash to the finish line where I was mean enough to push forward and overtake another runner, to be greeted by our clubmates who had finished before us.
There were some pretty good efforts all round from the Striders posse, particularly from Ashleigh Barron who bagged the 2nd Lady spot, and from Martyn Goldsack who came in 5th.
| | | | |
| --- | --- | --- | --- |
| Pos | Name | Cat | Time |
| 5 | Martyn Goldsack | M | 40.09 |
| 12 | Phil Howson | M | 43.41 |
| 19 | Ashleigh Barron | F | 48.05 |
| 31 | Catherine McKeown | F | 51.15 |
| 32 | Andrew Long | M | 51.41 |
| 55 | Emma Portus | F | 60.02 |
| 57 | Jane Wright Saunders | F | 60.24 |
74 people took part in the race, which was won by Chris Adams in a time of 36.26. The first lady home was Sarah Kimpton in 44.48.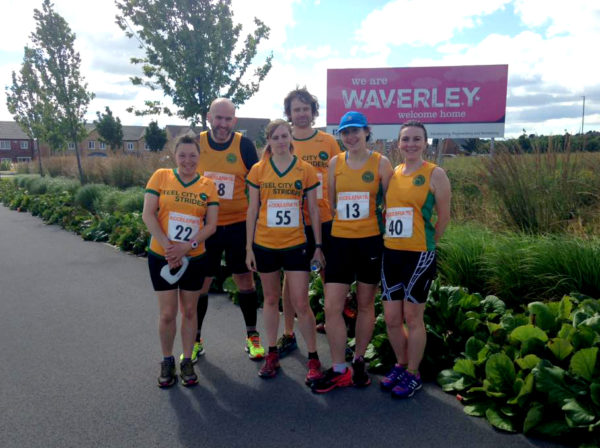 Save
Save