Race Date: Sunday 30th October 2016
Despite clashing with both the South Yorkshire Cross Country fixture and the new Sheffield 10k the Worksop Half Marathon was a still a popular draw for Striders with over 50 members making the short trip.
The race was won by Stuart Spencer of Notts AC in 1:10:05 and the first lady home was Natalie Burns of Lincoln Wellington AC in 1:20:47.
Notable Striders performances from Phil Skelton in 7th and Jennifer Rich the 5th lady home.  Great running everyone, well done.
| | | | |
| --- | --- | --- | --- |
| P | Name | Cat | Chip Time |
| 7 | Phil Skelton | Male Senior | 1:16:45 |
| 24 | James Rose | Male Senior | 1:20:15 |
| 29 | Benjamin Jones | Male Senior | 1:21:18 |
| 63 | Sam Needham | Male Senior | 1:25:16 |
| 95 | Jennifer Rich | Female Senior | 1:27:07 |
| 102 | Richard Carter | Male Senior | 1:27:22 |
| 108 | David Perkins | MV40-44 | 1:27:39 |
| 123 | Chris Guy | Male Senior | 1:28:19 |
| 143 | Tom Bassindale | MV40-44 | 1:29:06 |
| 144 | Tim Holt | Male Senior | 1:29:10 |
| 149 | David Whittaker | Male Senior | 1:29:17 |
| 179 | Daniel Cubitt | Male Senior | 1:30:27 |
| 185 | Adam Brown | Male Senior | 1:30:31 |
| 199 | Matthew Chappell | Male Senior | 1:31:12 |
| 203 | Michael Richardson | MV40-44 | 1:30:59 |
| 249 | Peter Webber | MV45-49 | 1:32:46 |
| 280 | Steve Irvine | MV45-49 | 1:33:59 |
| 288 | James Smith | Male Senior | 1:34:52 |
| 338 | Adam McAuley | MV45-49 | 1:36:28 |
| 359 | Jimmy Sharman | Male Senior | 1:37:03 |
| 383 | Paul Stuart | MV45-49 | 1:37:25 |
| 403 | Roger Watson | MV45-49 | 1:38:26 |
| 410 | Amy Duck | Female Senior | 1:38:43 |
| 413 | Graham Hague | MV60-69 | 1:38:39 |
| 416 | Neil Schofield | MV45-49 | 1:38:45 |
| 427 | Darren Maher | MV50-54 | 1:39:13 |
| 465 | Stephen Clarke | Male Senior | 1:40:30 |
| 469 | Ben Nevill | Male Senior | 1:40:22 |
| 479 | Joe Dunne | Male Senior | 1:40:31 |
| 513 | Neal Pates | MV45-49 | 1:41:43 |
| 571 | Jenny Lingrell | FV45-49 | 1:43:32 |
| 572 | Adrian Moss | MV55-59 | 1:43:39 |
| 600 | Keith Bell | MV40-44 | 1:44:16 |
| 614 | Jo Carnie | FV45-49 | 1:44:24 |
| 623 | Amy Housley | Female Senior | 1:44:32 |
| 659 | John Liddle | MV45-49 | 1:45:16 |
| 682 | Alexander Arblaster | Male Senior | 1:45:37 |
| 685 | Alison Barrett | FV35-39 | 1:44:57 |
| 816 | John Maples | MV50-54 | 1:48:06 |
| 865 | James Ogden | MV40-44 | 1:50:26 |
| 901 | Phil Dooley | MV40-44 | 1:51:45 |
| 902 | Laura Fletcher | Female Senior | 1:50:36 |
| 903 | Catherine McKeown | FV45-49 | 1:50:44 |
| 972 | Richard Giles | Male Senior | 1:52:05 |
| 1005 | Lee Kenton | Male Senior | 1:52:58 |
| 1164 | David Hewitt | MV60-69 | 1:56:36 |
| 1176 | Ian Spencer | MV50-54 | 1:57:09 |
| 1180 | Richard Binks | MV60-69 | 1:57:53 |
| 1514 | Emma Beer | FV35-39 | 2:04:18 |
| 1780 | Kate Kelly | FV50-54 | 2:10:44 |
| 2001 | Emma Portus | Female Senior | 2:17:40 |
| 2084 | Zoe Dickinson | FV40-44 | 2:21:38 |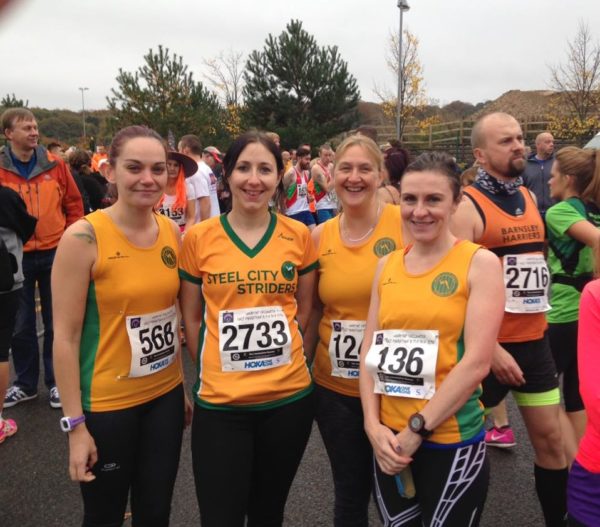 Full result available from Sports Systems Website