Wednesday 12th July 2017
I'm working down in Brighton for 6 months, and so was pleased to find out there was a good 10k race I could enter last week.  The Brighton Phoenix 10k is hosted by the club of the same name, which boasts some Olympic athletes as its members.  So it promised to be a fast race.  The race also serves as the Sussex County 10K Championships, adding some spice.   The course is an out-and-back, fast course; it starts by the sea on Hove Lawns and runs west along the promenade and on towards Shoreham. The race turns at Carats Café at 5km returning to the finish back at Hove Lawns.
This race was going to signal the end of my pre-marathon training phase, and I hoped to record a fast time to springboard me into my training for Frankfurt in October.  Sadly that didn't happen.  I had started to get into decent shape, but picked up a small injury behind my knee a few weeks ago which forced me to back off training a bit – so that was my excuse anyway…..
The race started at 7.30pm.  I stay at AirBNBs when I'm down in Brighton and I was actually staying in Hove last week, only 2 minutes walk from the start of the race.  I headed down early and had a good warm up.  Standing on the start line it was clear that there were a lot of good club runners, both locals and some further afield such as Kent AC from SE London.  I don't think anyone else was from Sheffield though…..  I decided to stand a bit further back from the start line in anticipation of a fast start.  I didn't want to go off too hard and regret it, as I have done in other recent 10k races.  I do struggle with the 10k distance.  I got my PB in my first ever 10k at Percy Pud in 2012 and have raced poorly in most 10ks since then.
As expected the race was fast from the word go.  I was aiming to go out at 5.45 min/mile pace until half way and then see if I could pick it up from there.  I tried to let people go ahead without feeling the need to race them early on, but there were so many runners getting ahead and it was hard to hold back the pace.  My first mile was 5.37 – way too fast, and that killed the race for me.  I managed to slow it down a bit from there, getting to the 5k turn in 17.48, but I was already feeling it a bit too much in my legs.  As I turned to head back east the wind hit me in the face.  I hadn't realised how much that had assisted me in the first half and it was going to be tough keeping up any sort of decent pace on the way back.  My pace started to slip and by 7k I knew my sub-36 minute goal was gone.  Although I felt that I was struggling, I passed about 15 runners in the second half and no one passed me – so I must've been running OK….but not well enough.  By 9k, I reckoned that even my PB of 36.35 was out of reach.  I picked it up a bit on the main promenade as the finish line came into sight, but didn't have the mental strength to try and overtake the runner who was about 20 yards ahead of me and getting closer.  As it turns out I wish I had really tried to pass him – I thought I was way outside my PB, but as the finish line approached I realised I was very close but it was too late.  I finished in 36.37, missing my PB by 2 seconds.
So, a disappointing result and not the boost I wanted before the marathon training block.  But it was a cracking race.  It was brilliant to race along the sea front and to be a bit of a racing tourist.  The standard was high.  The male winner was Kevin Quinn from South London Harriers who did a speedy 30.55, with the first woman Deborah Buettel in 37.39.  Despite my race progress in the second half of the race I was still only 52nd.
| | | | |
| --- | --- | --- | --- |
| Pos | Name | Cat | Time |
| 52 | Mark Gray | MV40-49 | 36.37 |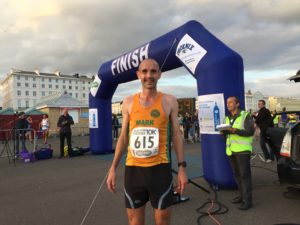 Results link:
http://www.sportsystems.co.uk/ss/results/Brighton%20Phoenix%2010K/2947