Race Date: 1st Aug
As seems often to be the case for summer evening fell races, having bucketed down for much of the day, the skies had cleared in time for the race. However the wet conditions and the moving of this race from May to August made it an even harder proposition than usual – the bracken was nearly as high as an elephant's eye which made overtaking very difficult and also hid some impressively large rocks and much of a tree during "the plummet" descent – see photo later. However the race was very well marshalled with the major hazards being pointed out (though Rob Davies still managed to sustain a fairly impressive injury).
216 runners took part including 19 striders (one of whom, Naomi was celebrating her birthday – and what better way to spend it?)
First man home was Josh Williams from the host club, Dark Peak, in 41.49 whilst our very own Caroline Brock continued her winning ways, being the fastest lady in 50.47 and almost a minute ahead of the next lady!
Strider's results:
| | | | |
| --- | --- | --- | --- |
| P | Name | Cat | Time |
| 19 | James Rose | MSEN | 00:47:48 |
| 29 | Luke Desforges | M40 | 00:50:27 |
| 32 | Caroline Brock | WSEN | 00:50:47 |
| 38 | James Garner | MSEN | 00:51:50 |
| 53 | Paul Stuart | M50 | 00:53:57 |
| 59 | Michael Slater | M50 | 00:54:18 |
| 61 | Vincent Baker | MSEN | 00:54:52 |
| 67 | Michael Squires | M40 | 00:55:34 |
| 68 | James Norton | M40 | 00:55:40 |
| 72 | Rob Davies | M50 | 00:56:01 |
| 85 | Russell James Stevenson | M40 | 00:57:48 |
| 95 | Mark Platton | M50 | 00:58:40 |
| 97 | David Beec | MSEN | 00:59:02 |
| 100 | Michael Timm | M50 | 00:59:13 |
| 101 | Rebecca Shutt | WSEN | 00:59:22 |
| 110 | Neal Pates | M50 | 00:59:58 |
| 131 | Richard Sayers | MSEN | 01:03:10 |
| 148 | Heather Wallis | WSEN | 01:06:20 |
| 161 | Sophie Hornsby | WSEN | 01:08:58 |
| 165 | Jill Davies | W50 | 01:10:11 |
| 181 | Naomi Rabin | WSEN | 01:13:32 |
| 143 | Tom Nuttgens | M50 | 01:05:55 |
| 216 | Richard Garton | M50 | 01:39:13 |
Full results: here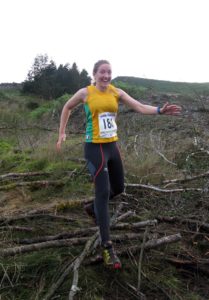 Photo: Joe Buckman