Race Date: Saturday 11th March
The Grindleford Gallop. According to their website, it is the infamous challenge through the hills of the Peak District.
It is a 21 mile trail race with about 3000 feet of ascent. A cult race which always sells out within minutes. A very hard nut to crack – I've now tried it 3 years in a row and I still haven't pulled off the perfect race.
The first lady was our very own Caroline Brock, with a staggering debut time of 2:54:25. That's about 6 minutes ahead of her nearest competition! The race winner was Steve Franklin, in a superhuman time of 2:28:25 – but enough said about Totley AC! 😉
Here are some of us before the race…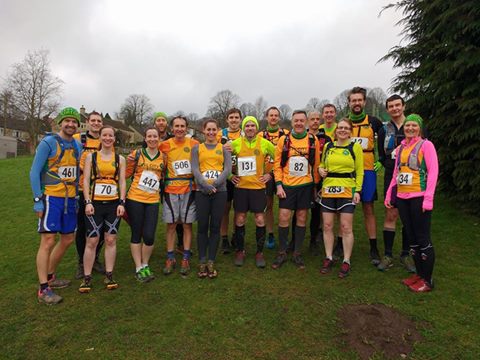 503 runners started the race, of which 22 were Striders. Not everyone finished.
Paul Stuart put in an awe inspiring performance to finish in 2:52:16 despite having a nap (or something!) on the way up to Froggatt Edge from Baslow.
Caroline looking strong on Froggatt Edge…
Me smiling through the pain at the stream crossing shortly before the downhill stretch to the finish…
 Here are the Striders results:
| | | | |
| --- | --- | --- | --- |
| Pos | Name | Cat | Time |
| 26 | Paul Stuart | V40 | 02:52:16 |
| 30 | Caroline Brock | F | 02:54:25 |
| 49 | Kevin Sibley | V40 | 03:04:19 |
| 58 | Sam Needham | M | 03:08:28 |
| 94 | Amy Duck | F | 03:19:30 |
| 106 | John Rawlinson | V40 | 03:22:20 |
| 121 | Adam McAuley | V40 | 03:28:24 |
| 133 | Rob Davies | V50 | 03:31:26 |
| 141 | James Fletcher | M | 03:34:15 |
| 152 | Steve Clarke | M | 03:37:04 |
| 154 | Jimmy Sharman | M | 03:37:37 |
| 181 | Mir Jansen | FV50 | 03:45:03 |
| 214 | John Armitage | V40 | 03:53:37 |
| 215 | Trevor Burton | MV50 | 03:53:42 |
| 225 | Nicola Ross | F | 03:56:10 |
| 228 | Adrian Moss | MV50 | 03:56:32 |
| 285 | Jane Evans | FV50 | 04:12:09 |
| 292 | Ben Heller | MV50 | 04:15:07 |
| 315 | Jill Davies | FV50 | 04:21:06 |
| 350 | Naomi Rabin | F | 04:35:06 |
| DNF | Andy Davies | MV40 | |
| DNF | Thomas McCart | M | |
The splits make interesting reading, should anyone be interested in comparing Striders! Here they are in Strider specific form…