Race date: Wednesday 7th June 2017
Finally, after months and months of badgering I got another Strider to come and take part in a vets track event.  Big kudos to Doug Banks on making the trip over to Manchester with me.  It was like our very own two man away day.
For the uninitiated, the Joe Moran Memorial event, hosted by Manchester Harriers takes place at Sport City track in the shadow of Manchester City's Etihad Stadium and is part of the Northern Masters (vets) Track & Field schedule.
A single £5 entry fee allowed you to enter any 4 events from the following:
Track Events: 800m, 100m, 3000m, 200m, 1500m, 400m.
Field Events: Javelin, High Jump, Long Jump, Shot Putt.
And uniquely for this Manchester event compared to run of the mill vets events there were medals on offer; Gold, Silver and Bronze in each of the 5 year age categories
Male / Female – 35, 40, 45, 50, 55, 60, 65, 70, 75
I was heading over there with the intention of going for 200m and 400m, whilst Doug had 800m, 200m and 400m in mind.
We arrived early as 800m was the first event of the evening.  But looking at the schedule I was going to have a long wait until my first event, the 200m, so I put myself down for the Long Jump for the laugh and to use as a bit of a warm-up and kill some time as you could take your 3 jumps at any time.
No sooner had we arrived when Doug was off in the 800m and quickly into a decent pace seemingly taking stock in about 4th place on the first lap.  At the bell he started making tracks and quickly into 2nd down the back straight, but despite a brave effort the winner proved too strong and Doug finished a highly commendable 2nd place.  There were three 800m races on the night with 22 runners in total and in the end, Doug's time of 2:10.6 was 2nd fastest in the whole night and was first fastest V35.  So first medal in the bag for Doug.
Top 800m times on the night
| | | | | |
| --- | --- | --- | --- | --- |
| P | Name | Club | Cat | Time |
| 1 | Mike Toal | Northern Masters | M45 | 2:07 |
| 2 | Doug Banks | Steel City Striders | M35 | 2:10 |
| 3 | Paul Sutcliffe | Halifax H & AC | M45 | 2:15 |
| 4 | Victor Van Velzen | Manchester H & AC | M35 | 2:16 |
| 5 | Ian Fitzpatrick | Southport Waterloo | M50 | 2:18 |
His 2:10 run puts him in the top 40 M35 800m times for 2017 as shown on Power of 10.  Absolutely top stuff!!
So whilst Doug was trying to recover from his 2 minute ordeal I headed over to the sandpit for a play.
Straight up, I had never ever attempted the long jump, not even at school.  I headed over there having no idea what to do and only having chose it as I though my speed might be of some use. Whereas in High Jump, Shot and Javelin less so.  I watched a few other people have a go and it just seemed like you needed to get up to speed quickly, plant the foot behind the line and just go for the jump.  Yeah, sounds simple.
I told the officials i'd never done it before and she let me have a cheeky practice before my jumps started to count (you only get three).
There were a few guys jumping who were also killing time before the 200m so it made for some banter.  My first two efforts seemed to go okay and the lady official double checked i'd not done it before as there was surprise in her voice when measuring out.  I took this as a good sign and I was ahead of the few other guys by about a metre, so was happy going into my final jump.  I was committed to giving this one a real good go.  Doug had recovered from his 800m race by this stage and was watching.  I extended my run up by a couple of metres from last time, gave it some welly and leaped with some force.  They measured it at 4.95 metres, people seemed impressed, none more so than Doug.  I had no idea, I couldn't tell you what a decent distance is.  I'd struggle to tell you the world record for example.  Its not an event i've ever really followed.  Anyway, Doug said it was a good first attempt, especially as he said i'd jumped from about 30cm behind the line (I wasn't really looking where my foot landed).
So that was the good news, the bad news was that I felt my right hamstring almost straight after.  I must have twinged it as I jumped off on that foot.  The 200m was still a good 30 mins away so I kept moving and doing a bit of a warmup.  Once the 3000m was close to finishing I started making my warm-up more specific and started some 40-50m strides with the 200m up next.  But I could feel this constant dull ache in the hamstring.  In the end I decided to pull the plug.  I was standing there with a decision to make.  Race the 200m, risk it going ping and be out for months or pack it in early and live to fight another day.  I chose the latter.  10 mins after sitting down the hamstring stiffened up and I think I made the right decision.
I was hugely frustrated, especially as I would have been up against Doug in the 200m.  In the end, the night turned out to be a tale of two hamstrings.  After a good start in the race, Doug succumb to a dreaded hamstring pull himself at about 150m and limped/walked over the line (see below).  Again frustrating for Doug as he looked set for a good time.
Now the the guy that won the race was flying as you can see, but there is no disgrace in losing to him as that is Mike Coogan who is the World Vets silver medalist from this year in Dageu (Korea).  Yep, you get to compete against some top class runners.
200m Heat 1 Result
| | | | | |
| --- | --- | --- | --- | --- |
| P | Name | Club | Cat | Time |
| 1 | Mike Coogan | East Cheshire | M40 | 22.9 |
| 2 | Adam Bellis | Trafford AC | M40 | 23.5 |
| 3 | Chris Burgess | Southport | M40 | 25.6 |
| 4 | Steve Goodwill | Burnley AC | M40 | 25.9 |
| 5 | Victor Van Velzen | Manchester H & AC | M35 | 28.2 |
| 6 | Gary Young | Warrington RC | M40 | 28.7 |
| 7 | Doug Banks | Steel City Striders | M35 | 32.9 |
So that put pay to both our evenings.  To say we were gutted was an understatement.
The only thing left was to await the result of the Long Jump.  The field events are open all through the meeting and you can just go and get your 3 jumps or throws in whenever you can, so they leave them open really late.
So we hung around and waited whilst the 1500m and 400m races completed.  Gutted we were both not out there doing the 400m.
Finally the results were pinned to the board.  Mick Wall – V45 Long Jump gold medal.  I couldn't believe it.
Top 10 Long Jump distances
| | | | | |
| --- | --- | --- | --- | --- |
| P | Name | Club | Cat | Distance |
| 1 | Daniel Wilson | Altrincham & District | M35 | 5.26 |
| 2 | Mick Wall | Steel City Striders | M45 | 4.95 |
| 3 | Simon Oak | Rotherham H & AC | M40 | 4.22 |
| 4 | Trevor Williams | Horwich Harriers | M55 | 3.87 |
| 5 | Justin Thompson | Altrincham & District | M45 | 3.86 |
| 6 | Nick Parrott | Chorlton Runners | M35 | 3.86 |
| 7 | Mark Compton | Liverpool Sefton | M50 | 3.86 |
| 8 | Martin Lee | Altrincham & District | M45 | 3.78 |
| 9 | Lee Fuller | Warrington RC | M40 | 3.61 |
| 10 | Isle Hemming | Bolton H | F60 | 3.59 |
Turns out 4.95 wasn't bad after all.  Maybe i've found my calling?  Power of 10 for Long Jump hasn't been updated yet, but 4.95 would put me in the top 20 V45 for this year. Absolutely stunned by that, but conscious that it is a bit of minority event.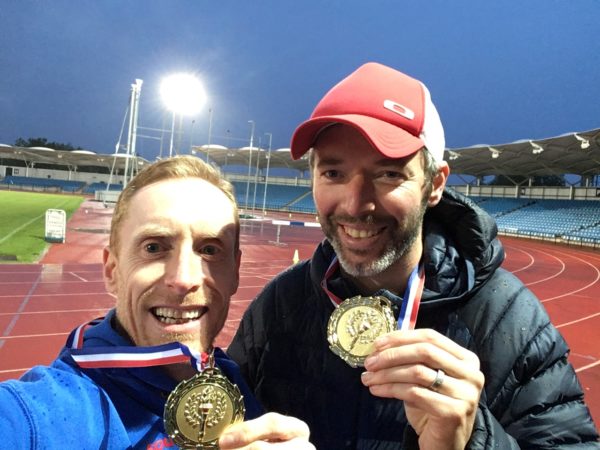 So the title of the night became a tale of two hamstring, two gold medals and smiles (through gritted teeth) all round.
A great Striders away trip, albeit just the two of us.  We really do urge everyone to give this a go.  Just look at the results from the night.  75 year olds running the 100m.  People taking 7 mins to run the 1500m.  Many of you could run 6 minutes i'm absolutely certain.
Vets track is not elitist, its anything but.  Everyone is friendly and there is really good chat and banter.
Notable Vets Track meets in the coming months.
Full Results from the Joe Moran meeting available from the BB Results website