Race Date: Sunday 14th May 2017
Race Report by Ashleigh Barron
This is the #norules-era Martyn Goldsack's all-time PB course. It's a race he still raves about to this day, though why he declared he was signing up for it after only fitting in 3 miles of training in the previous fortnight combined remains unknown. It was also on my to-do list after I DNS'd it the year I attempted a 3-weekend 3-half-marathon 3-PB streak which ended with a chest infection (don't try it kids!).
As no trains depart early enough to make the race, Martyn (a relatively new driver) offered to take us there in the van. This was a very stressful experience to say the least and the air was blue. All the car parks we could find were multi-storey, a level of skill we're not ready for. There was no option but to attempt it – but Martyn mangled his roof-rack after smashing into the low ceiling and struggled to manoeuvre back out (with an audience I might add). On our escape we found ourselves on a 40-mile an hour road. The sat nav beeped and turned itself off so Martyn (naturally..?!) slammed his brakes on in the middle of the road and I hit the hazards. Cortisol was through the roof. After "disappearing up our own backsides" on one-way streets we eventually swung to the kerb outside a kebab shop and agreed to split the fine later.
Just as the heart rates were returning to normal we bumped into Adam McAuley, with two bloody knees – war wounds from a previous run, but that wasn't going to stop him. The temperature was rising fast. A group of Green and Gold gathered together in the cool Blue wave to enjoy the Mr Motivator mass-warm up. After a short delay – that was filled with a moving speech from Mr Burton from Educating Yorkshire – we were off.
The start is nice and eases you in. The first of many hills pops up around the 2-mile mark and lasts a further 2 miles. The sun was beating down harder now, and by mile 3.5 one of the front-running ladies was bent over double by the roadside. The 1.30 pacer had bounded off into the distance and the watch beeped at a 7.35 min/mi. Flagging already. Just as a flash of "sod this" crossed my mind, Martyn appeared on my shoulder.
He stuck by my side for the whole race, re-assuring me there honestly were some downhills at some point. For once, Team Domestic Ding-Dongs remained focussed on the job in hand and worked together. He did, however, make sure that he beat me by one second for good measure. That didn't matter as I was over the moon with a new all-time PB by almost 4 minutes.
We regrouped with beers and medals, everyone looking like they'd just stepped out of the shower. A very well-organised event and a great course if you like a challenge. Extra congratulations to Golden Graham Hague who came 2nd in his age category and Adam who achieved a 7.20 course PB despite the tough conditions!
6753 people completed the race, including 14 Striders. Well done to all! The race was won by Mohammad Aburezeq of Altrincham & District AC in 1.10.22, and the first lady home was Martha Hanby (unattached) in 1.21.50.
| | | | |
| --- | --- | --- | --- |
| Pos | Name | Cat | Time |
| 195 | James Garner | M | 1.29.30 |
| 221 | Dan Cook | M45 | 1.30.16 |
| 261 | Martyn Goldsack | M35 | 1.31.23 |
| 260 | Ashleigh Barron | F | 1.31.24 |
| 518 | Adam McAuley | M45 | 1.37.30 |
| 738 | Graham Hague | M65 | 1.40.52 |
| 797 | Tracy Biney | F40 | 1.41.08 |
| 1185 | Trevor Cleveland | M50 | 1.45.28 |
| 3004 | Letitia Hancock | F | 1.58.48 |
| 2350 | Ben Nevill | M | 2.03.31 |
| 3535 | Tony Lyell | M45 | 2.05.31 |
| 3911 | Jessica Allen | F | 2.06.35 |
| 4294 | Simone Young-Alls | F | 2.10.56 |
| 4685 | Hayley Mills | F35 | 2.08.04 |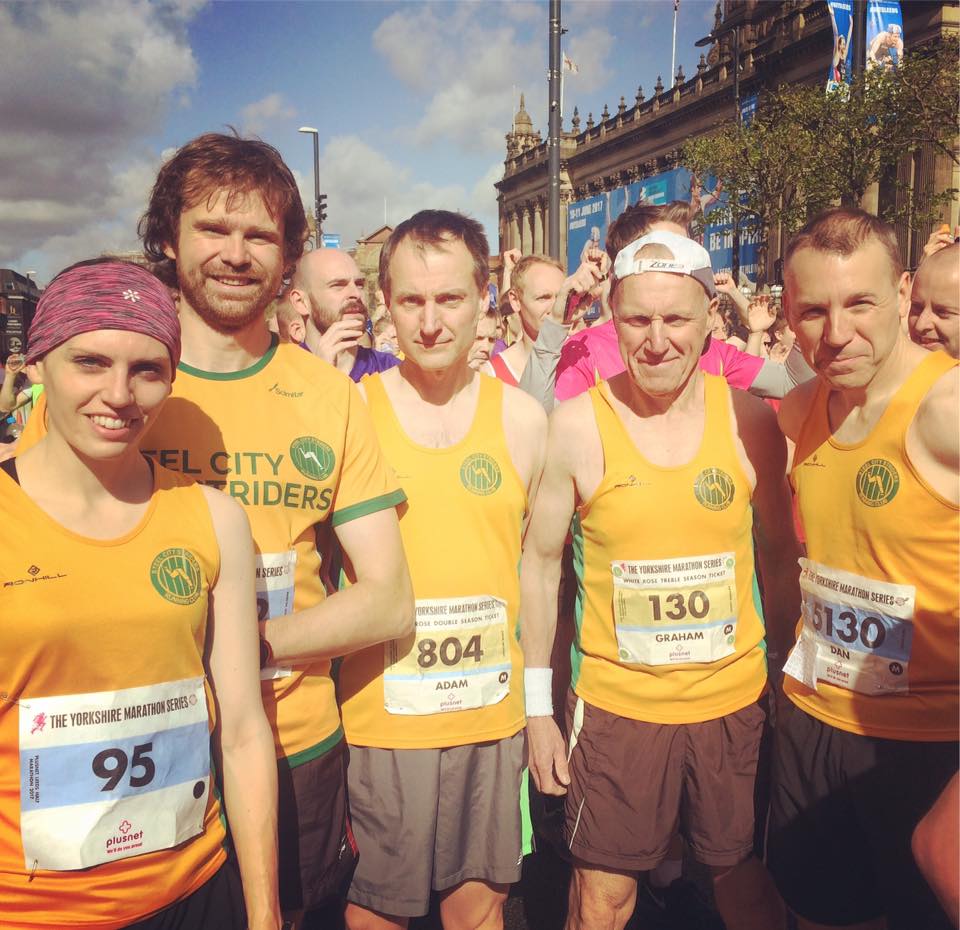 Full results available here.