Race Date: 15th October 2017
Manchester Half Marathon advertises itself as one of the flattest and fastest around. Only 41m of elevation gain and a 2 mile + finishing straight, they expect to see some very fast times. In 2016, 74% of the first 50 finishers ran a personal best or a season best. 56% of the top 250 ran a PB or SB. 7565 Runners took part this year.
The race was won by Luke Traynor (Glasgow City) in 1.04.10 with the ladies race won by Rebecca Hilland (Team Bath AC) in 1.15.40. 7 Striders took part in the race, Well done to all of them.
| | | | |
| --- | --- | --- | --- |
| Pos | Name | Cat | Time |
| 363 | Shaun KAWALEK | SEN | 01:29:17 |
| 766 | Leisha SHINER | SEN | 01:36:18 |
| 2418 | Tony HORSTEAD | SEN | 01:51:53 |
| 2699 | Clive DOWNING | V55 | 01:53:55 |
| 3421 | Emma WILLIAMS | SEN | 01:58:52 |
| 4690 | Jane WRIGHT SAUNDERS | V45 | 02:09:32 |
| 7015 | Dave SEDDON | V55 | 02:42:11 |
Full Results: Here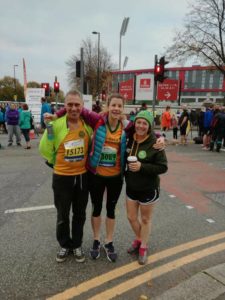 Some of Sheffield's Friendliest Running Club at Manchester's Friendliest Half Marathon (Photo from Jane)