Race Date: 19th March 2017
The One Where Martyn's Backside Exploded by Ashleigh Barron
Since sub-3 Superstar Martyn ran a cracking race in Pisa at Christmas, he's been channelling all his efforts into running a business rather than marathons. Training had therefore been very thin on the ground and neither of us knew how this one would go. "Wouldn't it be great if you could run sub 3s without training?" … "Wouldn't it be funny if I beat you?" Oh how we laughed.
As we were filling our His & Hers suitcases wearing matching tracksuits I saw Martyn packing some trainers that looked like they'd been involved in a nuclear blast. "Why are you packing those?" I asked. "They're my marathon shoes…" This bizarre decision will become relevant later.
On marathon morning we caught the bus along the seafront up to the start at Les Goudes, situated at the heart of the Parc National des Calanques. During the warm up Martyn informed me he was probably going to soil himself on this run, but other than that we were in good spirits. On the start line I could see Martyn up ahead rubbing shoulders with the elites. It was very hot despite the early start, and my mouth was already dry. After a short delay we were off back down the seafront. A glorious start to a race. I was feeling very comfortable, but probably running more 10K pace than marathon pace…
The route involves some short out and backs along the way so I was able to see Martyn for the first time around the 5 mile mark. He was looking really strong at this point powering down a hill as I was heading up. He shouted some encouragement which helped me charge up against the headwind (we avoid the customary high-fives since the time he nearly amputated my hand mid-race). It was upon this descent that I started to experience ITB pain that unfortunately lasted the whole marathon and the pace dropped slightly.
The temperature continued to rise which was hitting me for six, but the scenery was stunning so I was able to appreciate it a little through bleeding eyes. Around 15.5 miles I then saw what I thought must be a mirage in front of me. A hobbling Goldsack. "Well lookie here! You OK?" … "My arse has blown up." … "What?!" … "My arse has blown up. I'm in agony. Go on. You're smashing it!" Naturally, after what he'd said might happen on the start line I moved away quite rapidly. For the record, it turned out it was a muscle that had twanged as a result of wearing worn out shoes, not that he'd messed himself.
A large section of the marathon route is run twice, which was quite confusing as the signage was unclear, especially with a half marathon and 10k route thrown into the mix joining and breaking off at different stages. Around mile 17 the race had become quite drawn out and I was a little isolated. I didn't really know where I was going. The 10k finish point is oddly positioned in the middle of the marathon route with no marshals to guide you to the side of the funnel so a few of us had to stop briefly and ponder.
Meanwhile, after a good 8 miles of agony and throwing up at the half way mark Martyn made the wise decision to retire when he saw some medics up ahead. "Out… I need out…" was all he could muster as he hobbled to the sidelines. This was misinterpreted as he had cramp and just wanted a quick stretching out. So after a good rub down he was pushed back on his merry way to a chorus of "Allez! Allez! Allez Martyn!" By this stage he was literally whacking himself with a sopping wet buff in anger, but he soldiered on (death before DNF). He was reduced to walking between mile 20 and 23.
5K out from the finish I had already hit a wall but realised I could run a sub 3.20 and still achieve a PB despite suffering with the heat. I powered on and it was looking closer to 3.15 which was my dream time. Coming up to the finishing straight (which is also where you make a turn to do the first loop again — adding to the confusion) a marshal grabbed me. I came to a complete stop, but with the language barrier I couldn't understand if he thought I still needed to do that first loop again, or whether I was heading towards the wrong finishing funnel. After a few moments of us rambling at each other nonsensically he pushed me the direction I was already going. However I then no longer knew if I was going the right way, or whether he just wanted to get rid of me! But I was so happy to see any finishing line I powered through it in 3.17. Luckily it was the right one.
I must have looked pretty shocking as I was put straight onto a stretcher. Martyn joined the party around 3.50 (that's running time, not time in the afternoon) and what a trooper he is for finishing! Kudos to the man.
1076 people took part including the Barron-Goldsacks. The race was won by James Emuria in 2.24.21 and the first lady home was Aline Comboulives in 2.50.36.
| | | | |
| --- | --- | --- | --- |
| Pos | Name | Cat | Time |
| 99 | Ashleigh Barron | F | 3.17.40 |
| 378 | Martyn Goldsack | M | 3.50.14 |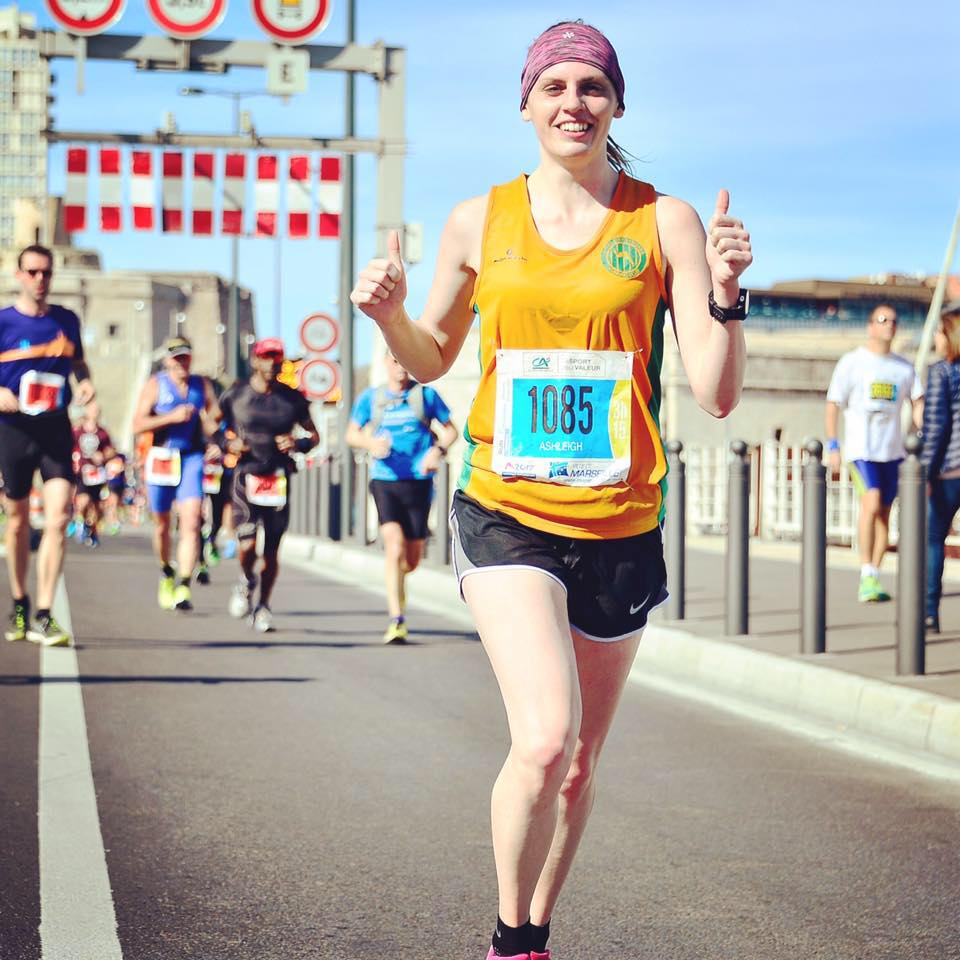 Full results available here.
Save