Race Date: 29 July 2017
Meerbrook 15 is the most recent addition to the Striders Road Race Championship replacing the Askern 10 Mile Road Race. As we're getting to the serious end of the Championship a larger than normal contingent of Striders gave up their usual Saturday Morning parkrun fix and made their way to Meerbrook.
367 runners too part in the race, including 19 Striders. The winner, Joe Rainsford (Heanor Running Club) powered home in 52.15 with the first lady Diane McVey (Wilmslow Running Club) finishing in 1.00.06.
Well done to all Striders who took part and we won a Team Trophy (but i've no idea what for!)
| | | | |
| --- | --- | --- | --- |
| Pos | Name | Cat | Time |
| 52 | Michael Richardson | MV40 | 1:05:04 |
| 57 | Richard Carter | M | 1:06:22 |
| 58 | Michael Slater | MV50 | 1:06:31 |
| 72 | Caroline Brock | F | 1:08:01 |
| 120 | Steve Smith | MV45 | 1:12:39 |
| 140 | Richard Pegg | MV55 | 1:15:01 |
| 148 | Graham Hague | MV65 | 1:16:01 |
| 161 | Alex Green | M | 1:17:09 |
| 165 | Kimberley Bateman | F | 1:17:18 |
| 167 | John Maples | MV50 | 1:17:24 |
| 176 | Andrew Woffindin | MV50 | 1:18:02 |
| 177 | Clive Downing | MV55 | 1:18:06 |
| 178 | Nicola Ross | FV35 | 1:18:10 |
| 198 | Michael O'Donnell | M | 1:19:45 |
| 226 | Jo Carnie | FV45 | 1:24:08 |
| 227 | Mir Jansen | FV50 | 1:24:09 |
| 237 | Stephanie Street | FV60 | 1:24:50 |
| 257 | Ian Blackburn | MV60 | 1:27:36 |
| 307 | Letitia Hancock | F | 1:36:22 |
Race Results: Here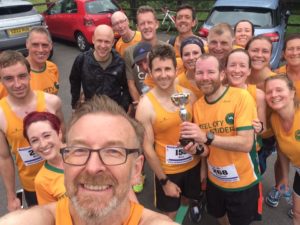 Striders and Trophy (picture from the Richard Pegg Selfie Archive)