Date: Saturday 2nd / Sunday 3rd September 2017
The organisers of the British Masters Decathlon and Heptathlon championship saw an opportunity. Why book Woodbourn Road track for the Decathlon and Heptathlon but have it empty for large parts of the weekend between events. So they decided to also host the inaugural North of England Masters event over the same two days. They'd got all the judges etc so it made sense.
Unfortunately, the build up wasn't all plain sailing. Firstly the event was poorly advertising in my opinion. No social media presence. No twitter, no Facebook group or event etc. There had been a few emails sent directly at clubs, ie to secretaries, but you're relying on that info being forwarded on, which is not always the case. I personally tried really hard to get fellow Striders there. I published a club email with all the details and made various posts within our Facebook group in an attempt to cajole people. The event was on our doorstep, so I really hoped we could get more people down there.
Sadly, whilst people may have been interested in taking part, grumble number two raised it head. A shocking entry mechanism.
You entered via the British Masters Opentrack system. Now this worked perfectly if you were already affiliated with your local Masters organisation (The Northern Masters in our case). Becoming affiliated entails you joining as a second claim member each year for a small fee, which I do. Then being a member you just clicked the events you wanted to enter, paid your fee electronically and that was it.
But if you weren't already a 'masters' affiliate then you had to go to the trouble of sending off scans of your passport / driving license to prove who you were and presumably to validate your age. A know of a number of Striders who just gave up when faced with this. I wonder how many other people around the north did the same?
You can enter almost any 5k, 10k, HM or Marathon in the country with just your name and at a push your England Athletics membership number. Why put these ridiculous extra steps in place?
There is a massive problem at the moment trying to get people to try track and field and putting ludicrous entry barriers in the way does help one little bit. As for the lack of advertising, its criminal in this day and age not use social media properly. Use it right and you can hit thousands of people almost instantly.
Ah well, grumble over, onto the competition.
Thankfully the organisation of competition itself was way smoother.  Tons of official, wind test machines, full electronic timing. At previous meets its been people with stopwatches doing the timing.
Bright sunshine greeted competitors on the Saturday morning.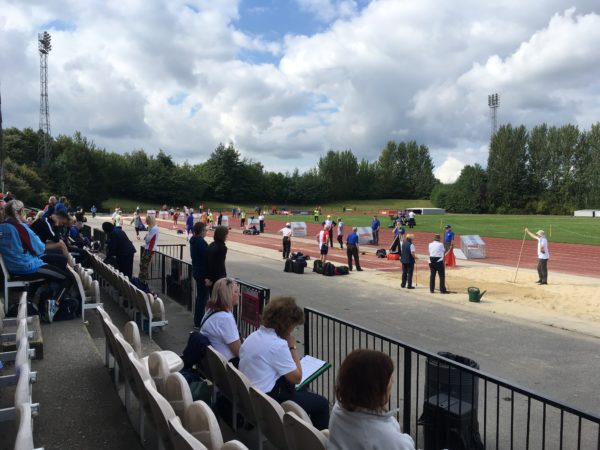 After making my long jump debut at Manchester back in June I decided to give it another go here. I also had the 100m on Saturday afternoon, with the 200m coming on Sunday afternoon.
The only other Striders representation over the weekend was from Doug Banks who had the 400m on the Saturday and 800m on the Sunday.
Saturday – Long Jump
You were allowed 6 jumps in the long jump. Sadly, entry numbers were low and I only ended up competing against 6 other men. Despite the decathlon taking part at the same time they decided to keep standalone events away from the decathlon. Probably wise to avoid confusion.
I'd jumped 4.95 back in June and i'd hoped to go quite a bit further. In the end, I only added 5cm onto my PB and get upto 5.00m, but i'd hoped for more. Long Jump is very technical and I don't have any expertise. I just run very quickly using brute pace to the board and then leap with no finesse. If i'm going to progress at that event I think I need some help with every aspect.  I wonder if Toni Minichello has a gap in is diary now Jess Ennis has retired?
As there were no other V45 in the competition I won the gold medal by default. It would have been nice to have some competition, but happy with a win and that my 5.00m jump is currently the 24th best V45 in the country this year.  I find this stat baffling in only my second ever set of jumps.
| | | | | |
| --- | --- | --- | --- | --- |
| P | Name | Club | Cat | Distance |
| 1 | Marcus Medina | Brazil | V40 | 5.94 |
| 2 | Malclom McPhail | Northern Vets | V50 | 5.37 |
| 3 | Julien Gittens | Leeds City | V55 | 5.16 |
| 4 | Mick Wall | Steel City | V45 | 5.00 |
| 5 | John Clarke | Wrexham | V60 | 3.35 |
| 6 | Michael May | Kingston | V55 | 3.11 |
Saturday – 100m
The 100m was better supported than the long jump and required a number of heats.  When entering you were asked for your latest race time so that races could be graded.  My most recent time of 12.8 from 2016 meant as wasn't thrown into the fire-pit of the fastest heat with some of the 11 second flyers.
Blocks! I had never used blocks before.  At the events I've ran previously there are no blocks unless you brought your own.  I thought what the hell, I've give them a go.
I was in a race with 4 others.  The grading meant i'd been put in with 3 ladies and one other fella.  It didn't seem right really, but before the race I had no idea how fast anyone was.  Any of the ladies could have been Merlene Ottey for all I knew!  I just had to get out quickly and go for it.
Bang! I got out well, which is a surprise as i'm usually rubbish.  Maybe it was the blocks?  Half way down the track I knew I was ahead.  I used my peripheral vision but couldn't see anyone.  I felt awesome.  I felt relaxed and it felt easy.  So easy I wondered if I wasn't trying hard enough.  The line approached, a quick scan left and right, no one there.  I'd won the race.  My first ever win.  As soon as I crossed the line the electronic display popped up my time; 12.64.  A PB to go with the win.  Could not have been happier.
It was a strange feeling running so fast yet it seeming and feeling easy.  In the zone perhaps?  If that's what it was, it's a weird place that's for sure.
| | | | | |
| --- | --- | --- | --- | --- |
| P | Name | Club | Cat | Time |
| 1 | Mick Wall | Steel City | M45 | 12.64 |
| 2 | Dave Stephenson | Fairlands | M50 | 13.89 |
| 3 | Cat Goulder-Davies | Worcester | F40 | 14.06 |
| 4 | Anna Harris | Sunderland | F45 | 14.18 |
| 5 | Caroline Warden | Preston | F40 | 14.33 |
It turned out that there were no other M45 in the 100m either.  So along with a PB and the race win I picked up another gold medal.  Well I say 'picked up', this is one part of the event organisation that didn't work well.  We had an email the day before the event started saying that the medals were stuck in customs at Lowestoft and they would have to ship them out after the event.  A crying shame that we couldn't get them on the day.
For reference, the first three home (of 5 entrants) in the speedy race were 11.46, 11.73 and 12.18.  My 12.64 would have placed me in 4th position and is currently the 32nd fastest V45 time this year.
Saturday – 400m
Doug had previously ran the 400m back in July at the run jump throw series and posted a highly respectable 60.9, but I knew he wanted more.
I will let him describe how he got on in his own words
Conditions for the 400m were perfect – no wind and summer evening sunshine conducive to good "sprinting".

Got a little carried away and decided to get the starting blocks out having probably not used any for over 20 years. A favourable lane 2 draw, things were looking good. The aim was to break 60 seconds.

Down into the blocks, a range of different starting techniques from others. Bang the gun goes off. Power out the blocks with the head down like a true sprinter (not really probably stood up immediately and gained no such advantage). Ran the first 100m pretty much flat out then relaxed into the back straight passing a few of the guys on the outside. Rounding the top bend hamstrings start to tighten and then the legs start to fill with cement rapidly. The last 100m is all about hanging on and pulling silly faces.

Managed to stay in front of the pack just. One guy was a decent distance in front clocking an impressive 52.7 seconds. A proper 400m runner. Stumbled over the line in 58.1, very happy with the result and knowledge of being back to the speed I was at the age of 15.

Good times, handshakes all round followed by 20 minutes lying around trying to recover. It was fun honest.
| | | | | |
| --- | --- | --- | --- | --- |
| P | Name | Club | Cat | Time |
| 1 | Andrew Parker | West Cheshire | M35 | 52.73 |
| 2 | Doug Banks | Steel City | M35 | 58.14 |
| 3 | Simon Oak | Rotherham | M40 | 58.55 |
| 4 | Jonny Lowe | Mansfield | M50 | 59.25 |
| 5 | Ian Broadhurst | Wrexham | M60 | 60.02 |
| 6 | John Moore | Heaton | M60 | 61.04 |
| 5 | Kevin Pye | Charnwood | M55 | 62.26 |
That 400m was the 78th best V35 run of 2017.  Great stuff Doug.
Sunday – 200m
I awoke Sunday morning aching like hell.  I'm not sure if it was the 100m, the Long Jump or a combination of both, but something had taken its toll.  Maybe its just getting old?  I'd only jumped 6 times and run for 13 seconds, but I suppose its all about intensity.  No matter what the race or competition you do it to your max.
So the warmup ahead of the 200m was more trying to get the legs and joints moving again.  A race of eight lay ahead and I knew I had no chance of winning it.  I'd seen one of the guys race before at another meeting and knew he was very good.  Also, two of the top three from the speedy 100m race were also in this one.
I got into the blocks and my head was gone. Couldn't win the race, body ached, just get round.  I was drawn in lane 7 and no sooner had we got out of the blocks I felt people coming up on my inside.  Then they were gone, whoosh, it was all about hanging on.  Yesterday's relaxed run in the 100m was a distant memory and I felt the hamstring that troubled me at Manchester in June niggling away down the back straight.  Mentally I think I eased up a little.  I usually find something else coming into the straight over 200m but I had nothing. Tank empty.
In the end I finished 5th in a time of 26.27.  My PB stays at 26.1 and without the rigours of Saturday's competition I'd like to think I could have gone close.
| | | | | |
| --- | --- | --- | --- | --- |
| P | Name | Club | Cat | Time |
| 1 | Adam Bellis | Trafford | M40 | 23.32 |
| 2 | Marvin Edwards | Northern Vets | M35 | 23.92 |
| 3 | Steve Peters | Northern Vets | M60 | 24.52 |
| 4 | Peter Hickey | Leigh | M60 | 25.76 |
| 5 | Mick Wall | Steel City | M45 | 26.27 |
| 6 | Simon Oak | Rotherham | M40 | 27.09 |
| 7 | Cat Goulder-Davies | Worcester | F40 | 28.9 |
| 8 | Paolo Bartolomasi | Northern Vets | M55 | 29.24 |
Luckily for me, no other M45's involved again so I picked up my third gold medal of the weekend and posted the 42nd best V45 200m time this year.
It wasn't until later that I found out who Steve Peters was.  I did wonder why half the race wanted their picture taken with him afterwards.  You know the book 'The Chimp Paradox', well it's that guy.  Not only is he the author of that, but he's been world record holder and world champ at 100m, 200m and 400m veteran/masters racing for over a decade.  His Power of 10 profile is simply astounding.  I had no idea who he was and was chatting to him about mundane stuff before the race.
The family had come to watch me on the Sunday and it really cheered me up when my young kids told me  'Daddy, you were awesome'.  Who needs medals when you've got that?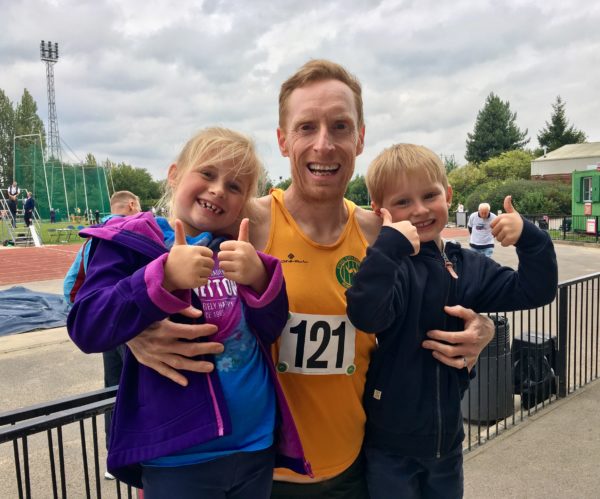 Big decisions ahead for me regarding this track and field lark.  Got to make my mind up whether I have to forsake 'endurance' and train for speed.  If I want to be competitive at the British Championships next year in M45 i'd need to find at least 0.5 secs in 100m, 2 secs in the 200m, 4 secs in the 400m or 0.62m in the Long Jump to get close to a medal.
Lofty ambitions perhaps, some might say ludicrous, but I'd like to think I could give it a good go between now and then.  But I think i'd need to start down that road ASAP.
Sunday – 800m
Over to Doug again.
The 800m was a bit of a time trial looking down the list on predicted times. A very optimistic 2:09 was the target, a combination of holiday, general laziness and lack of specific training would make this interesting. There were 10 in the race including Chris and Jed from SRC and Mr Havenhand from Barnsley.

We were corralled and assigned lanes quickly ahead of schedule the organisers were keen to get home in time for the antiques road show. The wind was swirling a little.
The gun went off. Always try to get a decent first 200m in. Was always told that the first 50m is "free energy". At the merge at 100m was ahead so pushed on. 65 seconds through the bell legs already feeling it. Knew the second lap would be hard. 63s would have been preferred for an attempt at the 2:09. 800m is all about who can slow the slowest. If run correctly it's not much slower than a full on sprint.

At 600m the legs had entered the cement phase and the pain was setting in. Could hear some pretty loud grunting from behind which proved to be slightly motivating. Again very much hanging on down the home straight in much pain. The 800m is officially the most painful distance you can run. (If done right). Over the line in 2:13 according to official timing although 2:12 on the watch. But hey still a distance away from the 2:09. A decent run and nice to get a win although did feel a little like an impostor as a V35. The real Vets start at V40 🙂.

Talk of European and World masters events post race has seeded some more thoughts. Some potentially interesting targets for 2018, 19 & 20. We'll see!
| | | | | |
| --- | --- | --- | --- | --- |
| P | Name | Club | Cat | Time |
| 1 | Doug Banks | Steel City | M35 | 02:13.3 |
| 2 | Johnny Lowe | Mansfield | M50 | 02:15.2 |
| 3 | Mark Havenhand | Barnsley AC | M50 | 02:16.8 |
| 4 | John Moore | Heaton | M45 | 02:17.7 |
| 5 | Richard Wallace | Manchester | M55 | 02:19.1 |
| 6 | Jed Turner | Sheffield RC | M55 | 02:20.0 |
| 7 | Chris Ireland | Sheffield RC | M55 | 02:23.3 |
| 8 | Richard Baker | North Shields | M40 | 02:23.9 |
| 9 | Alina Stepanchuk | Rotherham | F35 | 02:26.2 |
| 10 | Stephen Doxey | Swinton | M55 | 02:32.3 |
Doug WINS.  A WIN, first past the post.  Not many people get to win a race.  Its a great feeling. Congratulations Doug.
Although there is some confusion as to whether Doug is due a medal. I thought because he's a Strider, who are affiliated to various masters organisations he might get one.  But Doug thinks you needed to be an individual member of the likes of Northern Masters.  Who knows.  Just another niggling part of the organisation that wasn't clear and doesn't help entice newcomers in my opinion.
The organising committee say the event will be back next year, so fingers crossed they can get some of these things ironed out for 2018.  Then its fingers and toes crossed that we can persuade more of you lot to try your hand at track and field next year. 🙂
Full results from the weekend can be found on Power of 10 and the British Masters website.