Race Date: Sunday 18th December 2016
Starting from Miracles Square in the centre of Pisa, this is a scenic and super-flat race that made for a perfect end of year treat with a little holiday thrown in too. The route follows the banks of the River Arno, passing the Duomo along the way. Runners are then taken out into the Tuscan countryside, past Basilica San Piero, before reaching the coast and meeting the Tyrrhenian Sea. Upon reaching the Marina di Pisa, the route back to Pisa follows the river more closely as runners progress further inland, with the race coming to an end near the Leaning Tower of Pisa.
We were greeted with a cool sunny morning and not a cloud in the sky on race day. Martyn took full advantage of the perfect conditions and came away with 1.5 minute PB which took him comfortably sub 3. Nick also stormed home fuelled by a powerful cocktail of gels and Newcastle Brown (albeit with a disagreement with his quads along the way) and I did a lot of walking and talking after the hard work for the year already been done!
We'll all be following Martyn on his quest for 2.45 😉
| | | | |
| --- | --- | --- | --- |
| Pos | Name | Cat | Time |
| 89 | Martyn Goldsack | SM35 | 2.57.42 |
| 375 | Nick Burns | SM45 | 3.25.17 |
| 621 | Ashleigh Barron | SF | 3.42.08 |
1392 people took part in the race, including we three Striders. The race was won by Nasef Ahmed in 2.24.00, and the first lad home was Morano Giorgia in 2.47.10.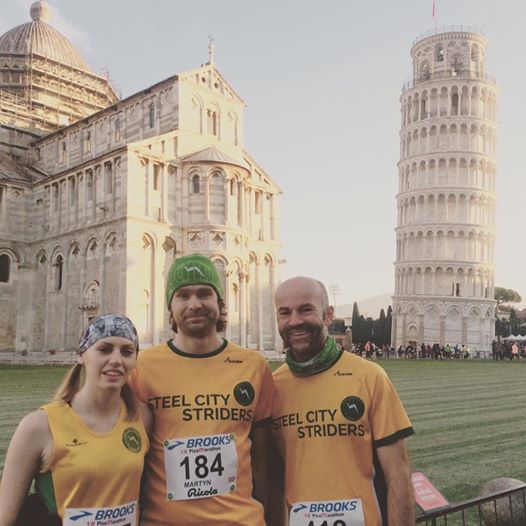 Full results available here.