Record entries and fine weather this year for this event  founded way back in 2004 by long standing club member Roy Kitson who put such a lot of effort into designing the Round Dronfield Way on which the race is based. Roy organised the first two races but sadly died before the third event took place. Comprised of three roughly equidistant legs and totalling nearly fifteen miles it is acknowledged that the final leg, from Unstone to Holmesfield, is by far the toughest.
The levels of feeling about the race were clearly demonstrated by the lamentations of Carrack's Crackers which could be heard ringing around the Victoria after the race that afternoon. "Thirty seconds, thirty seconds" was the cry being the narrow margin which Totley AC thrashed them by. If they could only have got over each stile and through each gate just a second quicker then they would have been clear winners but this was not to be. If only their leg two team hadn't needed a comfort break. This was not the fastest race ever (the record is 1:48:00 set in 2006 before the handicap system was employed) but certainly one of the closest with fine handicapping leading to some head to head battles further down the field as well.
Elsewhere, some teams took steps to ensure failure. John Rawlinson's public confession that he went wrong twice, despite having recce'd his leg only the week before is to be admired. Another team has been less forthcoming although our spies tell us what happened. As Team Pheidippides waited to changeover at the start of leg three the conversation went something like this "Well Barry and Colin (Townend Trotters) have only just got in so Pete will be ages yet" so off they went to warm up. Of course the father and son duo ran a blinder on leg two, hammering up the last hill only to find their partners lounging around 400m away up the other end of the Unstone lay-by. If that wasn't enough, Nick Scott then decided to add five minutes onto their time by adding a pointless detour just before the curly bridge over the A61. Fail to prepare, prepare to fail as they say.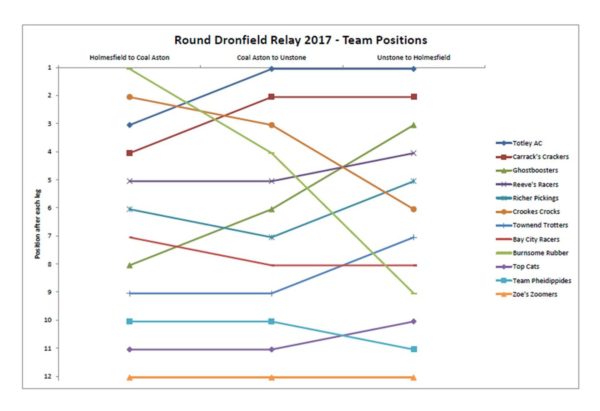 The graphic demostrates how positions changed throughout the race, especially on Leg Three. Zoe's Zoomers are to be congratulated on their consistency whilst Burnsome Rubber's error on leg three completed their plunge from first to ninth place.
A dozen teams (72 competitors) plus three solo entrants completed the course in a celebration of what it is to be a Strider. Friendly team rivalry, meticulous planning, reconnaissance runs to tread down the nettles in the weeks preceding the race, fierce competition on race day, a fine buffet at the Victoria and primarily lots of fun. As ever, thanks to Adam and Kate for organising and not forgetting the impromptu marshals who unwittingly found themselves on duty at the changeovers
With thanks also to our secret correspondent.
Runners and Riders
Leg 1
Leg 2
Leg 3
Holmesfield to Coal Aston
Coal Aston to Unstone
Unstone to Holmesfield
Totley AC
Pat Goodall
Colin Osborne
Penny Sadler
Roz Massey
Shaun Parkin
Mark Buskwood
Carack' Crackers
Chris Willis
Andrew Woofindin
Sam Needham
Chris Kirby
Mark Platton
Stuart Carrack
GhoostBOOsters
Mir Jansen
Jimmy Sharman
Michael Richardson
Magda Boo
Steve Helmore
Paul Stuart
Reeve's Racers
Richard Pegg
Jason Brannan
Paul Johnson
Jill Davies
Neal Pates
Richard Carter
Richer Pickings
Heather Knott
Stuart Jones
Steve Fraaizer
Charlotte Maddox
Chris Hodson
Jennifer Rich
Crookes Crocks
Emma Dimelow
John Mo
Matt Collinson
Ben Heller
Ellie Hurrell
Mace Windu
Townend Trotters
Neil Tether
Barry Gyte
Keiran Surgeon
Matt Surgeon
Colin West
John Kilcoyne
Bay City Racers
Mark James
Adam Mcauley
Ben Clithero
Helen Cain
Nicola Ross
Simon Bayliss
Burnsome Rubber
Caroline Welton
Michael O'Donnell
John Rawlinson
Dean Young
Bob Grocutt
Peter Webber
Top Cats
Catherine McKeown
Keith Bell
Colin Hardy
Jane Wright
James Grinham
Alex Shepherd
Team Pheidippides
Louise Cousins
Sam Brown
Caroline Brock
Robert Booth
Peter Brown
Nicholas Scott
Zoe's Zoomers
Chris Heggs
Loz Harvey
Jorge Bronze
Zoe Dickinson
Matt Broadhead
David Palmer
Time and Place
Leg 1
Leg 2
Leg 3
Total Time
Time
Posn
Time
Posn
Time
Posn
Totley AC
40:43
3
32:17
1
45:11
1
1:58:11
Carrack's Crackers
40:43
4
37:39
2
40:18
2
1:58:40
Ghostboosters
46:04
8
34:59
6
40:24
3
2:01:27
Reeve's Racers
44:02
5
36:51
5
41:01
4
2:01:54
Richer Pickings
44:58
6
36:14
7
43:57
5
2:05:09
Crookes Crocks
39:51
2
39:37
3
46:04
6
2:05:32
Townend Trotters
47:22
9
38:43
9
42:07
7
2:08:12
Bay City Racers
45:03
7
39:53
8
44:12
8
2:09:08
Burnsome Rubber
39:33
1
41:00
4
49:14
9
2:09:47
Top Cats
52:25
11
36:02
11
43:21
10
2:11:48
Team Pheidippides
49:09
10
37:49
10
47:42
11
2:14:40
Zoe's Zoomers
55:52
12
43:38
12
38:59
12
2:18:29