Race date:  Tuesday 2nd July 2017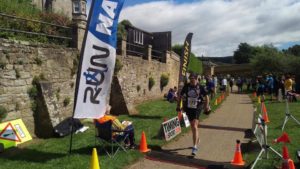 Run Nation organised this Half Marathon in the amazing Northumberland countryside around Rothbury, through which the rather large Coquet river runs on its way to the sea.  The race stretched the definition of "undulating" a bit; I recorded 252m up and 305m down.
139 runners took part with Andrew Broadbent (unattached) coming home first in 1:22:34.  Ruth Bentley of Allen Valley Striders was the first woman to complete the course in 1:36:04.
Hint: if you're thinking of doing this race next year, remember the sun cream and the hay fever pills….
I've a sneaking suspicion that no other Striders ran but do tell us if you did.
The full results are here
| | | | | |
| --- | --- | --- | --- | --- |
| Position | First Name | Last Name | Category | Time |
| 112 | David | Bownes | M | 2:16:23 |