Race Date: 29th April
The iconic traverse of Pen-y-ghent, Whernside and Ingleborough is a real "marathon with mountains" (23.3 miles, 5279 feet) and needs no introduction to anyone interested in fell racing.
This year saw the ladies' course record fall to Victoria Wilkinson of Bingley Harriers who finished 13th overall in 03:09:19, a decisive 5mins 25secs off the time set by Anna Pichrtova, of the Czech Republic, when the Three Peaks hosted the World Long Distance Mountain Running Championships in 2008.
The overall race was won by Murray Strain of Hunters Bog Trotters in Edinburgh in a time of 02:49:38.
Four striders started the challenge this year. Huge congratulations to Amy Duck and Vincent Baker for completing the race. The way Amy moved up the field as the race went on suggests she paced this one well!
Well done and commiserations to John Rawlinson and Paul Stuart who managed twin peaks: John came down with the dreaded cramp and missed the last cut off (3:30) so had to retire at Hill Inn but he was "quite glad to miss the cut-off to be honest, took the decision out of my hands"; Paul was well within the cut off but opted to keep John company on the "bus of shame". I'm sure Paul won't mind me including his Facebook comment here as a mini race report:
Did you see that picture of the bus? I was on it I was. Quite pleased with meself for making that "bold,brave descision to stop." Nahh, Don't believe it for a minute. I was beat. Staggering down Whernside I knew I just hadn't brought enough to the table that day. It's a tough race when not fit and yet Amy Duck just sidells up along side me 14 miles in still smiling and untroubled after having climbed Pen y Ghent and Whernside.After a brief chat she powered on to conquer Inghlborough and finnish. the.race still smiling and unfazed. It's easy when your good 😉. Massive well done to you Amy for taking a tough event like this in your stride. The other Strider I never recognised but he came through the last checkpoint on time and looked in good shape as well to complete.
| | | | | | | | | |
| --- | --- | --- | --- | --- | --- | --- | --- | --- |
| | Amy Duck | | Vincent Baker | | Paul Stuart | | John Rawlinson | |
| Location | Time | Pos | Time | Pos | Time | Pos | Time | Pos |
| Pen-y-ghent | 00:45:36 | 589 | 00:43:29 | 490 | 00:40:23 | 313 | 00:47:18 | 672 |
| High Birkwith | 01:22:23 | 570 | 01:20:44 | 523 | 01:13:52 | 308 | 01:27:27 | 706 |
| Ribblehead | 01:52:52 | 556 | 01:51:53 | 531 | 01:43:01 | 341 | 02:01:58 | 715 |
| Whernside | 02:39:53 | 530 | 02:44:50 | 602 | 02:31:14 | 410 | 02:58:30 | 714 |
| Hill Inn | 03:05:51 | 488 | 03:12:05 | 571 | 03:06:10 | 493 | 03:32:57 | 719 |
| Ingleborough | 03:52:43 | 454 | 04:11:48 | 606 |  — |  — |  — |  — |
| Horton | 04:41:32 | 466 | 04:58:02 | 579 |  — |  — |  — |  — |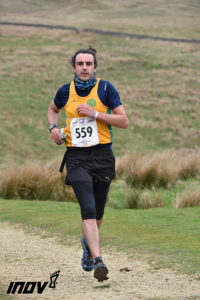 Vincent going strong…
John and Paul's fate…