Race Date: Sunday 4th November 2018
Race Report by: Nicola Birch
Good things happen when you least expect them.
This phrase turned out to be true at the Leeds Abbey Dash 10K held last weekend.
Breaking 40 minutes for the 10K has been a long held dream of mine which I wasn't expecting to happen on this occasion. A failed attempt in September at the Sheffield 10K had convinced me that I was more likely in shape to run 40-minutes-something.
On that occasion I put myself under a lot of pressure to stick with the 40-minute pacer and being unable to keep up with the early pace, my race ended a little disappointingly. However, it did provide me with an opportunity to learn. I realised that I much prefer running to feel – not looking at my watch and not forcing myself to go at the pacer's speed – and that for me this produces a more relaxed and consistent run.
With this in mind I approached the race relatively calm and enjoyed the excitable pre-race atmosphere created by the thousands who attend Leeds Abbey Dash each year. However, the sheer volume of people taking part meant getting to the start area was a little tricky as was fitting in a decent warm-up.
Nevertheless, it was motivating to be surrounded by so many runners during the race. A special moment for me was when myself and Sophie Evison (who I didn't know beforehand) quietly said "Go Striders" to each other at around two-and-a-half kilometres – it really spurred me on, as did the many shouts of encouragement across the road once I'd passed the turnaround point.
In other 10K races I would say that I've still felt relatively comfortable at the half-way point. I probably am guilty of holding myself back in previous races for fear of bonking. However, on this occasion I was definitely uncomfortable by this stage.
I tried to use every downhill as an opportunity to run faster, the cheers of the crowd as energy and each time my head told me to slow down I tried to dig in a little more and surge forwards.
Eight kilometres. Yikes. This hurts. I kept fighting hard to keep the 40-minute pacer in sight, determined to finish in a time beginning 4 – 0. I knew my dad would be watching between eight and nine kilometres and I used that as a target.
I passed him at the nine kilometre mark and braced myself for a tough last push. The slight incline about 800 metres before the finish was particularly unwelcome and the finishing straight is a blur where I can't really remember anything other than a fuzzy clock in the distance reading 40-something.
It was a relief to stop and before looking at my watch I took a few moments to lean over and recover. When I did I disbelieving saw that my time read 39 minutes and 57 seconds. I thought it was a mistake and approached the pacer to ask him how quick he'd run. I was hopeful that my time was correct when he said he was twenty seconds too fast but it was a nervous wait for the official results to come through. When they did, I was delighted.
Running under forty minutes for 10 kilometres is like a stroll in the park for some and is nothing compared to the heroic marathon efforts undertaken recently by Striders runners. However, during a long period of injury last year and upon returning to running in January this year I lost a lot of confidence in my ability. Leeds Abbey Dash has cemented for me that I am no longer a runner "coming back from injury" and has taught me that patience and a sensible running schedule pay dividends in the long run, even during those times when you feel like you're not getting anywhere.
I have to say a big thank you to Mick Wall who has passed on to me loads of invaluable advice, especially regarding recovery. With frequent recovery weeks and by balancing my hard sessions better I've been able to race on much fresher legs and avoid burnout.
Dot Kesterton had another storming run, finishing first in her age category, running the fifth fastest time for V65s in the country and smashed the Striders record.
The first man home was Adam Craig in 29:08. The first woman home was Fionnuala Ross in 33:30.
There was a strong field of Steel City Striders out – well done everyone!
Full race results can be found here.
| | | | |
| --- | --- | --- | --- |
| Pos | Name | Category | Chip Time |
| 258 | Stuart Carrack | M35 | 35:10 |
| 417 | Chris Guy | M40 | 37:18 |
| 469 | Sam Nunn | MSEN | 37:55 |
| 676 | Nicola Birch | FSEN | 39:57 |
| 988 | Ben Stittle | MSEN | 42:52 |
| 1024 | Sophie Evison | F35 | 43:15 |
| 1091 | Neil Schofield | M45 | 43:16 |
| 1205 | Adam Bishop | MSEN | 43:52 |
| 1137 | Eric Latham | M45 | 43:57 |
| 1373 | Dot Kesterton | F65 | 45:56 |
| 1669 | Arif Ali | M35 | 46:57 |
| 1853 | Nicky Campbell | F40 | 47:30 |
| 2196 | Charlotte Civico | FSEN | 48:50 |
| 2877 | Steven Lewis | M40 | 51:00 |
| 2150 | Carol Beattie | F60 | 51:20 |
| 4053 | Josephine Blewitt | F40 | 54:02 |
| 3079 | Ruth Albaya | F35 | 54:41 |
| 3748 | Matt Livesey | MSEN | 55:00 |
| 3998 | Dawn Jackson | F55 | 56:26 |
| 5363 | Emma Lewis | F45 | 59:12 |
| 5755 | Paul Cooper | M35 | 1.01.52 |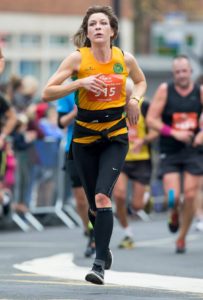 Sophie Evison powering to the finish line