Race Date: Sunday 4th March 2018. Race report by Ben and Stuart Jones
Ben starts us off…
"Is the race going ahead?"
"Will it be safe?"
"Will there be a bouncy castle?"
Thankfully the organisers of the Ynys Mon (Anglesey) Half Marathon stood strong in the face of stinging social media criticism in the run up to this year's event. Beast from the East? Northern Welshmen laugh at your weather doom mongering. Storm Emma is a piece of Bara Brith compared to the gales that local mussel-traders face on the Menai Strait.
The race is organised by Welsh supplier, Jones Crisps. Now if there are two things I am moderately passionate about it is crisps and running. Perfect. Sign me up. In the lead up to the race, the event organisers were attempting to set a world record for the most Jones's to complete a race. Hey my surname is Jones. Again, sign me up. Results show that 80 of the 1054 finishers were Jones's – a percentage of 7.6. To me this seems surprisingly low and further comparative studies should be done against English races with Smith's and Irish Murphy's.
Ah yes, the race. Quite simply the start line is breath-taking. The race offered the chance to run across the renowned Menai Bridge before settling down to an undulating and winding trek along the Beaumaris Coastal Road. Despite telling anyone around me that I was going to 'take it steady' due to a recent minor injury, this never really happened and I spent the first half of the race effectively pacing the first lady. How very chivalrous.
Mile two involved running past a steaming dragon and mile five past the historic Beaumaris Castle with the Snowdon mountain range silhouetted across the strait. Miles six and seven featured the main hills with the steepest part coming just before the half way mark. More a 'racing hill' than a true slog, but enough to allow your brain to start playing the bargaining game… Slow down, have a walk, pick a new hobby… But wait, TAILWIND!
Stuart picks up the story…
Just before the hill the route veered inland for a 3 km loop. As I reached this point the race leader came round the other way – this is essentially an 'out and back' route. At the end of kilometre 13 we had dropped back to sea level and entered a stretch of road alongside the strait with added sand and seaweed – the high tide and Storm Emma had left evidence.
The 4 miles out and back from Beaumaris were on 'open roads' but this is Anglesey, on a Sunday morning, in very low season. I saw one moving car and one van only. Then it was back on to the 'closed road' section that covered both ends of the race.
A secondary 10k race set off across the bridge 40 minutes after the Half, along the same route. It turned around at a cone in the road when we all had 5 km to go. Suddenly there was a great many more runners for us to overtake. This confused me for a while until I realised it just didn't matter; keep pushing and get past as many as I could.  My standard race tactic is to start further back and slower than needs be and to continually push on all race, overtaking all the way. Watching my watch showed my average pace coming down as I ran on, from 8:01 per mile, through 7:40, 7:35, 7:26 and down to 7:23 per mile. I was on for something close to a PB, and an 8 minute improvement on Liversedge two weeks ago.
And so you and I push on; pain is temporary, after all.
After the extraordinary start line the finish is quite a contrast – a car park off Menai Town's High Street. But there was a crowd on the final bend, a Silver Band, Jones Crisps (made with Welsh potatoes), bananas, chocolate, a fine medal, energy and protein bars, massage, drinks, …
One observation for Richard Pegg, on Club names – Penrhyn Puffers. One observation on Club colours – Welsh Clubs do like to wear the green, red and white.
The winners:
Callum Davidson, 1st male (Rossendale Harriers) – 1:10:50
Lucy Williamson, 1st female (Ilkley Harriers) – 1:23:56
Simon Jones, 1st Jones (Abbey Runners, Leeds) – 1:22:44
Louise Jones, 1st Jones female (Unattached) – 1:43:41
First Strider: Ben Jones (23rd male, 16th senior male, 2nd Jones) – 1:24:27
Second, and last, Strider: Stuart Jones (133rd male, 14th V50 male, 10th Jones) – 1:36:12 (Half Marathon PB)
Full results at: http://tdleventservices.co.uk/race-results.php?year=2018&event_prefill=2815
| | | | |
| --- | --- | --- | --- |
| Pos | Name | Cat | Time |
| 24 | Ben Jones | MSEN | 1:24:27 |
| 140 | Stuart Jones | MV50 | 1:36:12 |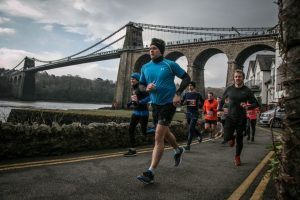 Stuart's One-Word Race Report was 'gogoneddus'. As all students and speakers of the Welsh language will tell you, 'glorious'.