Race date: 24th March 2018
Race report by Sarah Schofield
This was the rearranged SBR event from 4 March, which was going to be a perfect training run for our Sheffield Half Marathon training, however, owing to the snow it was rearranged to last Saturday.
The race starts from the Leisure Centre so there's somewhere warm to hang out beforehand, and flushing toilets as well as the usual portaloos. According to the organisers there were 200 less people attending the rearranged event so on another year it would probably be much busier and the course would have been cosy to say the least.
There are a number of running events setting off at different times, 5km, 10km, 10 mile and canicross for each of the different length runs. This does make the start interesting, or confusing, depending on your temperament, the number of dogs racing also meant you might be mistaken for thinking you were backstage at Cruffs!
The route is a there and back course along the Tissington Trail with the shorter races turning points being clearly marked, there was also a number of water points along the route. The slight incline on the way out made the return back through the Derbyshire countryside rather pleasant and great for a negative split. The trail isn't closed to the public, so you have to have your wits about you with cyclists, walkers and the faster runners coming back down the path. The tunnel path was marked with cones and glow sticks which was useful if you're not used to running through tunnels!
The goodie bag was just what you need after a run, a bag of crisps, water and a banana all in a reusable cotton bag – great idea. The photographs from the event are free to download so make sure you get some great poses in.
I enjoyed the route and especially enjoyed the road trip with my fellow Striders! Thanks Catherine, Sarah and Helen for a great trip out.
The 2018 winner was Leigh Stubbs of Redhill Road Runners in a time of 0:59:15 and first lady home was Helen Burrell of 2MRC in 1:08:14. First Strider was Catherine Needham, but we can agree that all Strider participants had a great race.
Results can be found online here 
| | | | |
| --- | --- | --- | --- |
| Pos | Name | Cat | Time |
| 124 | Catherine Needham | FV30 | 1:40:39 |
| 136 | Helen Smith | FV40 | 1:44:37 |
| 137 | Sarah Howson | FV40 | 1:45:07 |
| 146 | Sarah Schofield | FV40 | 1:47:37 |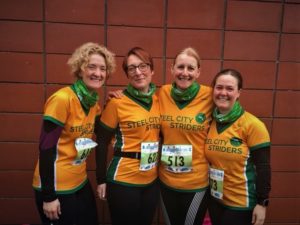 The ladies modelling the Striders Winter collection, complete with Buffs by Burns