Race date: Sunday 9 September, 2018
Race report by Matt Broadhead
Top tip: If you're driving to this race, it's two miles further than Google Maps says it is. The start is at the end of a picturesque country lane, past fields of pigs and sunflowers.
Bawtry Forest Trail Race is one of several events organised by Maltby Running Club. Everything was very well put together, with lots of volunteers on hand to deal with car parking, registration and marshalling. The course is just over 10km, pretty flat, almost all on trail. It's one lap, but a couple of sections are run twice, in different directions. It's mostly pine woodland, with some open sections and some intriguing old asphalt track next to mysterious low brick platforms.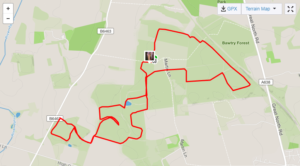 The description makes it sound quite nondescript, but it was actually a hard run even though the weather was almost perfect. (Full disclosure: I'd had a very long night on Saturday.) Running a flat 10k with no real downhills to get your breath back is quite an effort on road, never mind when you're running on terrain which was at various points rutted, criss-crossed by tree roots and covered in ungrippable pine needles. I reverted to my emergency tactic of dragging myself round by chasing the Strider in front. By the time the advertised uphill finish came in sight I was really ready to stop. Thankfully, the hill was smaller than I'd expected and what I thought was a false summit turned out to be the real one. Then it was back to the registration desk for probably my favourite ever post-race goody bag: crumpets! (They were also handing out free sandwiches.)
I'd like to have a go at this one without a hangover – it's a good Sunday morning outing, as a race in its own right or a fast training run in preparation for something longer.
261 runners finished the race, which was won by Nick Harvey of Tipton Harriers in 38:18. First female was Alice Moore of Barnsley AC in 44:37. There was a healthy turnout of Striders.
Striders results:
| | | |
| --- | --- | --- |
| P | Name | Time |
| 40 | Mark Platton | 48:58:00 |
| 46 | Paul Stuart | 49:35:00 |
| 67 | Matt Broadhead | 51:17:00 |
| 70 | Phil Howson | 51:30:00 |
| 76 | Sarah Allcard | 52:06:00 |
| 100 | Bob Grocutt | 54:41:00 |
| 210 | Adrian Good | 01:06:59 |
Full results can be found at: https://maltbyrunningclub.files.wordpress.com/2018/09/provisional-bawtry-forest-trail-race-2018.pdf