31st British and Irish Masters Cross Country International Championships
17th November 2018, Singleton Park, Swansea, Wales.
Report by Dot Kesterton
In the 1967 Cross Country season I was chosen to represent my school, Sir Wilfrid Martineau School in the All Birmingham Cross Country Championships. I set off full of hope and belief in myself, ran a good race and came in as runner-up. I was overjoyed.
Then I was disqualified.
My friend had dropped out early in the race, waited for me and jogged back into the school with me. The disqualification was for 'pacing.' I had no idea what pacing was or that I'd broken any rules. To compound my misery the Birmingham newspapers covered the race including my disqualification.
I was 15 years old and athletics was run by officious jobsworths who treated me as if I was a cheat.
I didn't run competitively again until 2010 when I retired from teaching.
Last Saturday, 51 years after that awful day, I was selected to run for England. I lined up with the best of the British and Irish Masters at a Home International race in Singleton Park, Swansea.  So it was teams from England, Scotland, Northern Ireland, Wales and Republic of Ireland.
The women's course was 6K over 3 laps and the men's 8K over 4 laps. . The weather could not have been kinder. It was warm, sunny and still. The going was generally good though in places wet and muddy. It was 314' elevation in total.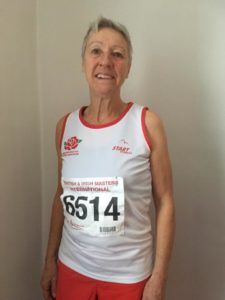 I'd been battling a sore throat and ear infection for a few days before the race but knew I had to give it my all so, dosed up with paracetamol I tussled with the front-runners for a good start position and went off with the gun. It took a few moments to find my pace, dodging elbows and weaving runners. Then it was dig in and give this one everything I'd got for a result.
I tried not to blow up too soon and though breathing was laboured towards the end I held my position to win bronze (28:23) behind Yuko Gordon of England (27:34) and Ann Murray of Scotland (28:03).
My F65 team, Yuko Gordon, Penny Forse, Ros Tabor and I won gold as did the English women and men overall.
Mark McKinstry, M35 of Northern Ireland stormed through to win the men's title in 25:10 and Teresa Doherty, F40 Ireland 6K in 21:19.
This was my debut as a home international. I'm very happy that at last I have had a chance to run as I should have been allowed to run half a century ago.
I now have to shake off my cold, rest and come back strong to take on the mantle again.
Full result available from the British Masters website.