Race Date: 20 October 2018
The British Fell Relay Championships are a staple of the Fell Running calendar year. Clubs from all around Britain come together to test themselves as a relay team against some of the toughest fell running courses and against some of the best Fell Runners Britain has to offer. With teams of 6 and 250 teams, 1500 runners descend on the event centre along with spectators to make it a memorable event with a great atmosphere every year.
This year, the host club was Ambleside AC who chose Grasmere (Central Lake District) as the event centre. Publicised as the toughest fell relays in years, the routes were to take in iconic fells to the north of Grasmere such as Great Rigg, Heron Pike and Fairfield.
The usual four leg format was followed. Leg 1 was a Solo Leg taking in Seat Sandal. Leg 2 was a bruiser of a longer leg for pairs taking in Great Rigg Man, Fairfield and a rough descent via Cofa Pike to Deepdale Hause before returning via Grisedale Hause. Leg 3, again for pairs, was a navigation leg, unknown to runners prior to starting. Leg 4 went out over Heron Pike via Alcock Tarn with a fast descent over Stone Arthur, which they advertised as giving good views, but that certainly wasn't the case in a drizzly lake district.
The Striders entered 3 teams into the Fell Relays as below:
Male Open: Steel City Vulcans
Leg 1 – Matt Williams
Leg 2 – Louis Wood and Simon Bayliss
Leg 3 – Alasdair Menmuir and Joe Buckman
Leg 4 – Ben Clithero
Female Open: Steel City Shiners
Leg 1 – Caroline French
Leg 2 – Caroline Brock and Clare Trevitt
Leg 3 – Alison Barratt and Jill Davies
Leg 4 – Jo Taylor
Mens Vet V40: Steel City Cutlers
Leg 1 – Michael Squires
Leg 2 – Dan Cook and Mick Timm
Leg 3 – Phil Howson and Ian Stinson
Leg 4 – Dean Young
Leg 1 – Report by Caroline French:
Leg stats: 5 miles 2400 feet / 8km 730m – yes these routes are seriously steep!
Leg Map: https://britishfellrelays2018.org.uk/wp/wp-content/uploads/2018/08/relay_leg_1_map.pdf
When you're planning a leisurely weekend in the lakes with your mate….then get the opportunity to have out the relay team due to injury. Seemed like fate, given I was a mere 15 minutes away from race hq.
Felt absolutely shocking with a cold all week, bricking it about having stamina for a Race I knew nothing about, other than a big chuff off hill. Prepared? Not a chance!
Race day was typical October lake district weather. Rain. Mist. Grey. Still there was a buzz of excitement in the air and as we lined up for leg 1, the crazy mix of emotions stirring.  Let's do this!
Tearing off from the start straight up a muddy bank, steam rising off us runners and lots of huffing and sliding. When we hit a flatter section relief quickly changed as a I realised my legs were jelly. Ha ha. Only 4.5 miles to go!! The trail was awesome with a gentle up with a few cheeky inclines,  tracking a river as we climbed…and climbed…then more climb.  We hit a scrambling, fun rocky section weaving around and rock hopping. Check point 2! We were directed left along what looked a flat, grassy section. "Looked"
Hidden from us due to heavy mist was a HUGE climb. Scrambling up steep shale, before crawling up steep incline we set up and up until…yay we reached the top! Awesome. Strong wind and rain at the top I needed windscreen wipers for for my eyeballs, we started down the super slippy grass descent. There was someone in a bad way half way down (hoping he is ok, slippy slidy grass and rocks are a crazy combo), but managed to trot on vertical towards the end. Quads burning, the trainers held in.
Wasn't a fan of that demon climb just before the finish I'll be honest, but loved the sprint finish. What a race. 5.3 miles 2400ft elevation.  When's next year's race….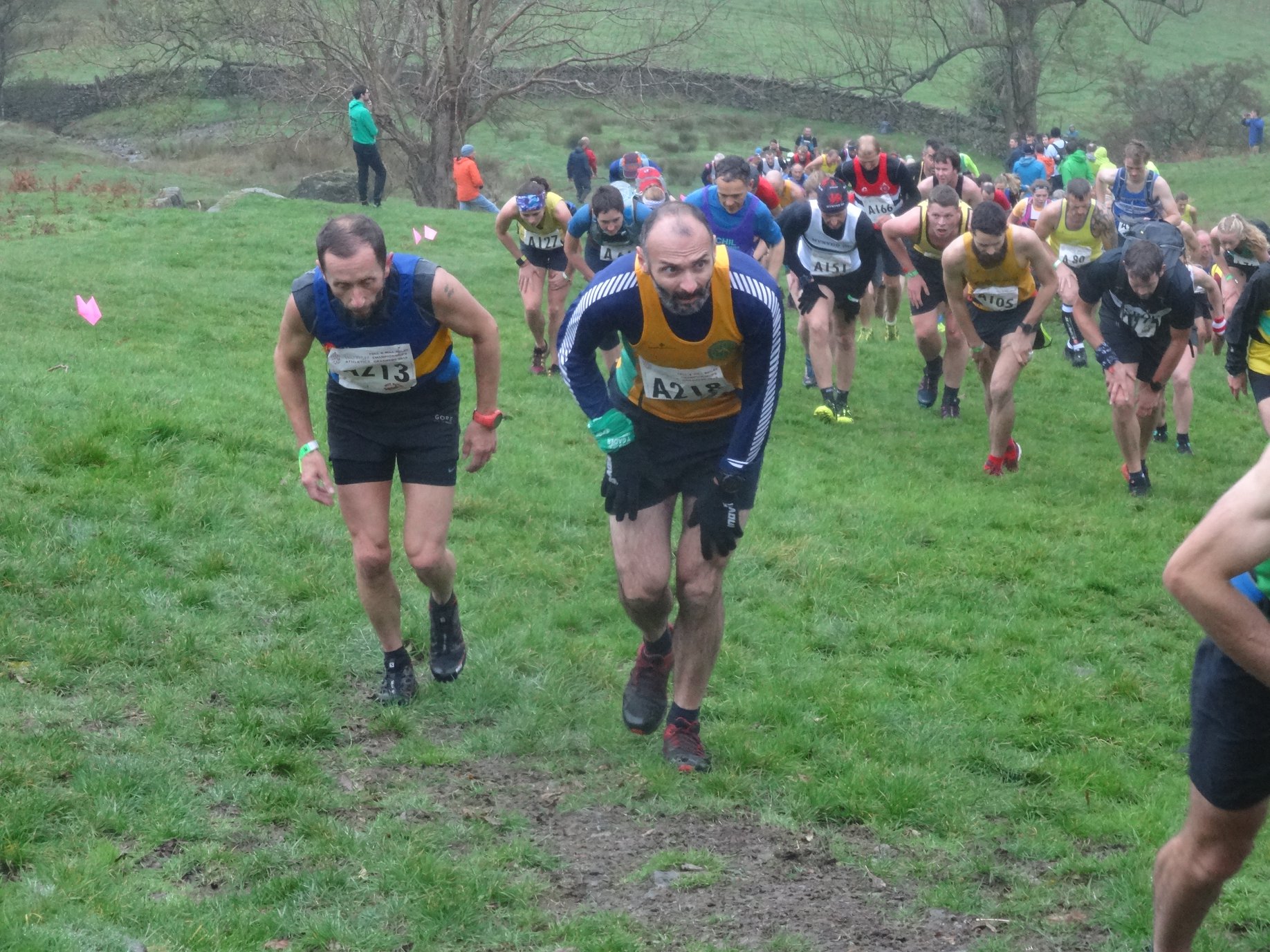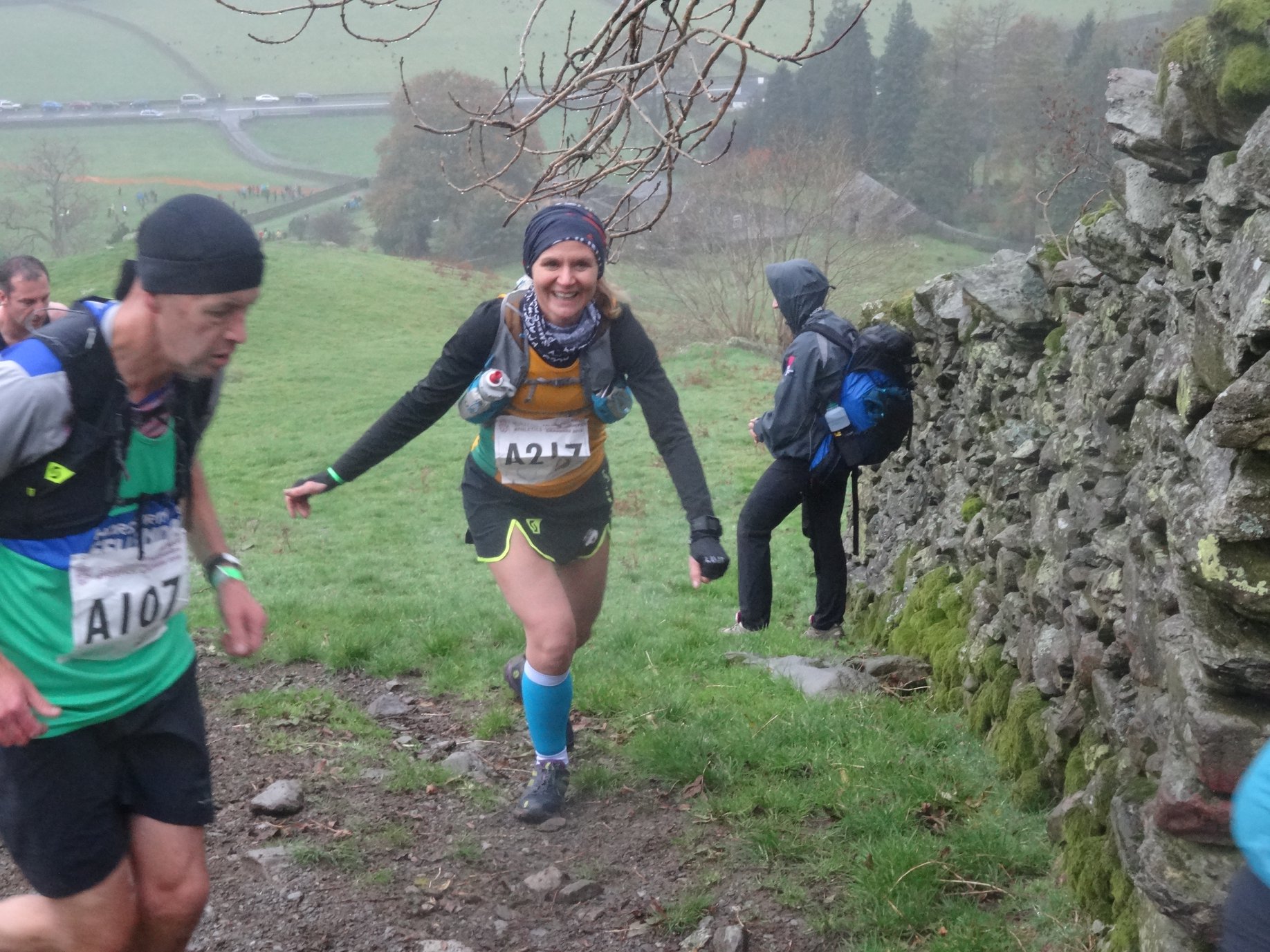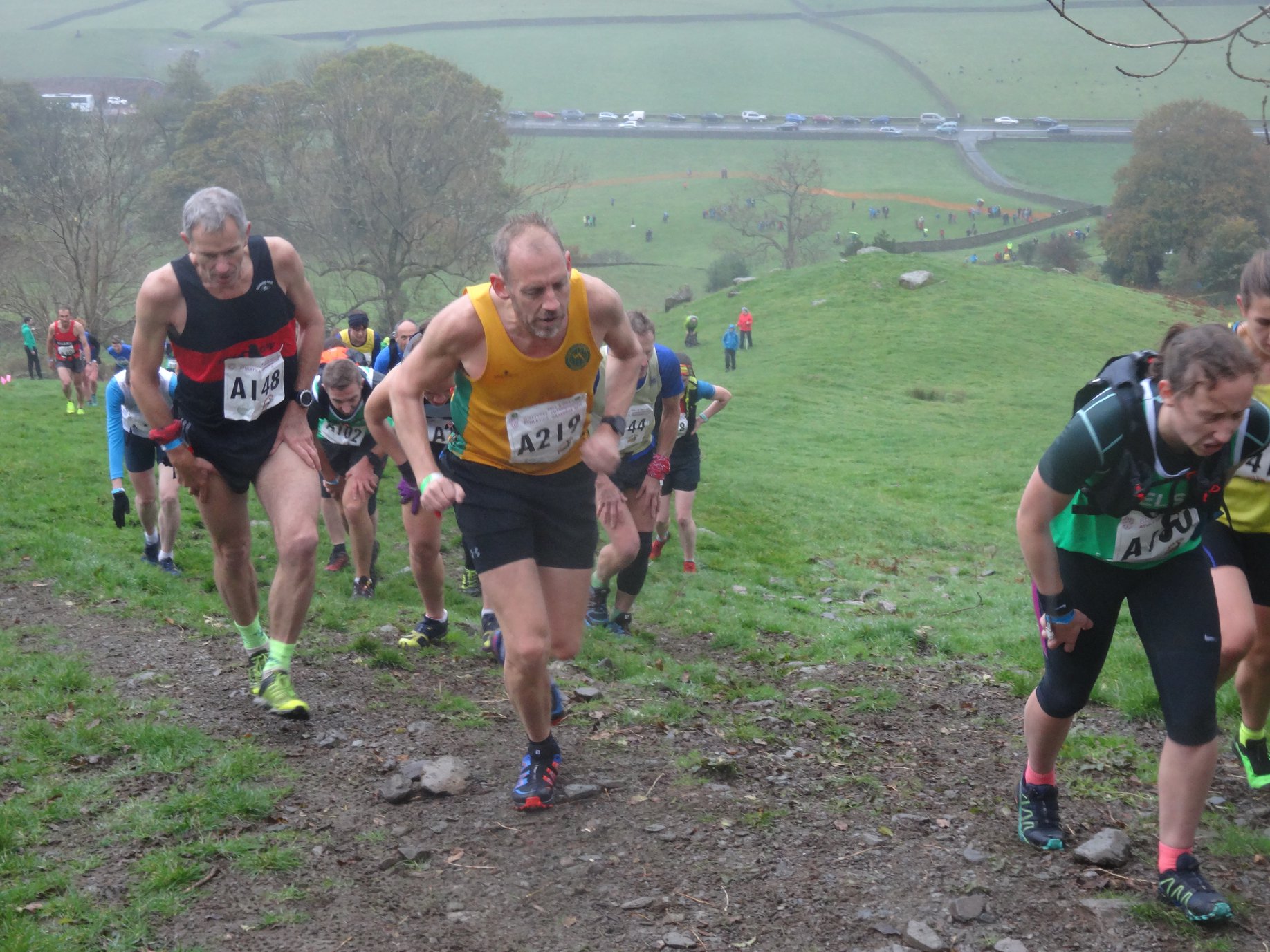 Leg 2 – Report by Clare Trevitt
Leg stats: 6.7 miles 2800 feet / 10.8km 850m
Leg Map: https://britishfellrelays2018.org.uk/wp/wp-content/uploads/2018/08/relay_leg_2_map.pdf
The weather was grey, the cloud low and visibility poor on the fells – we couldn't see the top of the fells at all but we knew our routes were taking us up there into the foggy low cloud and drizzle. For various reasons, the ladies team came together at the eleventh hour, none of us had recce'd the routes and I don't think I was the only one feeling a little daunted, given the weather and the (vertical) scale of the runs.  I was lucky to be paired with Caroline Brock for the second leg. That pairing did generate some anxiety for me ahead of the run, she being FAST… but as it turned out, we both felt glad to be on a paired run given the weather and our lack of Lakes experience; we were in it for the experience, glad to have mustered a team at all. I had a chat in the loo queue with a leg 2 runner from a Keswick AC team, and she said that our route was all on clear paths and that we shouldn't have trouble even in the fog – when I reported that back, I got a grateful hug for good finding out from Caroline!
The start was brutal. It was pretty much straight into a steep climb; 2 miles to climb about 2000 ft. It was a bit like climbing stairs; muddy, rocky stairs, in the rain and fog, for 2 miles, with almost no let up. For me, not runnable. And in that tough 47 minutes, the serious question arose in my mind as to whether I would actually be able to run anymore, when it finally levelled out. Added to that was the fact that we couldn't actually see anyone else, because of the fog, at some points during that climb, even though we set off with the mass start! There was thus a little extra incentive to keep up or catch up with the shadows ahead and not be out of sight of any others. Luckily we reached the peak at CP2 before I was totally demoralised, and we then ran a bit to get to the final climb, another 600 ft or so to Fairfield, the big peak. Weather-wise it was pretty awful on the ridge between Great Rigg and Fairfield: very wet and foggy with a cold, driving wind… but at least we were running by this point, and that was a boost to morale! We gratefully thanked the marshals, who were up there standing around for hours; arguably a far worse way to experience the Lakeland flag than running through it!
After some steep downhill scrambling to get off the peak, it was finally downhill racing time! This bit was great fun, and the anticipation of it had kept us going on the slog up. It was slick underfoot and plenty of folks skidded across the grass and rocks, but miraculously I kept upright and blessed my fell shoes.  Passing the (invisible) Tarn, there were bits of the path about to give way completely, having been trodden by nearly 500 runners, and we were slightly held in check, single file on the way along to the check point at Grisedale Hause. After that we had the best, most enjoyable blast down, free from markers and flags, running on the paved path or the wet grass, stomping through the many streams flowing across our path, descending below the cloud to better visibility again, and managing a fast* finish across the event field. (*when I say 'fast' I mean fast-ish. Fast for me, after all that we'd just done. It is all relative! The standard of running is very impressive at the British Fell Relay Champs!).
I chatted to someone in the coffee queue after our leg; she'd done the fell relays for 15 years and said this year's was the toughest she had done. And I found out at the presentations at end of the day that the woman in the loo queue who reassured me about the route earlier in the day was in the 2nd placed ladies team! Kudos! We Striders did OK, we turned up with enthusiasm and a great attitude, ran and completed our runs without injury, had a laugh at the weather and the crazy routes, and finished with smiles on our faces.
The relay website has gorgeous brochure-like photographs of the views from the run. Huh. We couldn't see a thing for most of the race. We'll just have to return and have another go sometime 😉 .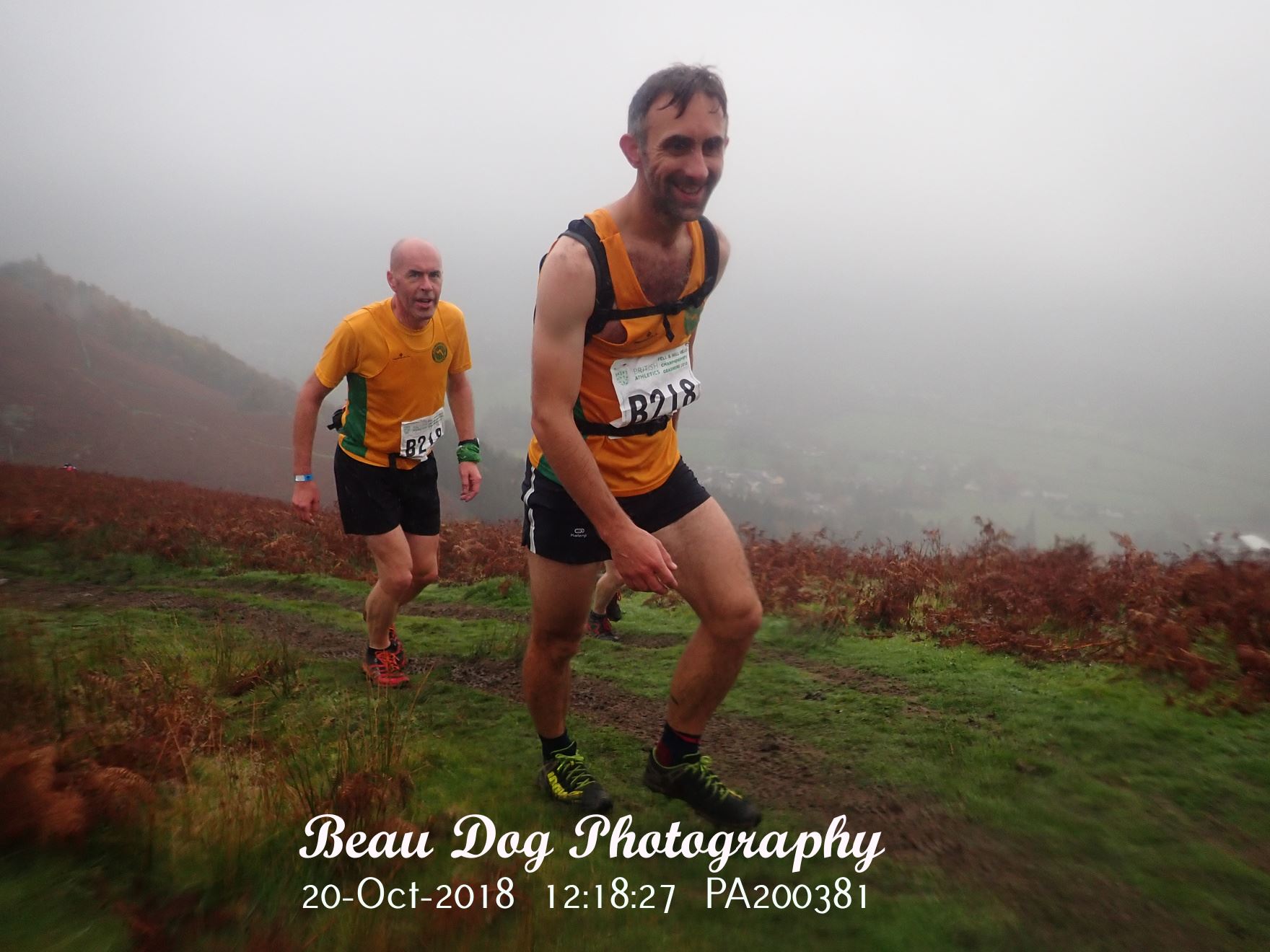 Leg 3 – Report by Joe Buckman
Leg stats: Approx 7 miles and 1000m (however we probably didn't take the optimum line!)
Leg Map: https://britishfellrelays2018.org.uk/wp/wp-content/uploads/2018/08/relay_leg_3.pdf
I think of leg 3 navigation as the graveyard shift. It is generally avoided, and if you say to your captain "I don't mind which leg I go on", you will get given the navigation leg. That being said I think it is the most exciting leg.
Louis and Simon came careering down the finishing field for leg 2. Alasdair and I stepped up out of the starting pen, with no idea where we would be going over the next 2 hours or so. The only idea of conditions was the state of Simon Bayliss when he tagged us to start our leg. To use the term 'Eyes bleeding' would be appropriate. A 500 metre flagged section took us up road and path to the point where we collect the maps for the navigation leg. You get given a bespoke map with, in this case, 5 marked control points that you have to navigate to in order.
Control 1 was relatively easy, but the nerves associated with worrying about getting lost straight away planted seeds of doubt in our minds, especially when we were going off in a different direction to other runners. But our route choice came through, and running North down a gully below Heron Pike, we found the first control of the day in around 15 minute. Nerves settled, and onto control 2.
Unfortunately this is where 'Tarngate' happened. In the excitement, everyone turned from control 1 and started up a slippery tricky path up the West side of Heron Pike. Cursing the decision to follow other people, we all ended up at a tarn. Let's just say every person we spoke to was surprised to get to this tarn, particularly as alasdair and I couldn't even see it on the map! The clag was down and we were down to about 15 metre visibility. We took an educated guess on a bearing and cautiously picked our way through cloud over tricky ground hoping to find a boundary that we could get our bearings from. The only comfort being that there were people all over the place coming in and out of the cloud. We certainly weren't alone in the error. After 20 minutes or so we found the boundary, got our bearings and 5 minutes later hit control point 2. Relief to say the least.
Back on track we agreed on a route to control 3, cutting to a runnable track and then picking up the pace while we had the rare luxury of a path. That didn't last for long. Control 3 to 4 was brutal, from one side of the map to the other, over Great Rigg. A 300 metre climb requiring hands over slippy rocks and grass, we made it onto the ridge. I had followed Alasdair up the whole way as he blazed the trail and I struggled to keep up. But back on some runnable ground we were off again. We wanted the least height gain and drop possible, and so started to contour round to the West under great Rigg before a tricky descent through dead bracken and slippery crags. I was really struggling with footing at this point and keeping any sort of traction. My arse made contact with the ground a lot. And the dead bracken easily snagged causing falls. Alasdair rightfully pointed out that it was the kind of terrain to expect when you are totally lost in the middle of the peak district.
Hitting the bottom we had the obligatory river crossing. Refreshing! Before one final ascent and contour round to control 4. We were on the home straight now and I knew we would be under 2 hours. We kicked up the pace (although I did have to ask Alasdair to slow down a little). The final descent into the field was hilarious. It was much easier sliding on my bum than running it. It seems there are some comedy videos on youtube of this. Running into the finishing field, wet and muddy from 2 hours in drizzle and cloud we saw Ben Clithero ready to take on the batton. Pleased we had made it back before the Leg 4 Mass start, thoughts turned to Beer, food and enjoying the rest of the relays from the position of a spectator.
We managed to complete the leg in 1 hour 54 minutes with the winner coming in in 1 hour 11 minutes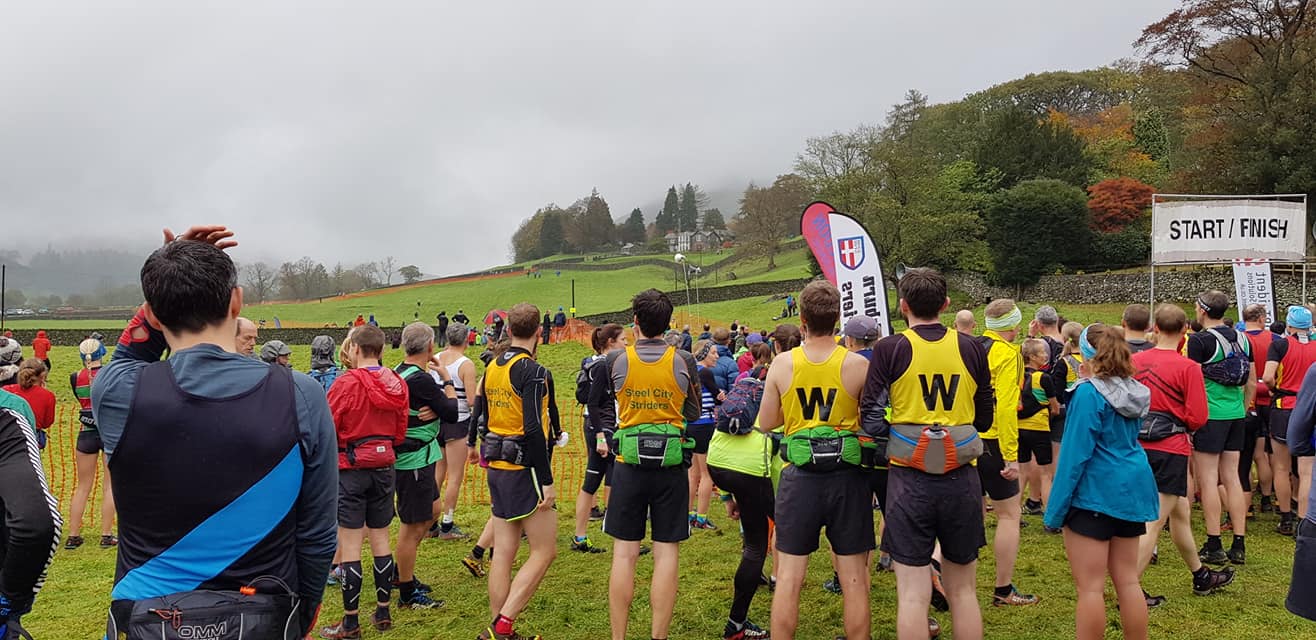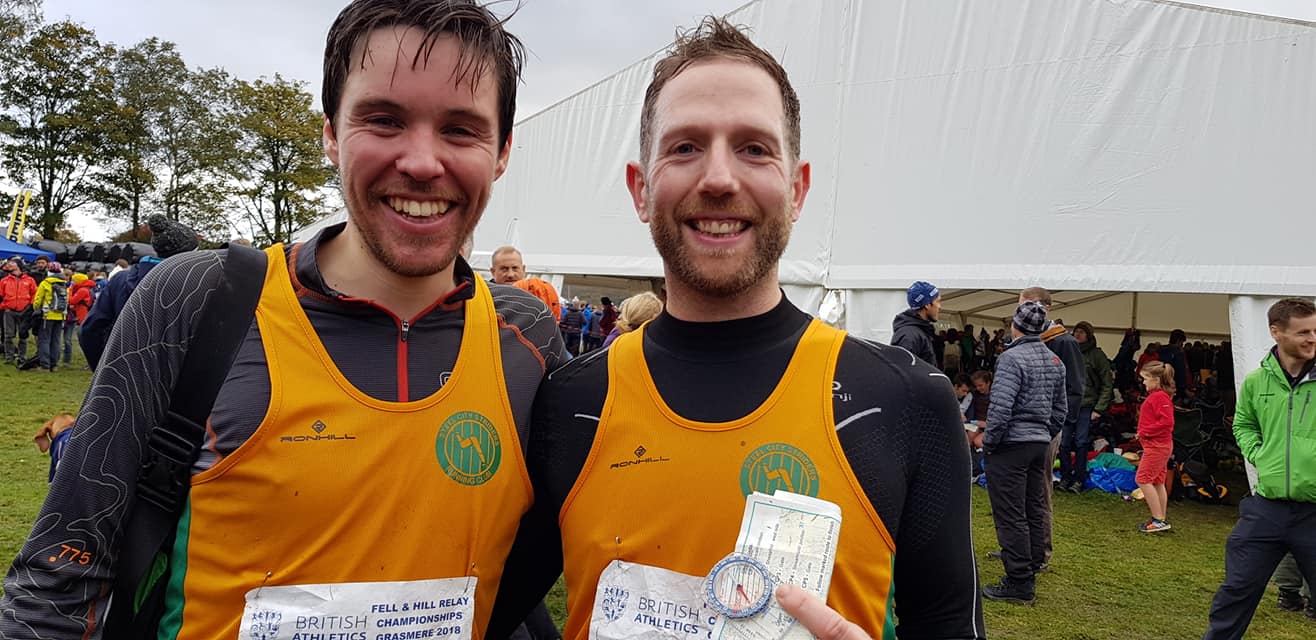 Leg 4 – Report by Ben Clithero
Leg stats: 4.3 miles 2000ft / 7km 600m
Leg Map: https://britishfellrelays2018.org.uk/wp/wp-content/uploads/2018/08/relay_leg_4_final.pdf
Leg 4 consisted of four miles with six hundred metres of ascent. The profile of the run looks simply like straight up and then straight down in an almost perfect mirror image. I was really anxious that I had to be there for the hand over from Joe and Alasdair and nervously kept an eye on the hill in the field scanning for any gold and green. The super elite teams were setting off on their leg 4 and as they did so the bloke on the microphone announced that if we moved into the correct spot we would be able to see the runners coming down off Stone Arthur, which he continued "is probably one of the steepest descents in fell running". He wasn't kidding. The steep ascent on to Heron Pike was met in equal measure with an incredible descent which I don't think anybody managing to go at any speed would be able to stay on their feet. I found myself whooping with delight only to then start swearing as I realised that I couldn't stop. A fabulous little run only to be capped off by Joe offering me his pint to finish at the end. Great guy. Well done to other leg 4 runners.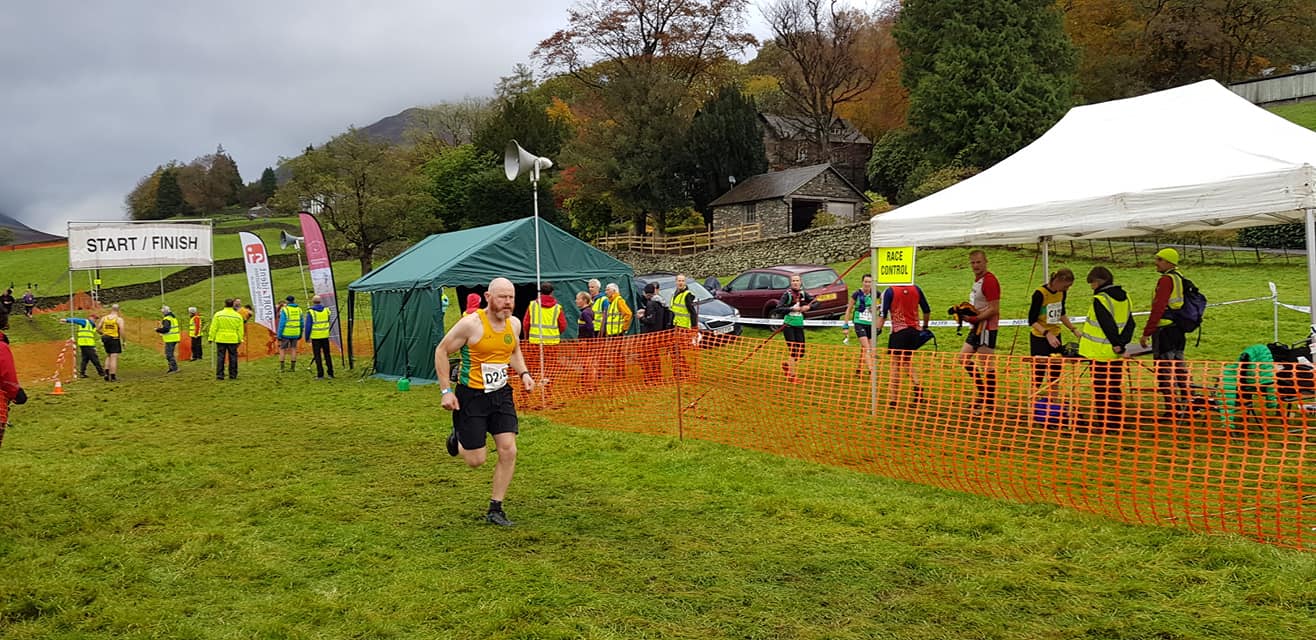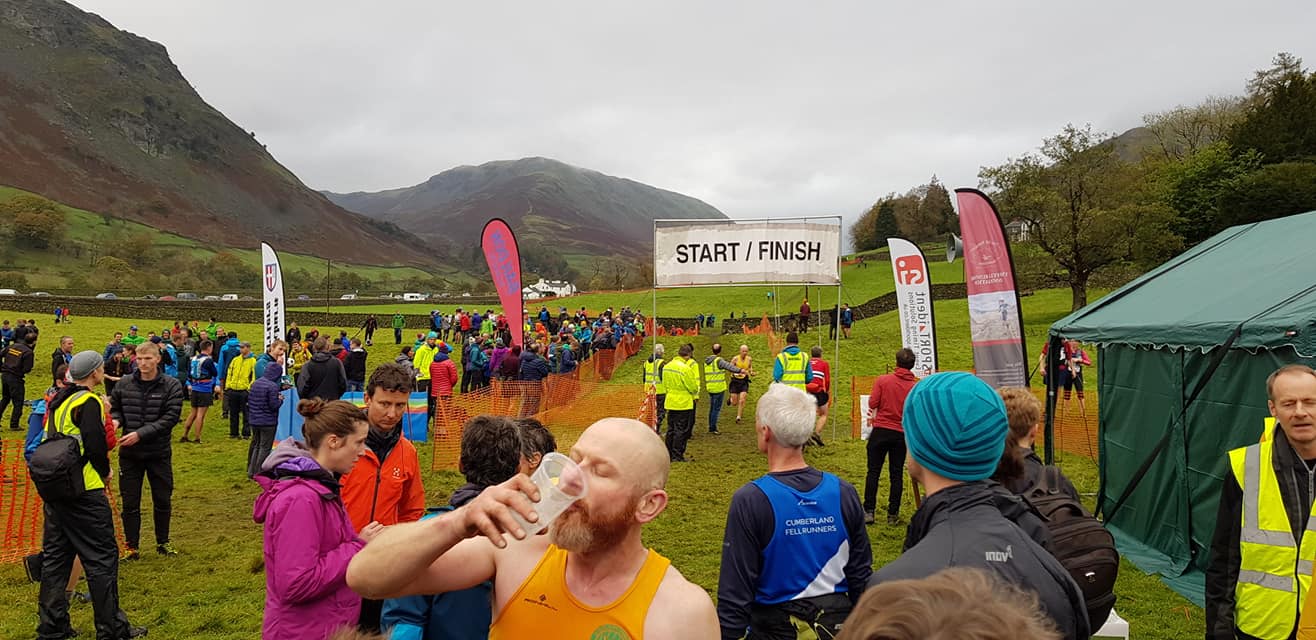 You owe me that half pint Ben. I said you could have a victory 'SIP' 
All I can say is, what a day out. Including camping over the weekend, plenty of beers, lots of laughs, and the decision that the next piece of striders branded kit will be an ultra lightweight striders branded race thong…..don't ask.
Well done to everyone who ran, and Andy Buck who has always encouraged and organised us to get teams together meaning we haven't missed an event since 2011! And congratulations to Ian Stinson who has run the navigation leg in every event for Steel City Striders.
Huge congrats to Jill Davies as well who definitely conquered some steel hill climbing daemons in conquering the navigation course with Alison Barrett. She still had a huge smile on her face despite me having to help her put her trousers and shoes on after!
And what is even more exciting is the announcement of next years hosts, Dark Peak Fell Runners. Which means the British Fell Relays 2019 is coming to our own back yard. Can't wait to see what they do in creating some of the toughest fell running courses we will have seen in the Peak District.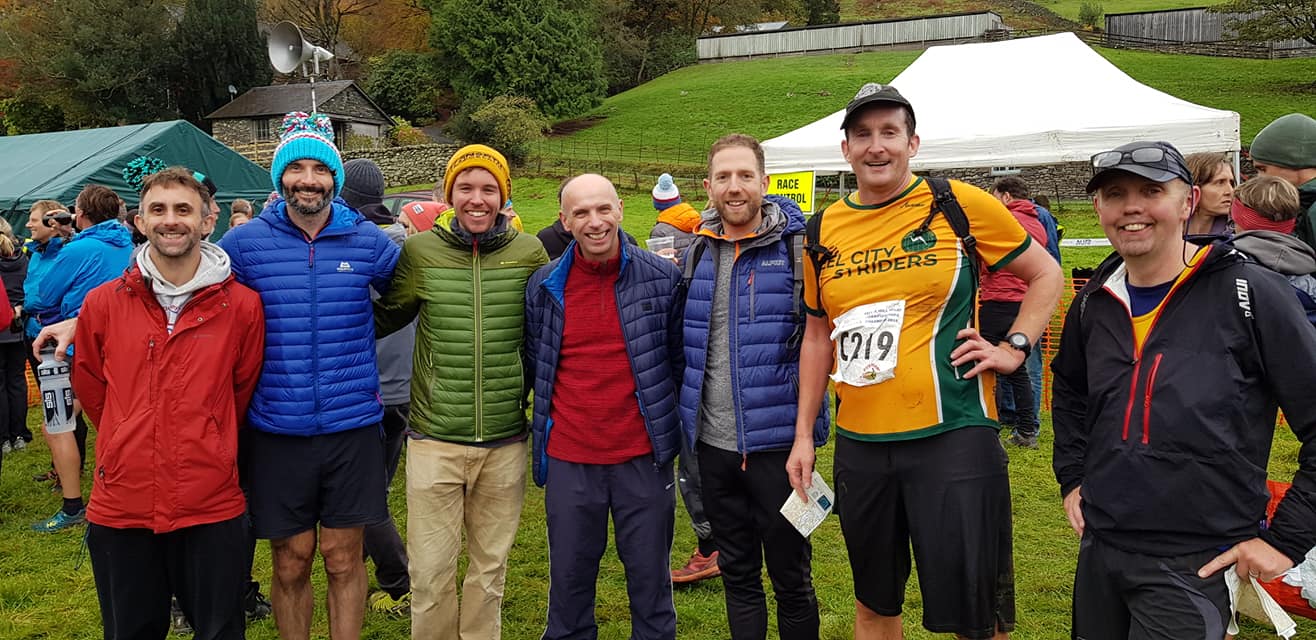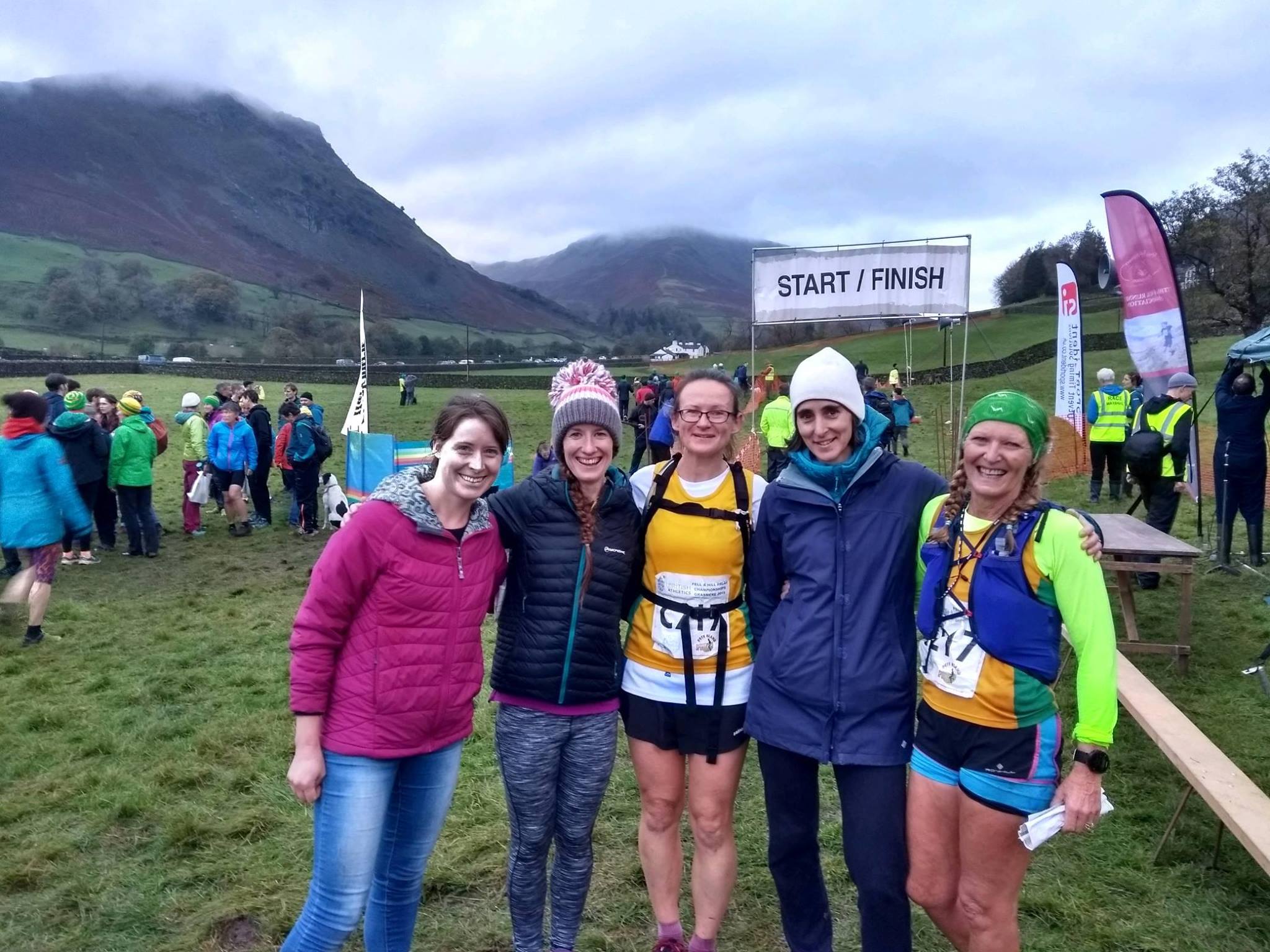 244 Teams competed and completed the event.
The winning mens team was a Yorkshire neighbour, Pudsey and Bramley AC in a total of 3 hours 43 minutes and 13 seconds.
Keswick AC were on track to win it but their Navigation leg got VERY lost!
The winning womens team was Helm Hill in 4 hours 43 minutes and 20 seconds.
Andy Buck pulled together our result and positioning in the below table:
Steel City Vulcans
Leg 1 – Matt Williams
Leg 2 – Louis Wood and Simon Bayliss
Leg 3 – Alasdair Menmuir and Joe Buckman
Leg 4 – Ben Clithero
Steel City Shiners
Leg 1 – Caroline French
Leg 2 – Caroline Brock and Clare Trevitt
Leg 3 – Alison Barratt and Jill Davies
Leg 4 – Jo Taylor
Steel City Cutlers
Leg 1 – Michael Squires
Leg 2 – Dan Cook and Mick Timm
Leg 3 – Phil Howson and Ian Stinson
Leg 4 – Dean Young
British Fell and Hill Relay Championships 2018
Position
Time
Leg 1
Leg Pos
Leg 2
Leg Pos
Leg 3
Leg Pos
Leg 4
Leg Pos
1st
03:43:13
Pudsey & Bramley A
Male Open
00:46:26
(4th)
01:01:04
(2nd)
01:14:25
(4th)
00:41:18
(7th)
59th
04:43:20
Helm Hill Female Open
Female Open
00:57:07
(74th)
01:11:46
(38th)
01:46:39
(88th)
00:47:48
(55th)
114th
05:21:41
Steel City Vulcans
Male Open
01:02:51
(116th)
01:26:38
(129th)
01:54:09
(128th)
00:58:03
(146th)
198th
06:11:40
Steel City Cutlers
Male Vet 40
01:07:29
(148th)
01:31:22
(157th)
02:33:39
(226th)
00:59:10
(159th)
233rd
07:07:39
Steel City Shiners
Female Open
01:22:50
(224th)
01:44:11
(207th)
03:03:35
(241st)
00:57:03
(140th)
Full results / splits / times and all things interesting available on the website here: http://www.sportident.co.uk/results/2018/BritishFellRelay/