The British finals have been on my radar ever since I started this transition from endurance racing, leaving behind 5k, 10k and HM for Masters 100m and 200m sprint racing.
Would I ever be good enough to compete with the best in the country?  Being honest, when I pencilled this in at the start of the year it was purely a pipedream.  I was going to go, take it all in, enjoy the experience and hoping to come back the following year fitter, stronger and faster and perhaps in a position to compete.  That was the plan.
The plan was almost in tatters in late spring though when a hamstring injury had me sidelined for almost 8 weeks.  But I was able to make it back to track just in time for the local Masters Grand Prix event and then the Striders Family Track night.  I performed well at both meetings so I was confident my injury woes were behind me.
The week before the Masters champs, the Diamond League had raced at Alexander Stadium, Birmingham in good weather and in front of bumper crowds.  I was looking forward to a similar experience.  Little did I know that John Kettley and friends had a different plan in mind with the weather.
Over the whole of the two days of the masters championships, 824 athletes in every age group from V35 up to V80 competed in all the usual track and field events.  So the timetable needed to run like clockwork to ensure all the events went as planned.
I'd made the decision when entering to only focus on the 200m.  Its arguably my stronger of the two sprint events and the race timetable made my decision easier.  The 100m was scheduled for the Saturday and the 200m on the Sunday. With the possibility of heats if more than 8 entrants in both events then these would have been two long days.  If competing on the Saturday there would have been the need for a hotel and with wanting the family to come down it could have got pricey pretty quickly. Also, I didn't fancy heaping fatigue on myself doing the 100m which may have impacted my 200m the next day.  Not to mention that Wednesday were at home on the Saturday too. Decision made.
It still called for an early start as we all piled in the car Sunday morning and headed down there.  Thankfully there wasn't going to be any heats, just straight to a final, which was scheduled for 12:20.
There were no heats because there were less than 12 entrants in our age group.  So the 10 of us entered would be split in to a A and B final, each race one after each other with times from both races merged to form the final result.
When there are more than 12 entrants then there are heats earlier in the day to decide to the fastest 8 runners who move through to the final.
I'd tapered well in the preceding week and was bricking it in the lead up to the event.  Didn't help that every time I closed my eyes I raced the race in my head. I think I ran it about 10 times a day in the week lead up to the race.
Via the BMAF website you could see who had entered.  I'd told myself not to worry about who was racing and that internal memo lasted about a whole day before I created a spreadsheet of PBs and recent times of my opponents.  I just couldn't help myself.
The World Masters championships were taking place in Malaga a few weeks later so i'd been told that some folk might skip the British finals to concentrate on the worlds.  Whilst this was the case to some extent, I was still going to be up against 4 athletes who had posted top 10 times in 2018.   I was ranked down in 17th with a PB of 25.06, so I needed to find at least half a second just to catch the 4th guy!
So yes, I might not get a better shot at the British with some folk missing, but I still had my work cut out against really good runners.  My spirits were lifted as I crunched the numbers and I set an unlikely goal of a podium place. Remember those races in my head, well that's what I kept dreaming.  Positive mental attitude right?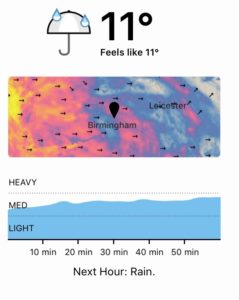 The family and I left Sheffield under murky, but dry skies.  I'd persuaded the wife to drive and chauffeur me so that I could 'relax' and the kids were excited in the back.  Heading down the A38 the heavens opened and it never really stopped raining. I looked on the phone at the weather and it showed this was set in for the day.  Typical, we'd had 3 months of constant sunshine and 20+ degrees temperatures and it rains today of all days and feels like March!
We arrived at the track to find what I can only describe as a bit of a dilapidated main stand.  Christ knows how they are going to hold the commonwealth games there unless they knock that down and start again.  Finding a working toilet was a challenge as was finding any sort of catering. The family ended up at a burger van for a coffee and hot chocolate.  Which was required as it was bloody freezing.
Luckily I was able to head over to the indoor track to warm-up.  We'd only have to brave the weather for the race, which was a nice bonus.  Although i'd say it was too hot in there, I was sweating cobs. I ended up warming up with current European V45 indoor 200m champion Mike Coogan who I know from previous races.  I knew this meant that first place was out of the question because he is on another level. Still, in my mind that left two podium places between 4 runners, one being me.
They split the A and B final in to a 7  / 3 split based on submitted PB. That left me in the A final with other fast guys.
We were called and headed out into the rain to walk around the track to the 200m start area.  We used the stand on the far side to keep dry until it was time for our race. Which seeing as it was raining sideways what with the wind was a blessing.
The B final went off with only 3 runners, which felt harsh on them, but based on race times this was probably a fair split.  They set off and one guy instantly slipped and fell straight on his face and DNF'ed. That certainly focused the mind and I hoped my spikes would do their job.
It was time for the 7 of us to head down to the track.  I had been handed lane 2, probably due to having one of the slower PBs coming in to the race.  So i'd have everyone to chase, but that isn't a bad thing.
Rain lashing down, make sure you get out fast.  Those races in my dreams had me getting out quick and hard, cruise the bend and put the hammer down coming into the straight.  I told myself that as I crouched at the blocks, get out fast!!
So starting poorly threw the plan right out of the window.  Bodies just shot away from me and all I could do was push from there on in.  Despite trying to push I was still down on folk coming off the bend, likely 5th place at this point.
Through my very short masters 200m career i've always felt strong in the final 70m and I usually pull a bit back in the final throws so I just kept on working hard.
You need to work hard, but keep relaxed and trust yourself.  If you tense up and try too hard it will work against you.
I worked hard and I could see they were coming back, but they still looked miles away.
I worked hard some more and they kept coming closer, but I was convinced i'd left too much to do.  But they just kept getting closer, it inspired me.
In the final 20m I think I was still 4th but I just kept on the gas as best I could.  Who would slow down the least in the last throws of the race?
Miraculously as we approached the finishing line I was coming up alongside and I just dipped for it.  I looked to my right and I just knew i'd clinched second place.
If the text above sound implausible and improbable, watch the video for yourself.  I watch it now and still don't know how I did it.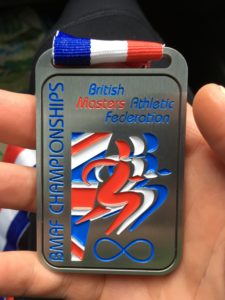 My celebration straight after crossing the line tells you exactly what I thought about the result, a silver medal at the British Championships.  I was stunned, thrilled and delighted.
Maybe this was my day?  Maybe these guys who had ran British Finals numerous times before had their minds elsewhere, like the worlds at Malaga?  One the guys shut it down with 30m to go having felt his back/hamstring.
Again, maybe this was my day?
Maybe they didn't fancy the weather?  It was like a normal Yorkshire summers day to me, LOL. I'd trained in much worse through the Spring. Maybe this was my day?
Sadly with the amount of races run every 10 mins there is just no time for podium ceremonies.  I just had to collect my medal from a lady in the stand which was a little underwhelming, but understandable.
Got back to the family in the stands and they were thrilled.  Hugs and kisses all around then straight back to the car as they were absolutely freezing.  So much so I don't think we turned the heating down until about Derby!! I can't thank my wife and kids enough for their unwavering support.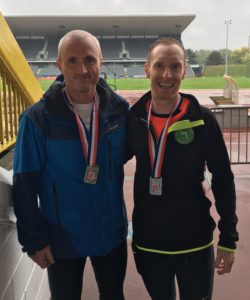 Afterwards I was able to grab a photo with the winner, Mike Coogan.  I told him i'd surprised myself, he said he thought i'd surprised everyone.  Maybe this worked in my favour, an unknown quantity. Again, maybe this was my day?
So where from here?  Well it's the Yorkshire Vets Championship at Cleckheaton on Sunday 23rd September where i've entered the 100m and 200m.  Then i'm taking a month or so off. Let everything recover and clear the body and mind of training and racing. I've also got a nagging right achilles issue that needs resolving.  So a great time for some treatment and rehab. Then look to get back to it in November with a view to racing a few indoor meets through the winter and look ahead to next summer.
There is talk of a small Striders contingent heading over to Venice next September for the European track and field championships.  So maybe that could be the stretch goal for 2019?
V45 200m A Final Result
| | | | |
| --- | --- | --- | --- |
| P | Name | Club | Time |
| 1 | Mike Coogan | East Cheshire | 24.16 |
| 2 | Mick Wall | Steel City Striders | 25.21 |
| 3 | Mark Collins | Southampton | 25.22 |
| 4 | Giuseppe Minetti | Herne Hill | 25.66 |
| 5 | Julian Smith | Nene Valley | 25.95 |
| 6 | Martin White | Mansfield | 26.15 |
| 7 | James Morgan | Newport | 27.38 |
V45 200m B Final Result
| | | | |
| --- | --- | --- | --- |
| P | Name | Club | Time |
| 1 | Nick Andrews | Harrow | 26.04 |
| 2 | Myles Harrison | Bracknell | 27.23 |
| 3 | Vaughan Ramsey | Ranelagh | DNF |
Full 200m results and all British Masters track and field results available via Power of 10 and BMAF website.