Race Date: Sunday 29th April 2018
Race Report by Tom Halloway
The Essar Chester Half Marathon is run around the closed, flat roads of Chester and surrounding countryside, and has been drawing large numbers of contestants since its inception back in 1982. This was the 38th staging of the race, and five Striders were amongst the 4700-strong field to take their place at the start line inside the historic Chester Racecourse. Tom Halloway gives us his account of the day…
With a early race start of 9 am and 74 mile drive beforehand, the race had to be worth it . This race back dates to 1982 with a lot of history and big numbers – its attracted over 2000 in the past and now over 4500. The current course record for men stands at 01:02 and for women 01:14.
This race is run around the flat roads of Chester with a few little inclines that nobody from Sheffield should worry about. The only thing that had me worrying was the mud at the start which is set up at Chester Racecourse. Myself and Rob Betts were far from happy with our new trainers on, Andrew Woffindin only had one thing on his mind and that was to put his Sheffield Half experience behind him – and he did just that, putting in a solid performance and getting back to where he wants to be. Rob Betts was on a mission to have a good run with some solid training behind him and, with a little help from his taxi driver/pace maker, pulled it out of the bag with a 01:40:22 showing he's ready for whatever Liverpool Marathon throws at him (in a few weeks time).
Also running in the Green and Gold, Sallyann and Matt Winslow took advantage of a weekend away in Chester and the flat course to both smash PBs, showing the course potential. Well done to both on a very strong run.
We left the race course all happy after Wuff and Betts both blagged themselves a hoodie (at Yorkshire prices). Only one thing left to do… stop for food as pacing a half marathon really does build up a nice appetite.
A great day out for all, this half Marathon is perfect for a PB attempt however is a little on the expensive side.
The race winner was Phillip Matthews of Swansea Harriers in a time of 01:07:58 and first lady was Hayley Munn of Northampton Road Runners in 01:18:06. Striders results are shown below, full results can be found here.
| | | | |
| --- | --- | --- | --- |
| Pos | Name | Cat | Time |
| 645 | Tom Halloway | MSEN | 01:37:33 |
| 756 | Rob Betts | MV50 | 01:40:22 |
| 1681 | Andrew Woffindin | MV50 | 01:52:27 |
| 2409 | Sallyann Winslow | FV40 | 01:56:43 |
| 3429 | Matthew Winslow | MV40 | 02:10:00 |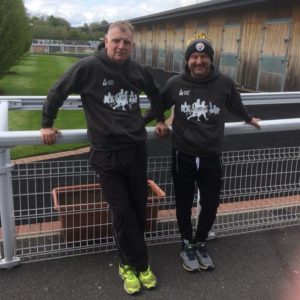 Relax ladies, they're taken. Andy and Rob show off their fetching Chester hoodies, haggled down from full-price in true Yorkshire-style.