Race Date: Sunday 7th October 2018
Report by: Scott Liddle
Picture the scene….It's the middle of winter. The Beast from the East has paid a visit and made itself well and truly at home. In the middle of the swirling snow-flakes, a lone runner (me) appears from the mist. He's thinking, that all this winter training in the snow can only be a good thing, as he trains with one thing in mind…a sub 4 London marathon….
Fast forward to April! The hottest bloody London Marathon on record!!! Months of running in the snow to red hot heat! The game plan went from sub 4 to running without walking! I eventually came over the finish line in 4:39! My dream of a sub 4 marathon in tatters!
So, for my 5th marathon at Chester, I had unfinished business!
Having left my hotel on the morning of the race I bumped into a guy sporting his race number, called Graham, who I tagged along with as he lead the way to Chester racecourse.
Chester marathon is pretty small compared to a lot of marathons, with an attendance this year of just under 5000 runners. It has two distances for runners. A full marathon of 26.2 miles or a metric marathon of 26.2 kilometres.
Having dropped my bag off, I made my way to the start area and the four hour pacers. When I got there I bumped into fellow Strider Alison Barratt. I had actually met Alison whilst we were both training for Chester, out on the Trans Pennine Trail, but I had not seen her again until today! We then spotted Warren Brown and managed to have a quick chat and before we knew it we were off!
As we left the racecourse, we snaked through the city centre and out of the city walls. The four hour pacers were going pretty ahead of pace to start with so I just settled in a bit behind them trying to keep the pace a bit slower, knowing that I would be OK as long as I kept them in my sights. As I was running through the city centre I heard "hello Strider" and there appeared Eric Latham for a quick chat. I asked what time he was looking for, and his reply was that he didn't really know! Then he was off! Slowly heading off in to the crowd!
By mile 3, my four hour race strategy was compromised when I had to stop for a wee! There were a number of cubicles to my left and as I ran alongside them I spotted one that had the green sign on the lock, suggesting it was vacant. I ran towards it and threw open the door! There I was met by a poor lady sat on the loo, having a well-deserved drink! She screamed! I screamed! I closed the door and shouted that she should lock the door!!! I then jigged about a bit outside the cubicles, panicking that the pacers were getting further away! I managed to do what I needed to do and then spent the next few miles running faster than my intended pace to make up the time and get back towards the pacers.
The route is primarily rural, going through lots of small villages. I found it exceptionally quiet, with miles of the route with little or no support.  I actually found it really helpful as it just made the race relaxed and helped me to settle into a nice, relaxed pace. I managed to chat to quite a few runners along the route, even doling out Vaseline to one runner from Dronfield who mentioned he was worried about chafing… I let him do the application in case you were wondering.
As the miles passed by I slowly crept back up the four hour pacers, finally catching up to them by mile 20! I was still feeling pretty comfortable by this stage.  Coincidentally one of the four hour pacers was also the four hour pacer at London and I had had my photo taken with him and the other pacer, all optimistic and excited before it all went horribly wrong in the heat!
Chatting to another pacer he said that they were going a bit ahead of pace for now as there was a big hill coming up at about mile 23 and they would then slow the pace down to about 9:30. I Took note of this and prepared myself for the big hill in 2-3 miles time! As I was feeling pretty good, I decided to slowly step ahead of the pacers.
By this time, to give me a bit of an edge I started to take a couple of caffeine shot bloks. At about mile 22 I recognised Graham who I had walked to the racecourse with earlier that morning.  In hindsight, he didn't look good and he was obviously struggling a bit. What he probably didn't need as he was digging deep, was an excitable buffoon, giddy on caffeine, brandishing double thumbs in his face, shouting "COME ON GRAHAM! YOU CAN DO IT! COME ON GRAHAM!!!" By the look on his face, he wasn't suitably motivated or impressed by my cheerleading. I left him to his own race and tootled off high on adrenaline, gels and caffeine!
At about mile 23 I started to feel a niggling of cramp in the back of my left thigh. It wasn't a problem but was worried it would develop! Then, just before we got to mile 24 I think we got to the dreaded hill that the pacer was worried about…
I'm so glad I live and run in Sheffield because what most people see as a hill is just a slight incline to someone who runs on the hills in and around Sheffield. I shot up the short, slight hill and into the last couple of miles.
By this point we were coming back in to Chester and you end up running alongside traffic which isn't great towards the end but then you head down towards the pedestrianised area along the river.  The niggle of cramp that I had in my left leg was nothing compared to the sudden appearance of CRAMP in my right leg, making me run/limp for a short way, trying to stretch it out whist running.
Surprisingly I managed to speed up the last mile or so, heading back down on to the race course, the cramp disappearing in time for me to make a final sprint to the finish, coming over the finish line with a chip time of 3:57:25! Sub 4 and 11 minutes faster than my previous marathon record!
First male across the line was Mohammed Abu-Rezeq from Altrincham and District Athletic Club in 02:25:20. First female across the line was Johanna O'Regan from St Neots Riverside Runners in 02:45:31. Eight Striders took part in the marathon with some amazing times! Steve Canning was first Strider over the line in 02:43:51! Well done to all striders who took part!
Full results can be found here.
| | | | |
| --- | --- | --- | --- |
| Pos | Name | Category | Chip Time |
| 45 | Steve Canning | MV35 | 02:43:51 |
| 79 | Mark Gray | MV45 | 02:48:59 |
| 139 | David Smith | MV50 | 02:55:58 |
| 638 | Ben Stittle | MSEN | 03:26:10 |
| 1070 | Warren Brown | MV45 | 03:44:22 |
| 1130 | Eric Latham | MV45 | 03:46:58 |
| 1152 | Alison Barrett | FV40 | 03:47:40 |
| 1430 | Scott Liddle | MV45 | 03:57:25 |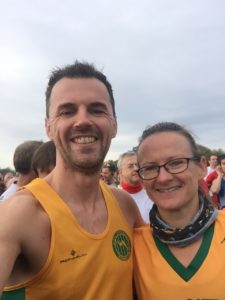 Scott and Alison looking spritely before the race